Sports and Nutrition
Each year the School of Sports and Nutrition receives exchange students. They study for one or two semesters under the terms of a bilateral agreement between the School of Sports and Nutrition and their home university.
Exchange programmes Sports and Nutrition
Minor Sport Development
Minor High Performance Sport
Minor Creating Food Concepts in Europe
MINOR IN SPORT DEVELOPMENT (30 ECTS credits)
The minor Sport Development addresses social challenges through sport in national and international context. Aims for Sport Development are inclusion, empowering people and building communities through sustainable sport programmes.
MINOR IN HIGH PERFORMANCE SPORT (30 ECTS credits)
The minor High Performance Sport focuses on the management aspects within the world of High Performance Sport. High Performance Sport is striving for excellence and students will be taught in such an atmosphere.
MINOR IN CREATING FOOD CONCEPTS IN EUROPE (30 ECTS credits)
The minor Creating Food Concepts in Europe is part of the Bachelor programme Nutrition and Dietetics. The focus is on the creation of innovative food concepts. Taking an interdisciplinary approach, the courses combine knowledge about food cultures, product design, consumer research and functional food science with economics, international marketing, intercultural management and business ethics.
Application form
A student needs to apply through the online application form. NOTE: When saving the form use the "save" option, don't use the "save as..." option. Otherwise the information you provided will be gone.
English language criteria
See picture below about the criteria for the English language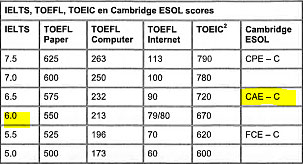 Contact & school
For more information about the programmes: