Centre of Expertise Applied Artificial Intelligence
Organisation Centre of Expertise Applied AI
The Centre of Expertise Applied AI is led by a core team.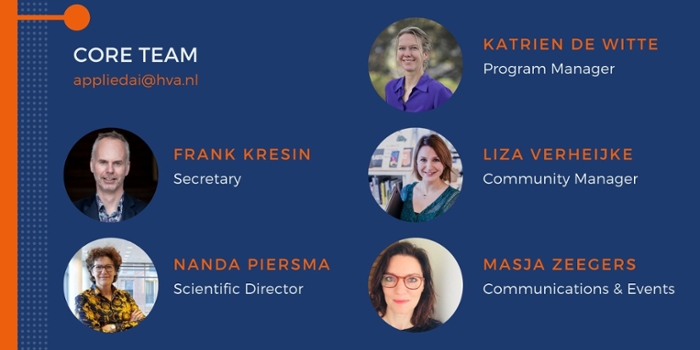 Furthermore, there is an advisory council whose jointly responsible for the centre's strategy. The council consists of the following members:
Chairman: Frank Kresin - dean of the Faculty of Digital Media and Creative Industries, secretary of the Centre of Expertise Applied Artificial Intelligence
Internal members:

Ben Kröse - former senior lecturer Digital Life, chairman of the platform Praktijkgericht ICT-onderzoek (PRIO)
Bianca Buurman - senior lecturer Transmurale Ouderenzorg
Ineke Bussemaker - dean of the Faculty of Business and Economics
Ramon Puras - dean of the Faculty of Education

External members:

Marcel Worring - Informatics Institute (IvI) University of Amsterdam, director of the Innovation Center for Artificial Intelligence (ICAI) Amsterdam
Marleen Stikker - internet pioneer, founder and director of research institute Waag
Nina Tellegen - director Amsterdam Economic Board
Jan van Erp - principal scientist Human Action Design at TNO, professor at University of Twente
Anette Stolvoort - client technical advisor at IBM
The Centre of Expertise is a thematic clustering of existing research and infrastructure in all faculties of the AUAS (research groups, programmes, Digital Society School, etc.). It makes the AI theme visible in all application sectors.
The Centre of Expertise is an accelerator for existing activities within the AUAS and makes connections with new partners in all domains.
The Centre of Expertise focuses on both short- and medium-term issues in labs where practice, education and research meet.
The Centre of Expertise aims to promote data and broad AI literacy (basic knowledge) of all AUAS students and staff in order to equip professionals of the future for the digital transition.
The Centre of Expertise offers an inclusive form of lifelong learning: working in co-creation in innovative environments (labs) and participating in public masterclasses and training courses.
The Centre of Expertise actively contributes to the public debate on AI and digitisation in the Amsterdam Metropolitan Area.
Each faculty of the Amsterdam University of Applied Sciences has created a lab that brings research, education and practices together to solve short and middle term challenges in the application of AI. Do you want to collaborate with these labs or do you have any questions? Please get in touch with the following co-ordinators: