Koen Meier as Airport Planning & Management @ Cranfield
Posted at: 22 Nov 2020 | Faculty of Technology

In 2020, Koen graduated from the Aviation Logistics track. After that, Koen has been studying MSc Airport Planning & Management at Cranfield University. He will tell us something about his experiences after graduation and his outlook on the future.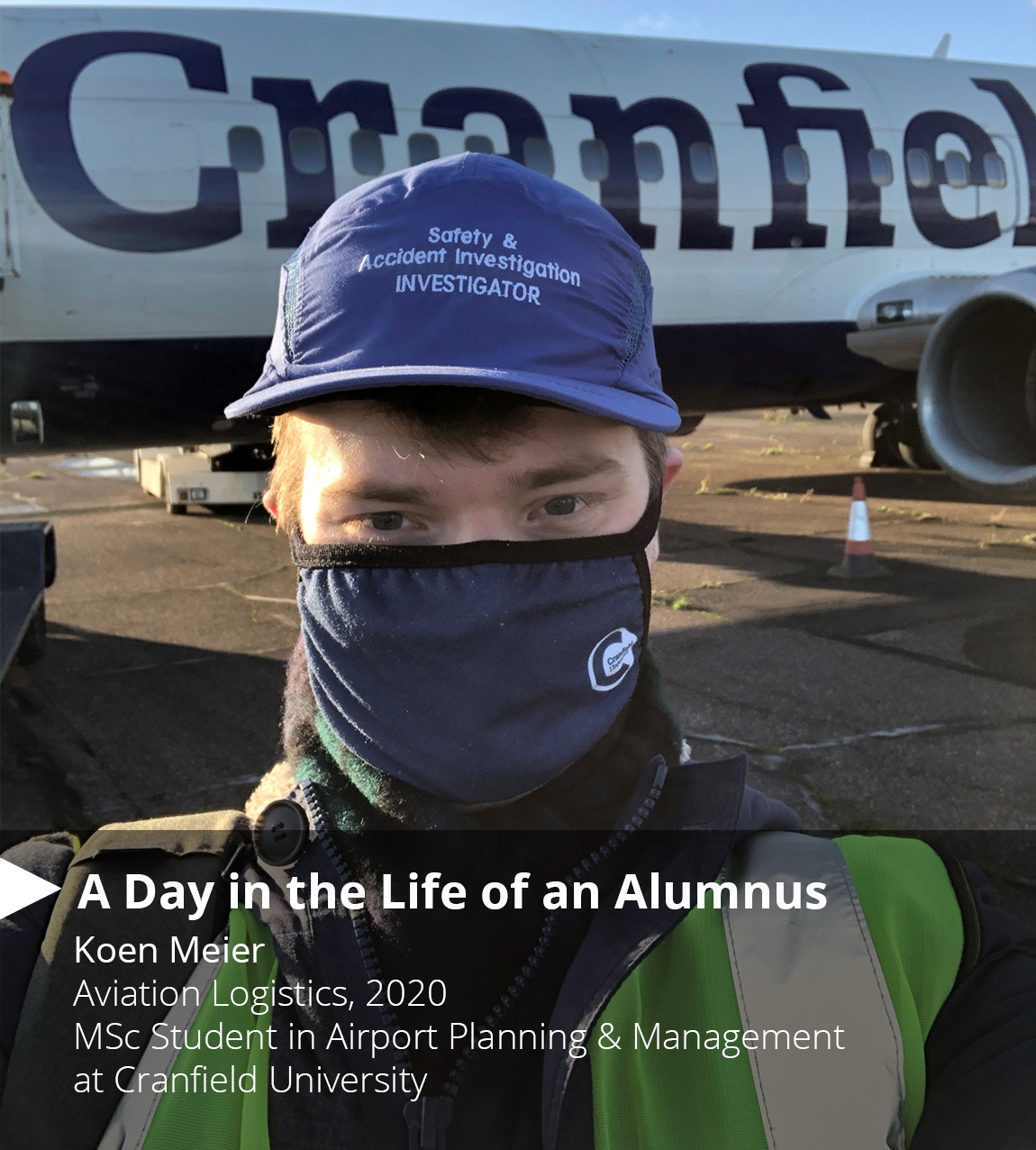 How did you get your current study?
Application for a Cranfield master program happens online. Two things that are vital. Which is the motivation letter not only describing your reason to start a master's degree but also what you wish to do after your degree. And referral letters from both academic and industry. Cranfield is also a university with a diversity policy which means that they want to have a diverse class with different backgrounds.
What are your daily operations?
My daily operations vary as it depends on whether I am having classes or not. On a lecture day my alarm goes off at 7am in the morning which means I have about 1 hour and 20 minutes to get ready. This is because I walk to campus on lecture days. Generally, classes start at about 9am and go on untill 5pm. A lecture day has about 3 to 4 classes. There are three breaks during a day. 2 breaks are 30 minutes long and one lunchtime break of 1 hour. Now with Covid-19 situation we all wear masks and are required to leave the rooms after every class during the breaks.
On a day without classes I sleep in untill about 10am and have some breakfast and sit behind my laptop working on essays. The best time to write essays is after a course has finished and you have some days off till the next course starts. Right now, I am juggling two essays and another one is coming up very shortly plus a group project. This means that time management is particularly important when you approach assignments. A mindset like I will do it later will not help you when your focus is on other topics.

What do you like the most at your study?
The best thing about being a student at Cranfield university is how on top of development our department is. In the first week of the program we were immediately confronted with questions about the impact of Covid-19 for example. Secondly, I would say is the guest lectures. We have had former students of the program, other academics, or retired professionals.
Where do you see yourself in 5 years?
After finishing my master's degree, I hope to work as a consultant in the field of airport planning or as an airport manager of some sorts.
What did you like the most from your education that helps you out nowadays in your work?
Two things that stuck with me from my time at the Aviation Academy is one being critical of yourself but also others. This not only applies to group projects but also to research for assignments. This was mainly taught in the last academic year, but it did gave me insights on how I should deal with being critical.
Problem solving has to be the second one. This comes back every day with assignments and in classes. For example, how will I cancel x flights on a day but keep all the stakeholders happy. Or how will I turn this challenge into an opportunity. This is what 4th yr. of aviation logistics was about for me and this comes back now in my master's degree.

Are you still connected with the Aviation Academy?
Yup, I follow LinkedIn pages as well as the Facebook pages of the Aviation Academy. And also staying connected with former lecturers to see what they have to say about certain trends.