Sybren Kuiper as Lecturer/ researcher @ Aviation Academy
Posted at: 8 Dec 2020 | Faculty of Technology

In 2019, Sybren graduated from the Honors Aviation Management track. After that, Sybren obtained a masters degree in Airport Planning and Management at the Cranfield University. Since then, he has been working as a Lecturer/researcher at the Aviation Academy. He will tell us something about his experiences after graduation and his outlook on the future.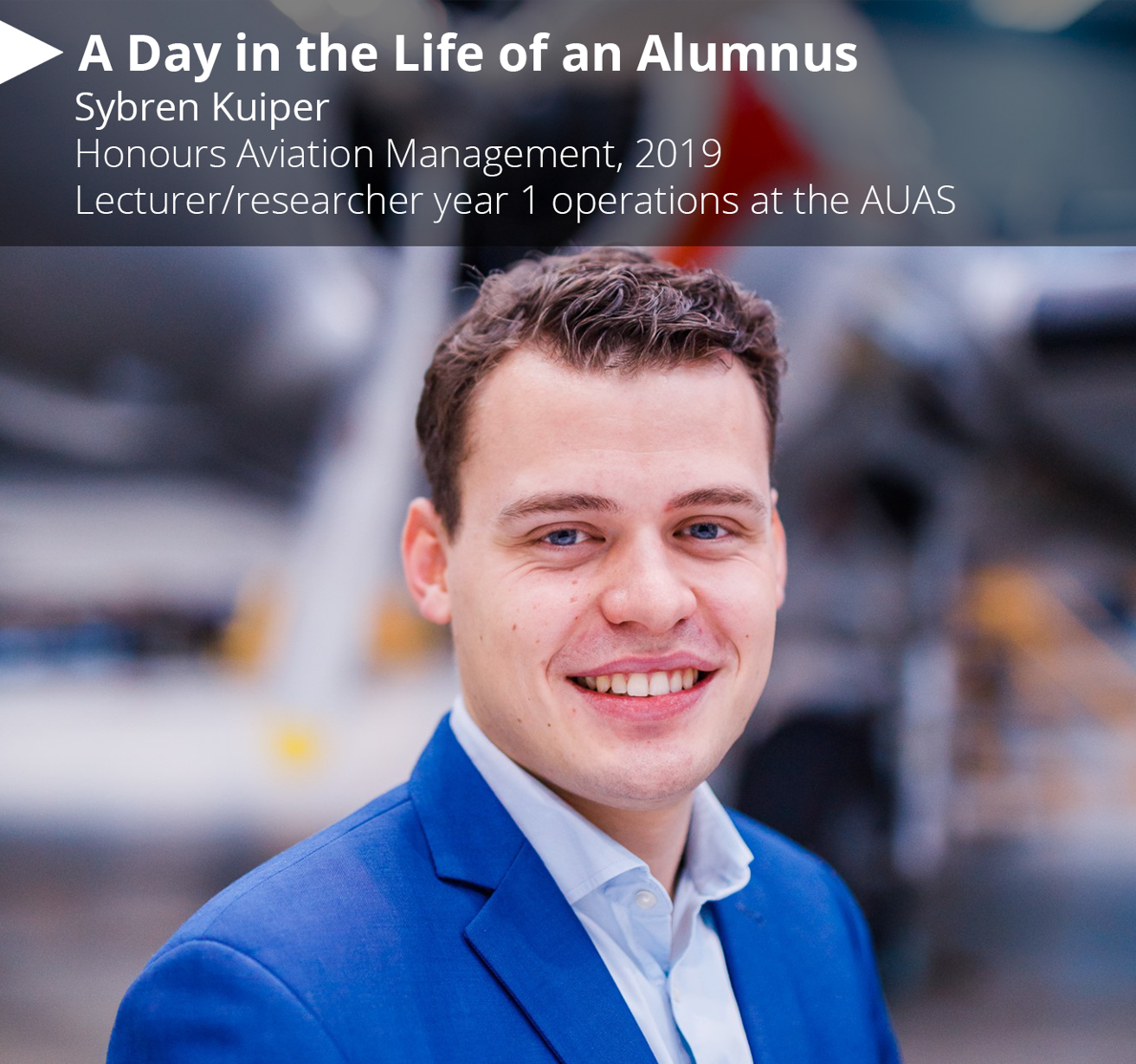 How did you get your current job?
One of my contacts within the university told me there was a vacancy for a lecturer/researcher at the aviation academy. Hereafter I applied and trough an application procedure I got the job.
What are your daily operations?
During an average day I have multiple classes to teach. All of those need to be prepared, which I usually do the day before when I am not teaching classes or attend meetings. In this time I also answer questions from students and administrative work such as grading of the work done by the students and delivering them the required feedback.
What do you like the most at your job?
I like the interaction with my students the most. Helping them to achieve a higher level and helping them grow professionally and in knowledge gives me a high level of satisfaction.
Where do you see yourself in 5 years?
That's a very difficult question with the aviation industry experiencing the biggest recession it has ever seen and possibly on the verge of an unprecedented growth when a vaccine to the COVID-19 virus becomes widely available. I hope that in 5 year time I'm able to play my part in the restart of a new aviation industry where we will develop a fully sustainable aviation industry. I can't say where this will be, it could be at the Amsterdam University of Applied Sciences. Teaching the future generations. However due to my lack of on the job experience, I would also like to go into the industry and use my knowledge in practice. However I am quite sure that I will always stay closely connected to the Aviation Academy no matter where I am or work.
What did you like the most from your education that helps you out nowadays in your work?
The focus on group work and presenting. Although being a teacher is sometimes a very lonely job, being in front of the class all on yourself, it is very important to be able to work within the team of teachers. Ans working with your students is like teamwork. Motivating them understanding there challenges and finding the best solutions to overcome them and make the grow as a student and professional.
The use of my presentation skills as a teacher is a more obvious one. Being able to understand how to present is one of the most important aspects of my job. Presenting new information and making sure everyone understands is the most important task I have as a teacher.