Timothy Jager Quality Project Leader @ ASML US
Posted at: 22 Nov 2020 | Faculty of Technology

In 2010, Timothy graduated from the Aviation Engineering track. After that, Timothy has held several functions at ASML US, the customer support for the Intel factory in Oregon. Currently, Timothy is a Quality Project Leader for Upgrades / Installs for both DUV / EUV business lines. He will tell us something about his experiences after graduation and his outlook on the future.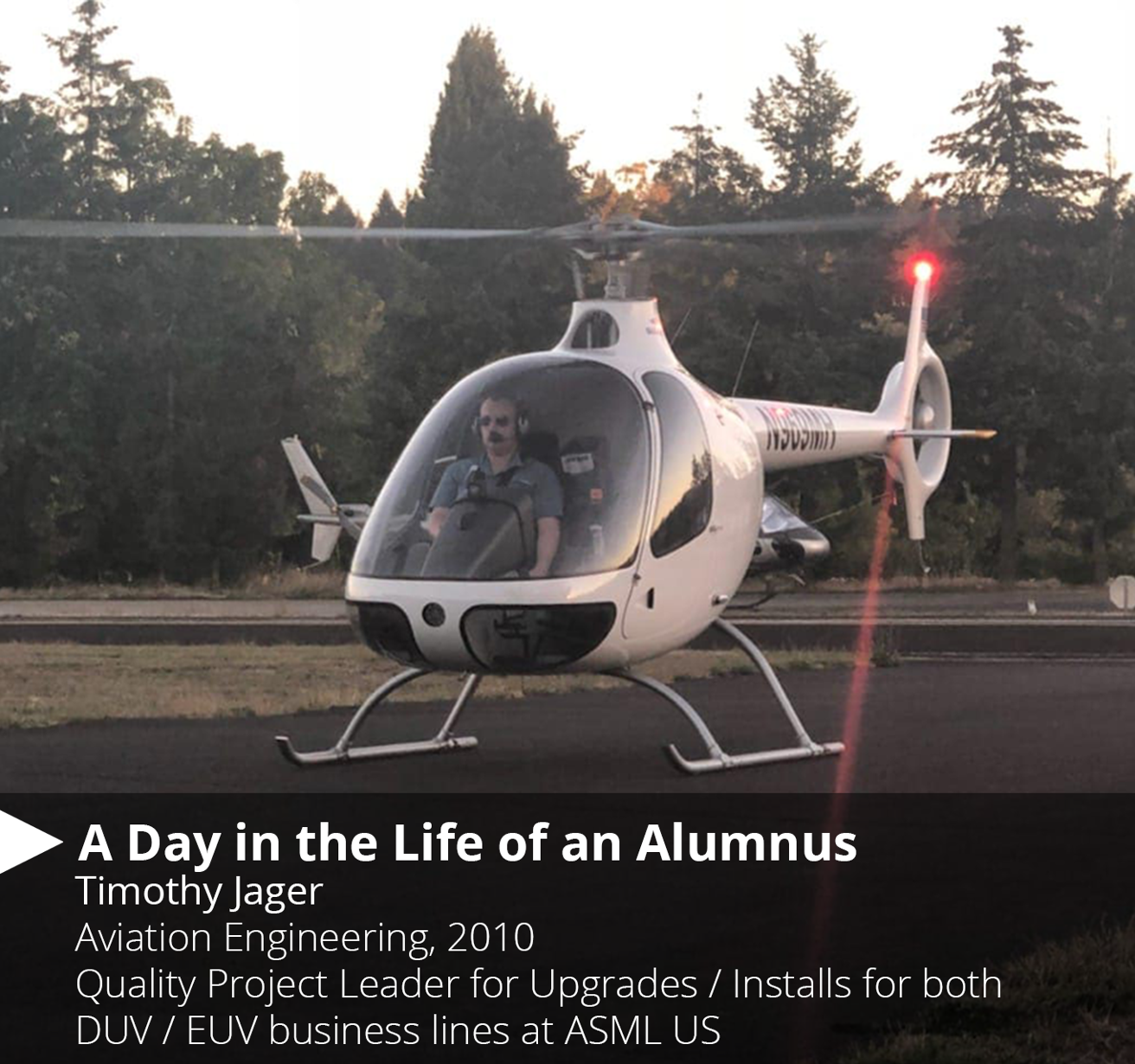 If this isn't your first job since graduation: what were your others jobs at which companies?
I have always worked with ASML but I have held several different functions within the company:
System Install Engineer (SIE) for DUV XT/NXT -> Installed DUV machines both XT and NXT at different customers in China, Taiwan and South Korea. [~1 year]
Upgrades Recovery Engineer for FF DUV upgrades -> Upgraded NXT machines at different customers in South Korea, Taiwan, Japan, Ireland and USA.[~1.5 year]
System Install Engineer for EUV Source -> Started up EUV source install team, worked with D&E closely on CO2 path and installed EUV source at different customers in Taiwan and USA. [~1.5 year]
Upgrades Coordinator for FF DUV upgrades -> Coordinating upgrades on a wide range of production machines (XT, NXT) at customer sites South Korea, Taiwan, Ireland and USA [~1 year]
Upgrades Coordinator for EUV Upgrades -> Coordinating upgrades on EUV production machines at customer sites Taiwan, South Korea, Belgium and USA. [~2.5 years]
Competence Coordinator for EUV Upgrades HBO -> Expat assignment in Hillsboro, USA. Helping setting up a solid local team for major critical EUV Upgrades. These upgrades can take up to 52 weeks. [~2 years]
Continuous Improvement PL for EUV upgrades HBO -> Responsible for running improvement projects for CSEU at HBO and supporting the WW CSEU community with HBO voice. Projects run from Redesigning IRM process towards usage of Hololens. [~9 months]
Quality PL for HBO site -> With the re-organization the role as CI PL was transferred to a broader role and department. In this role I am responsible for both external "Customer Complaints" and internal quality regarding materials, operation maturity etc.
How did you get your current job?
After I graduated I was very excited to start a career in the aviation world, unfortunately there was a downturn so no jobs. Pretty sad about it I put my resume on Monsterboard and I was called by a agency if I wanted to come work for ASML. That is how I started with ASML. I got my current job kind of automatically as with the re-organization my job was automatically moved to make sure the new organization is future proof.

What are your daily operations?
The morning starts with conference calls with the VHV time zone to align with VHV on actions. Shortly after it we have our daily status review on the machine at our customer site Intel.
Depending of the problems with the machines onsite either we have escalation calls or you have time to get up to speed with open emails.
Around noon we will have our Daily Kaizen meeting with our team to align on the actions where help is needed and what open actions for today need to be resolved.
The afternoon is very variable it could be full of back to back meetings or can be open to do work.
Mostly ones in the two weeks we will have a meeting with the customer to align and feedback on all customer complaints.

What do you like the most at your job?
The flexibility to get work done and the openness to improve work. We are on the forefront of new technology so we are paving the road as we go.
Where do you see yourself in 5 years?
I see myself settled in Thailand together with my wife and hopefully a job back in the helicopter world or even the aviation world.
What did you like the most from your education that helps you out nowadays in your work?
On one hand dealing with chaos and being flexible and on the other hand creating clear reports and driving for closure.
The Semiconductor business is close to the aviation world in the sense of ways of working e.g. the use of procedure, human factors etc.

Are you still connected with the Aviation Academy?
Currently I am not so much connected with the Aviation Academy anymore which hopefully I can change.
However I am still connected to the Aviation world via great friends! (Most of them I met via the study).
I am also working on getting my PPL for the helicopter.