Daan van der Heijden as Second Officer B777/787 @ KLM
Posted at: 20 Feb 2021 | Faculty of Technology

In 2016, Daan graduated from the Aviation Operations. After that, Daan has been has obtained his pilot license at EPST. Currently, he is working as a Second Officer B777/787 at KLM Royal Dutch Airlines. He will tell us something about his experiences after graduation and his outlook on the future.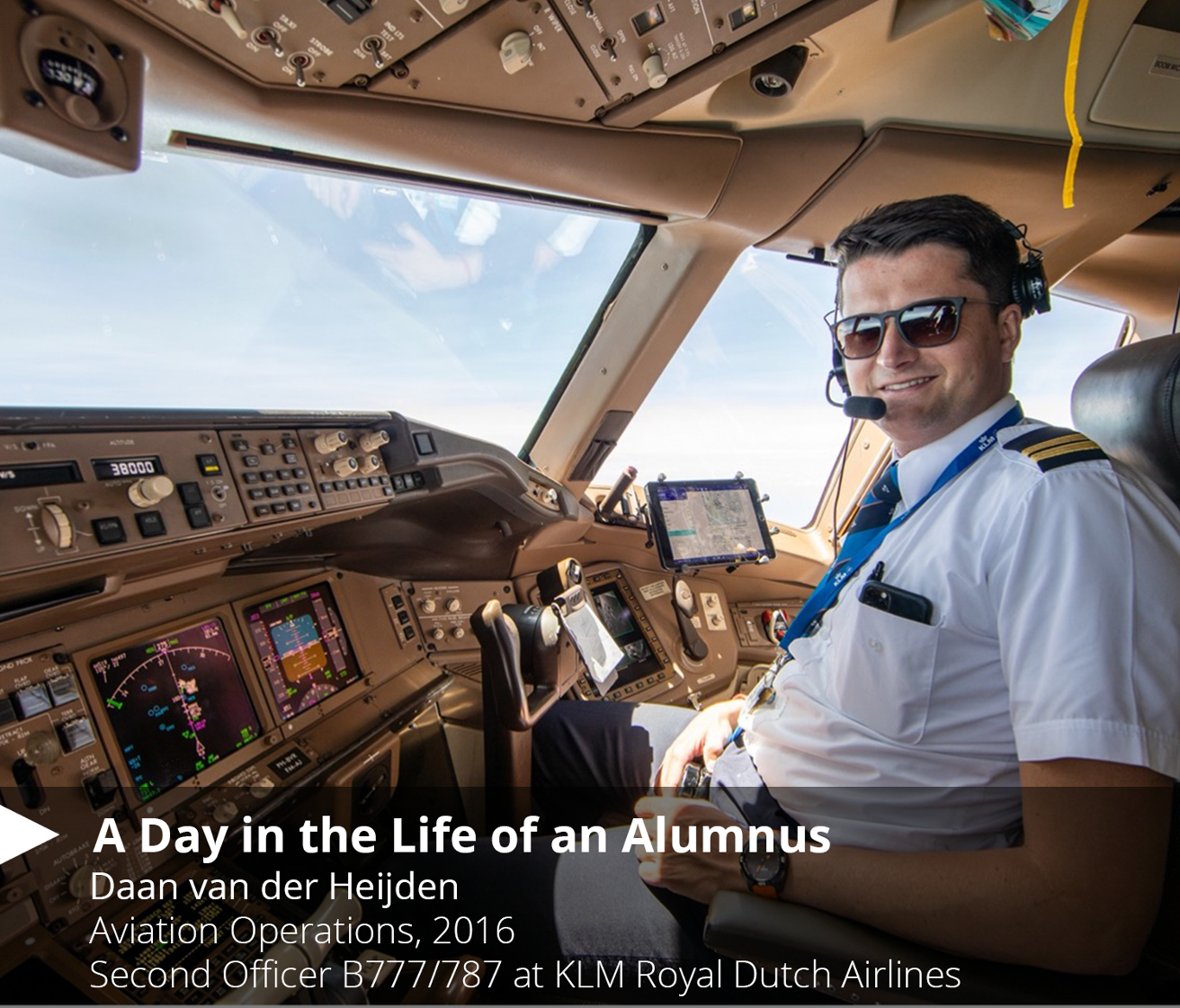 If this isn't your first job since graduation: what were your others jobs at which companies?
After graduating from the Aviation Academy I pursued my boyhood dream of becoming an airline pilot through EPST. An intense two years in England and the United States followed.
How did you get your current job?
Back in 2018 I graduated from EPST and the market for airline pilots was booming. I applied with KLM and was hired after completing their selection process which includes a psychological review, aptitude test and verbal interview with the COVA (Commissie van Aanname).
What are your daily operations?
As a Second Officer I am an active part of the flight crew on long haul flights in KLM's intercontinental network. The flight plan is pushed to our tablets so we can check the latest information regarding the flight (route, weather, NOTAMs etc.). After reporting at the BMC (Bemanningencentrum) at Schiphol I meet the other flight crew and we run through the flight plan together. After we all agree on the flight plan and the fuel uplift for the flight we walk to the aircraft and prepare for departure.
As a Second Officer I am not allowed to do takeoffs and landings, however during cruise flight we divide the tasks and usually one of us is allowed to enjoy some rest. By operating flights with 3 or 4 pilots, the maximum flight duty period is increased and allows us to operate ultra long haul flights as well (e.g. Santiago de Chile, Singapore, Buenos Aires.)
Tasks in the cockpit are generally divided by the principle of Pilot Flying (PF) and Pilot Monitoring (PM). The PF is responsible for safeguarding all flightpath related tasks, whilst the PM is verifying and monitoring all other tasks such as weather, aircraft status and ATC.
Once we arrive at our destination, we usually spend a night or two in a hotel before heading back to Amsterdam. Prior to the COVID-19 pandemic we were allowed to explore and enjoy the perks of the destination. At most destinations this is currently not possible, and we have to stay in the hotel or even in room quarantine for the duration of the layover.
What do you like the most at your job?
That is probably the most difficult question to ask someone who is pursuing his boyhood dream. If I had to choose: The feeling that the employer is giving you the trust of sending you and your fellow crew on a journey with a multimillion-euro jet and having the responsibility of the safety and well-being of over 400 passengers.
Where do you see yourself in 5 years?
I hope to advance within KLM and become a First Officer and eventually Captain. Initially on KLM's Europe or Cityhopper fleet, and later on the Intercontinental fleet. In addition, I would love to apply for an ancillary job within KLM.
What did you like the most from your education that helps you out nowadays in your work?
To work in groups and combine each other's knowledge and creativity in completing the assigned projects.
Are you still connected with the Aviation Academy?
Not as much as I would like to. I'd love to inspire current students in pursuing their dreams like I did.