Koen van der Knaap as Student Pilot @ EPST
Posted at: 11 May 2021 | Faculty of Technology

In 2019, Koen graduated from the Aviation Logistics track. After that, Koen worked as a Junior Safety Employee at LVNL. Currently, he is a Student Pilot at the European Pilot Selection and Training (EPST). He will tell us something about his experiences after graduation and his outlook on the future.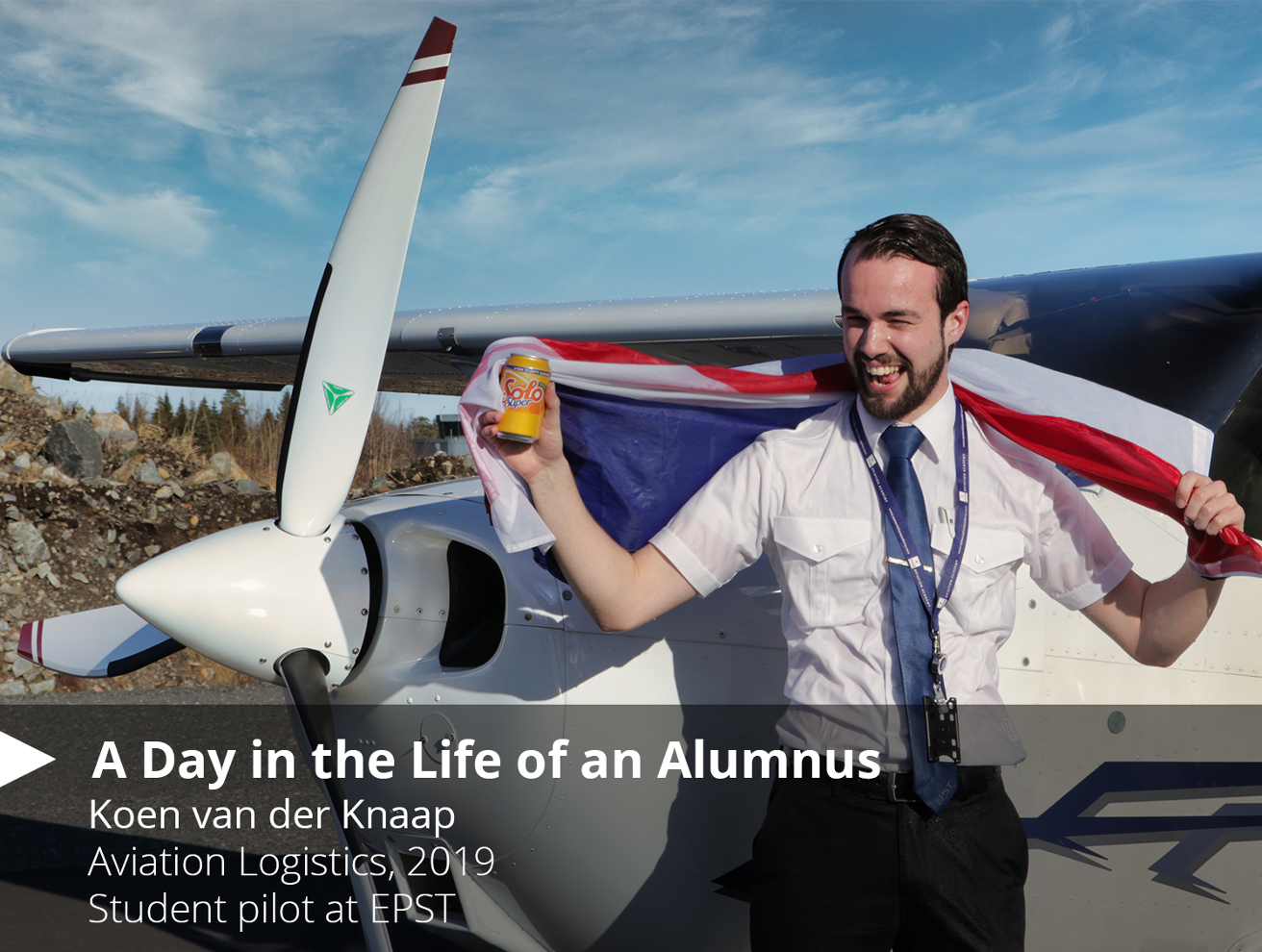 If this isn't your first job since graduation: what were your others jobs at which companies?
When I graduated in May, I conducted my final thesis at LVNL (Air Traffic Control the Netherlands). In this same period, I also completed the selection process for my flight training. Since I had to wait for a longer period of time for my flight training class to start, I was able to continue within the same department. Making a switch from intern to a new function as Junior Safety Employee. During this period, I was helping the safety investigators with their projects, and aiding with the investigation of safety occurrences at Schiphol, Rotterdam, or the Dutch airspace.
How did you get your current job?
I applied for the flight training at EPST and had to go through the selection process. After passing all of the tests and the final interview I had to wait for the next class to begin. I was able to choose between three different training locations; Greece, Portugal or Norway. In September 2019 I traveled to Norway to finally begin on my dream of becoming a pilot!
What are your daily operations?
A normal week of studying usually consists out of two or three classroom-theory lessons (or digital nowadays due to COVID) per week, of three hours per subject. With our flight training we combine the ATPL theory parallel with flying lessons. Which means that we normally have a flight scheduled the next day. We learn to fly on the Cessna 172, with a glass cockpit G1000 system (pretty awesome!), and the multi-engine phase will be on the Diamond DA42 aircraft.
You need to prepare the flying lesson content, calculating mass and balance, planning the route, and weather briefings before every training flight. All this information is gathered and used during the briefing of the lesson together with the flight instructor.
During the days in which we are not scheduled for theory of flying we have self-study in order to prepare for upcoming tests and exams. It is definitely a must to be on top of your game with the theory on all of the subjects. It is not necessarily harder in term of subject content (compared to my Aviation bachelor), but it is with a much higher tempo for sure!
Since I have chosen to go to Norway for my training, I also really appreciate the beautiful scenery and nature we're surrounded in! One thing I really love is to wander off into the nature and take pictures or fly with my drone to capture cool aerial shots.
What do you like the most at your job?
Definitely flying around in this amazing country! It is the best feeling when you are walking up to the aircraft in the early morning, taking-off with the sunrise, and flying alongside the coastline of Norway with breathtaking views.
Flying really gives me a great sense of responsibility and accomplishment. Together with the environment which is constantly changing (from snowy and icing conditions in the winter, to rough gusty crosswinds, to clear blue skies with lots of turbulence). This is always paired with the constant challenge to keep improving myself, it never gets boring!
Where do you see yourself in 5 years?
In five year from now I would love to be sitting in the right seat of a big passenger aircraft flying around the world as a first officer! Which airline it will be doesn't really matter to me at first, especially now with the ongoing pandemic. I should definitely be happy with any job that "lands" on my path, when I am finished after my training in 2022.
What did you like the most from your education that helps you out nowadays in your work?
Studying Aviation really gave me a good birds-eye perspective on the whole aviation industry. This will definitely help me with understanding the daily operation more while flying. This means I do not only understand how to control the aircraft, but I also have insight and understanding about the motives and processes of e.g., ATC, ground operation processes, cargo operations and more concerns involved in the aviation industry.
During my internships I narrowed my specialization down to the safety perspective within aviation. I did my third-year internship at the safety department of KLM, and my thesis internship at the safety department of LVNL. This was also a great experience to see the differences between the two companies, and their individual view safety regarding flight operations. With one company focusing on commercial objectives and the other on being a service provider.
Besides my bachelor I also took part in activities and board/commission positions with the study association (SVAAA). This also really gave me great opportunity to even further develop my professional skills and mindset, together with creating a network within the industry.
Are you still connected with the Aviation Academy?
I follow some news update from the academy via email. But I would really like to have something like a reunion someday, to have a drink with some old study buddies.