Kristian Loohuis as Marketeer @ Brand New Day
Posted at: 23 Feb 2021 | Faculty of Technology

In 2020, Kristian graduated from the Aviation Operations track. After that, Kristian has been working as a Marketeer at Brand New Day and he founded the Sponsor Factory. He will tell us something about his experiences after graduation and his outlook on the future.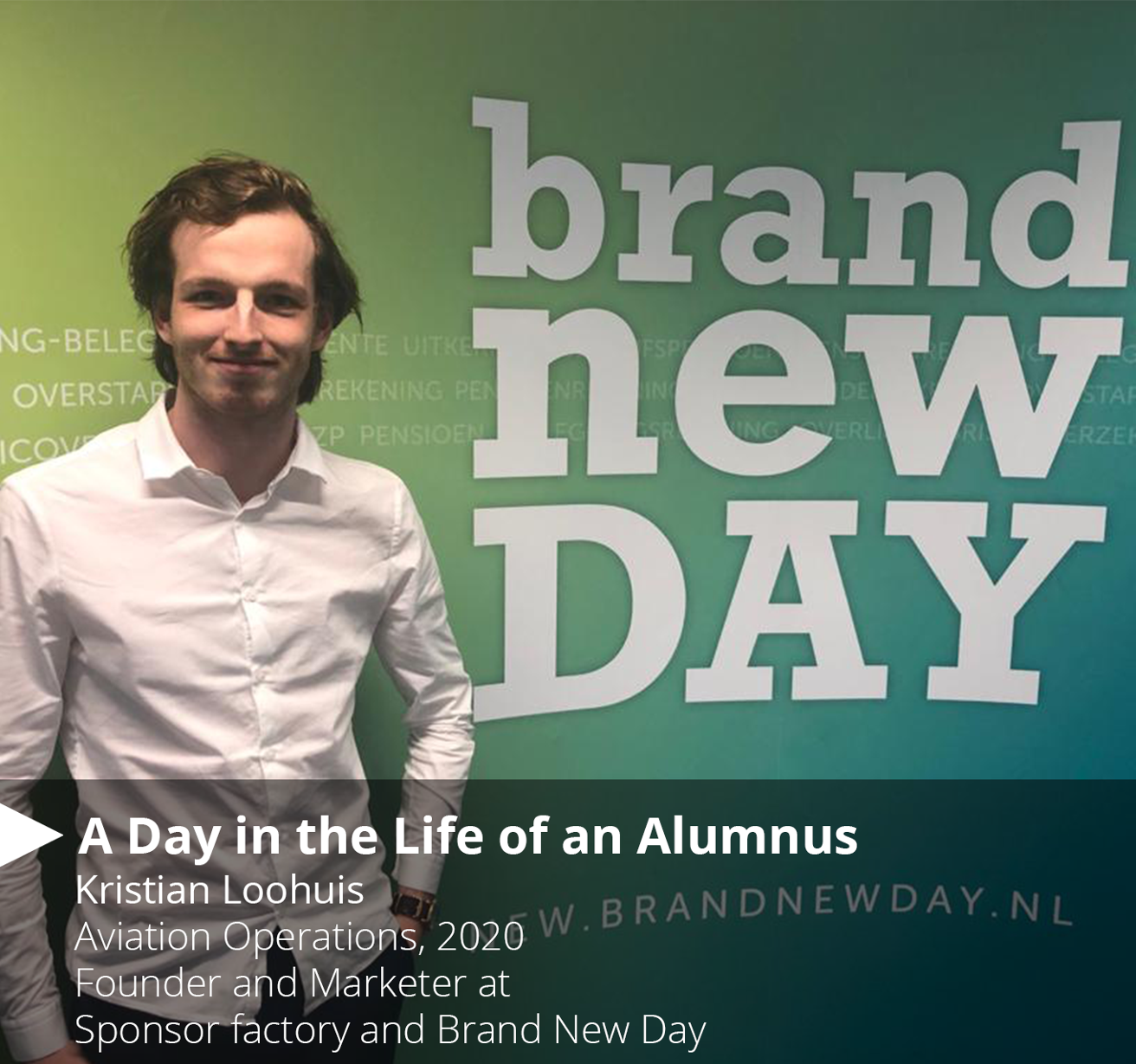 How did you get your current job?
In 2017 I took a gap year to try out a serious side job. Through Indeed I found a job at Brand New Day as Business-to-Business (B2B) sales agent. Together with a team of students we sold a financial product to small and medium enterprises. Brand New Day is a very young company, so there is a lot of freedom to develop yourself and space to create your own path. After two years as a sales agent I came up with the idea to create a new function: a student job as B2B marketer. I really liked the marketing world, so I knew that it would be amazing to do my fourth year internship at the marketing department of Brand New Day. Thanks to the flexible and open approach of my HvA supervisor (Hans Meckelenkamp) and my company supervisor it was approved that I did my internship out of the aviation industry. After writing my thesis Brand New Day offered me a full time contract as a marketer so that's how I got in the place where I am now!
I founded the Sponsor Factory myself so I didn't find that job via Indeed or some other platform. 😉
What are your daily operations?
Currently, the evening and weekend hours are for my startup, while the daily hours are going to Brand New Day. From the 1st of March I will work less hours for Brand New Day to have more space to develop the Sponsor Factory.
The last months for the Sponsor Factory were about market research. My business idea is to match companies and sports / student associations to generate sponsor deals, so I had to find out if there is any market for this business idea. After months of market research and concluding that there is a market for the idea, I enrolled the company in January to the Chamber of Commerce. Now I'm busy with the first steps of getting my idea into a serious business.
For Brand New Day I am responsible for feeding the sales department with as much as possible potential clients. I roll out a lot of different marketing tools to make businesses interested in our product, such as Google Ads, LinkedIn ads, video's, partnerships and organizing events.
What do you like the most at your job?
I like both jobs really much because they are both very entrepreneurial. Although only the job at the Sponsor Factory is really to be an entrepreneur, the culture at Brand New Day stimulates to be entrepreneurial. I have always liked to try new things and think out of the box and if I look to my both jobs then I have found something that suits me very well.
Where do you see yourself in 5 years?
I'm eager to have my own serious business. I am going to do anything to make the Sponsor Factory work, so if it works out the way I hope then in 5 years I have my own company that helps companies and associations a lot in finding good matches. It would be a dream if the Sponsor Factory grows and in 5 years I can work together with some nice colleagues.
What did you like the most from your education that helps you out nowadays in your work?
Three things:
Doing market research is a subject in multiple courses in year 2 an 4. Some of these techniques I used for my own market research, so that was very helpful.
My minor was in Business Administration. It was really nice, after two years of aviation courses, to do some courses aside from the aviation. It helped me finding out what topics I really liked.
The space the study gave to find my own path gave me the chance to do a full time board year at the biggest student rowing association of The Netherlands: Skøll Amsterdam. That year as Vice President I was responsible for all external affairs, such as new members, PR and sponsorships. It gave me a lot of new knowledge about what I like and resulted in my current start-up. I had to have (another 😉) gap year to take this chance. I want to thank my study supervisor (Monika Nicatia) for arranging everything in order for me to take this chance.
Are you still connected with the Aviation Academy?
Not very much, although I would like to give a guest lecture or something in the future. At the moment I'm only connected through the LinkedIn page and I am in a football team with some alumni.