Oscar Bovenkerk as Avionics Systems Engineer @ KLM
Posted at: 1 Jan 2021 | Faculty of Technology

In 2019, Oscar graduated from the MRO Engineering track. After that, Oscar has been working as an Avionics Systems Engineer 737/KDC-10 at KLM Engineering & Maintenance. He will tell us something about his experiences after graduation and his outlook on the future.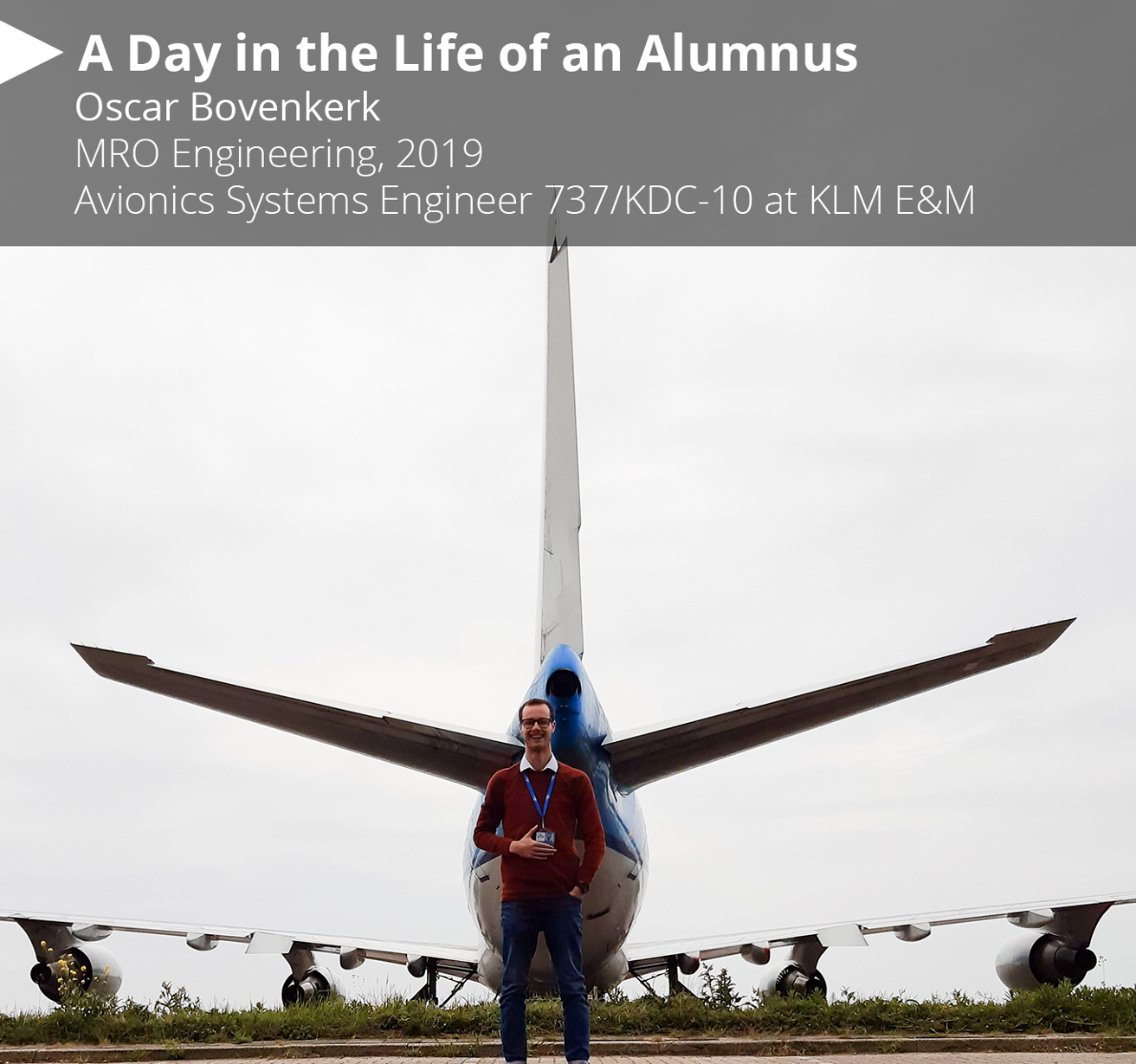 How did you get your current job?
I applied for a vacancy on the KLM Careers website
What are your daily operations?
Providing technical support for Boeing 737 NG/MAX and KDC-10 aircraft to KLM Royal Dutch Airlines, its subsidiaries and customers. This includes the evaluation of service and authority documentation, modification preparation and support, reliability analyses & engineering, and troubleshooting / AOG support for both aircraft and components.
What do you like the most at your job?
I especially really like seeing my own work make a difference and the diversity of the job. Helping others with knowledge and experience, though not as extensive as some colleagues yet, is really satisfying.
Where do you see yourself in 5 years?
I hope to see myself as an experienced engineer or technical specialist within KLM or somewhere else where I feel good and am enthusiastic & motivated for my work. Though it will probably be somewhere close to an airfield.
What did you like the most from your education that helps you out nowadays in your work?
I think the one skill that helps me the most in day to day use is clear communication. During my time at the AUAS Aviation Academy and during my internships I learned to write and present often very complex research topics to different people. This really helps me with writing procedures, providing technical support to customers or subsidiaries as well as (technical) communication with colleagues and manufacturers such as Boeing.
Are you still connected with the Aviation Academy?
Yes I am! I really like helping students with for example finding internships or giving information. There is also a guest lecture planned in March which is terrifying but also very exciting.
Furthermore, I am also supporting the students performing (graduation) projects at DEAC Dutch Electric Aviation Centre Teuge which are largely performed by students of the Aviation Academy.
I would like to add that working at Schiphol never can disconnect a certain connection to the Aviation Academy. Lots of colleagues have studied here and I still find familiar faces of my time at the AUAS through my work inbox either as an intern or as an esteemed colleague.
I hope to see you (yeah the one reading this) there as well one day!