Paul Hoogenboom as a First officer Airbus A220 @ Air Baltic
Posted at: 21 May 2021 | Faculty of Technology

In 2008, Paul graduated from the Aviation Engineering. After that, Paul obtained his pilot license at the AIS flight academy. Currently, he is working as a First Officer on the Airbus A220 at Air Baltic. He will tell us something about his experiences after graduation and his outlook on the future.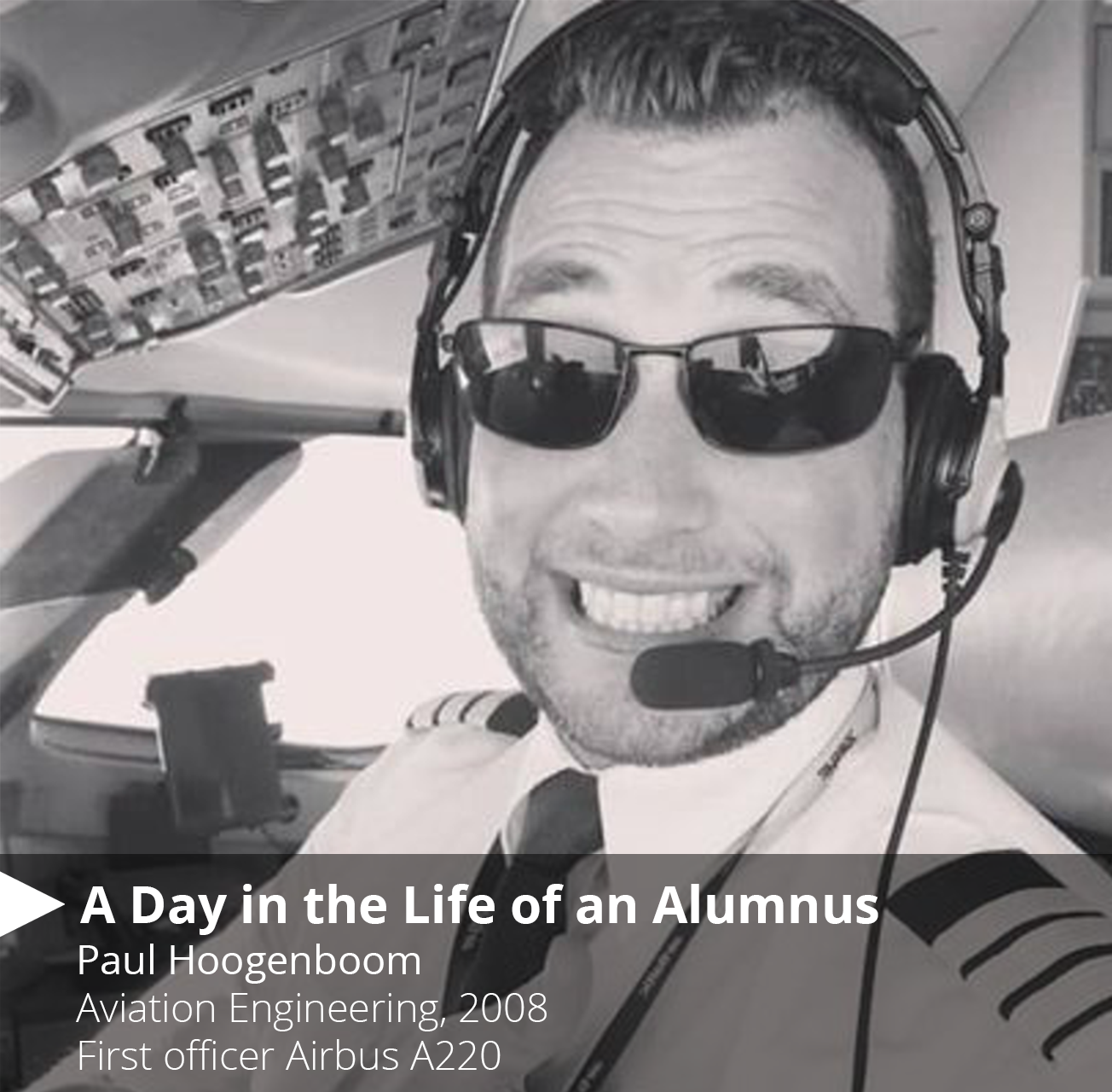 If this isn't your first job since graduation: what were your others jobs at which companies?
After completing my HBO aviation, I started at the AIS flight academy in 2013. In 2015 I graduated, and immediately started as a co-pilot on the Jetstream 32. After one and a half years of flying for AIS, I spent one year as a co-pilot on the Jetstream 32 in Morocco.
How did you get your current job?
Through former colleagues and friends, I was told that Air Baltic was looking for new pilots for their brand new A220 fleet. I decided to apply, and so I could start in 2018. First the simulator training, and from there as a full first officer.
What are your daily operations?
My day is almost always different, depending on the destination on my schedule. About 2.5 hours before the start of my flight, the cab drives me to the office. Once at the office I print out all the flight data (route, weather, notams etc) and study it. Then I meet the captain of the day, and together we discuss the flight. If everything is clear, we give a short briefing to the cabin crew, and together we go to the aircraft. We divide the tasks, and about half an hour before departure we prepare the aircraft (think of FMS settings, refueling, etc). Then we carry out the flight. Per leg, we decide each day who will fulfill the role of pilot flying, and who will fulfill the role of pilot monitoring.
Afterwards, I make sure that all timestamps are put into the computer, and all board documents are collected and stored.
What do you like the most at your job?
What I like most about this job is flying on 1 of the world's most advanced and newest aircraft. But also, every day is different, you work almost every shift with different people, and I get to see a lot of the world for my job.
Where do you see yourself in 5 years?
I hope that in 5 years I will have enough experience and flying hours so that I can upgrade to captain.
Are you still connected with the Aviation Academy?
Recently I started making and recording Human Factors lessons for Aviation students. I hope to share more of my experience and knowledge with enthusiastic aviation students in the future. Students, who like me, also want to make the step to become a pilot.