Rachel Jacob as Student Culture, Organization and Management
Posted at: 20 Feb 2021 | Faculty of Technology

In 2019, Rachel graduated from the Honours Aviation Management track. After that, Rachel has been a Master Student Culture, Organization, and Management at the Vrije Universiteit Amsterdam. She will tell us something about her experiences after graduation and her outlook on the future.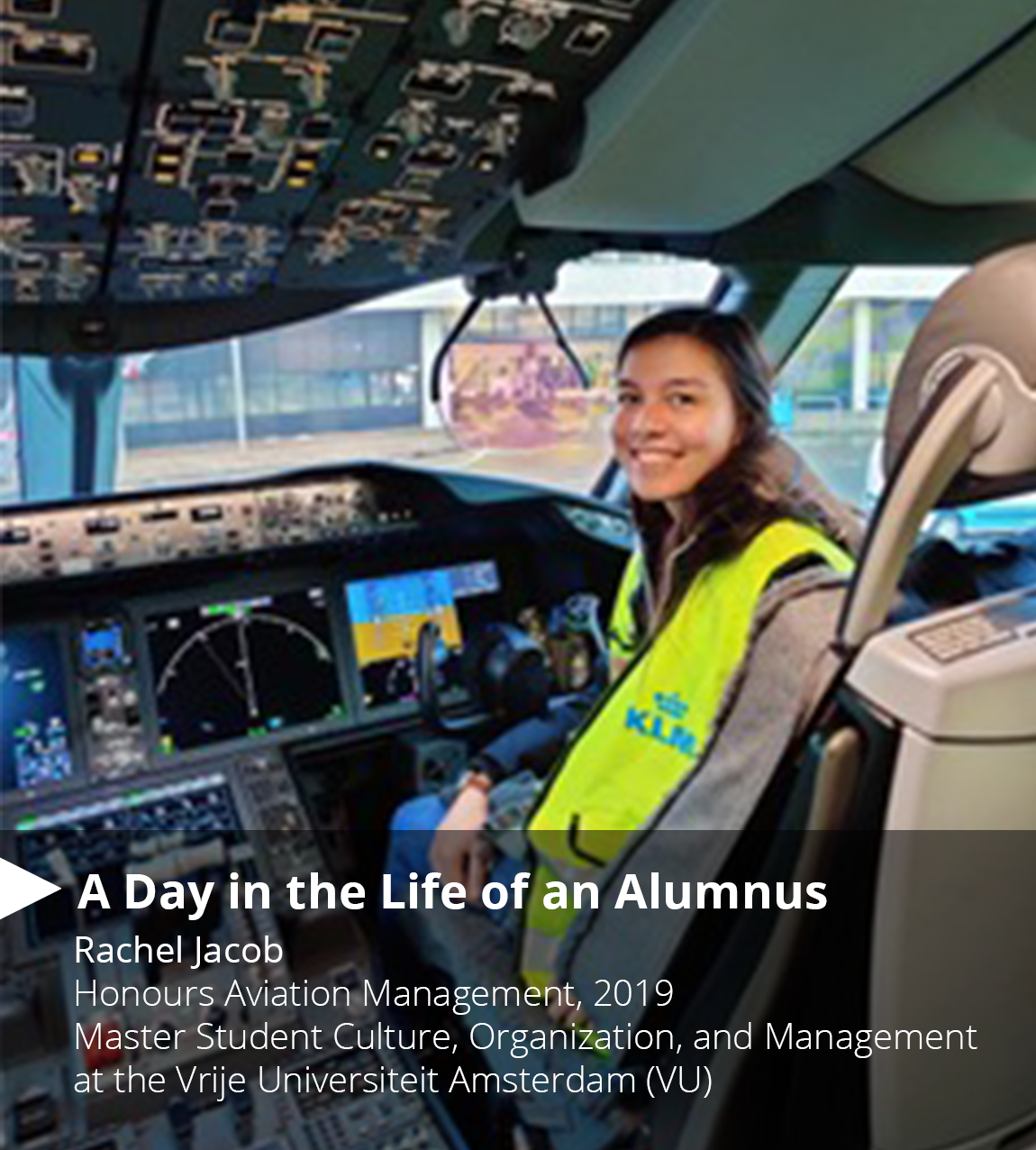 If this isn't your first job since graduation: what were your other jobs at which companies?
I have chosen to pursue a master's degree first before starting my working career, so for me my first full time job will have to wait until I am graduated.
How did you get your current master?
To be eligible for this master I first had to go through a preassessment, which is a test in which they evaluate your Dutch and English reading and writing skills, and your statistics skills. After passing the preassessment, I had to follow a one-year premaster to develop my skills in social sciences. Finally, when I received all my ECTS from the premaster, I was able to follow the master's degree.
What are your daily operations?
From February until July I will be busy with my master thesis: My study will focus on psychological safety of ground engineers in KLM's Line Maintenance department at Amsterdam Airport Schiphol. I mainly conduct ethnographic research, which means that you will often find me on the platform where I will be joining the engineers in their day-to-day business. I do not only work with them, but I also pay close attention to underlying processes and social dynamics leading to insights that may otherwise be overlooked. Additionally, I conduct a large number of interviews with employees on all levels of the organization who are directly and indirectly involved in the work of the engineers.
What do you like the most at your master?
This master has taught me a whole different perspective on organizations: I don't see organizations just as companies that provide products or services, but I see them through the social, cultural context in which I try to make sense of various symbols such as the ways individuals act, speak, and ultimately behave in the organization. I definitely like this most because it gives me the opportunity to look at certain things through different lenses, which broadens my perspective on the field and the world in general.
Where do you see yourself in 5 years?
I guess I would still be working in the aviation sector, but what kind of job or where I would work is still a big question for me as well. The most important thing for me is to find a job that I enjoy.
What did you like the most from your education that helps you out nowadays during your master?
I would like to point out that there are many things I liked a lot from Aviation Studies, but I think that especially the internships and minor have given me many practical cases and issues that I will bring with me in my future career. While the master showed me how to take different points of views towards organizations, Aviation Studies provided me with the operational knowledge of organizations within the aviation sector. Eventually combining my experiences and knowledge from both educations give me a much broader perspective on the workings of aviation related organizations. During this internship at KLM I already benefit from this. As I have the basic knowledge of how the work of a ground engineer theoretically looks like, it helps to easily blend in and gain deeper insights in how they perceive their work.
Are you still connected with the Aviation Academy?
Through Instagram and e-mail I still am connected with the academy.