Robert Schuur as Co-founder and CEO @ Grasp Innovations
Posted at: 21 May 2021 | Faculty of Technology

In 2014, Robert graduated from the Security and Technology track. After that, Robert worked as an strategy consultant at Point FWD. Currently, he is the Co-founder and CEO of Grasp Innovations. He will tell us something about his experiences after graduation and his outlook on the future.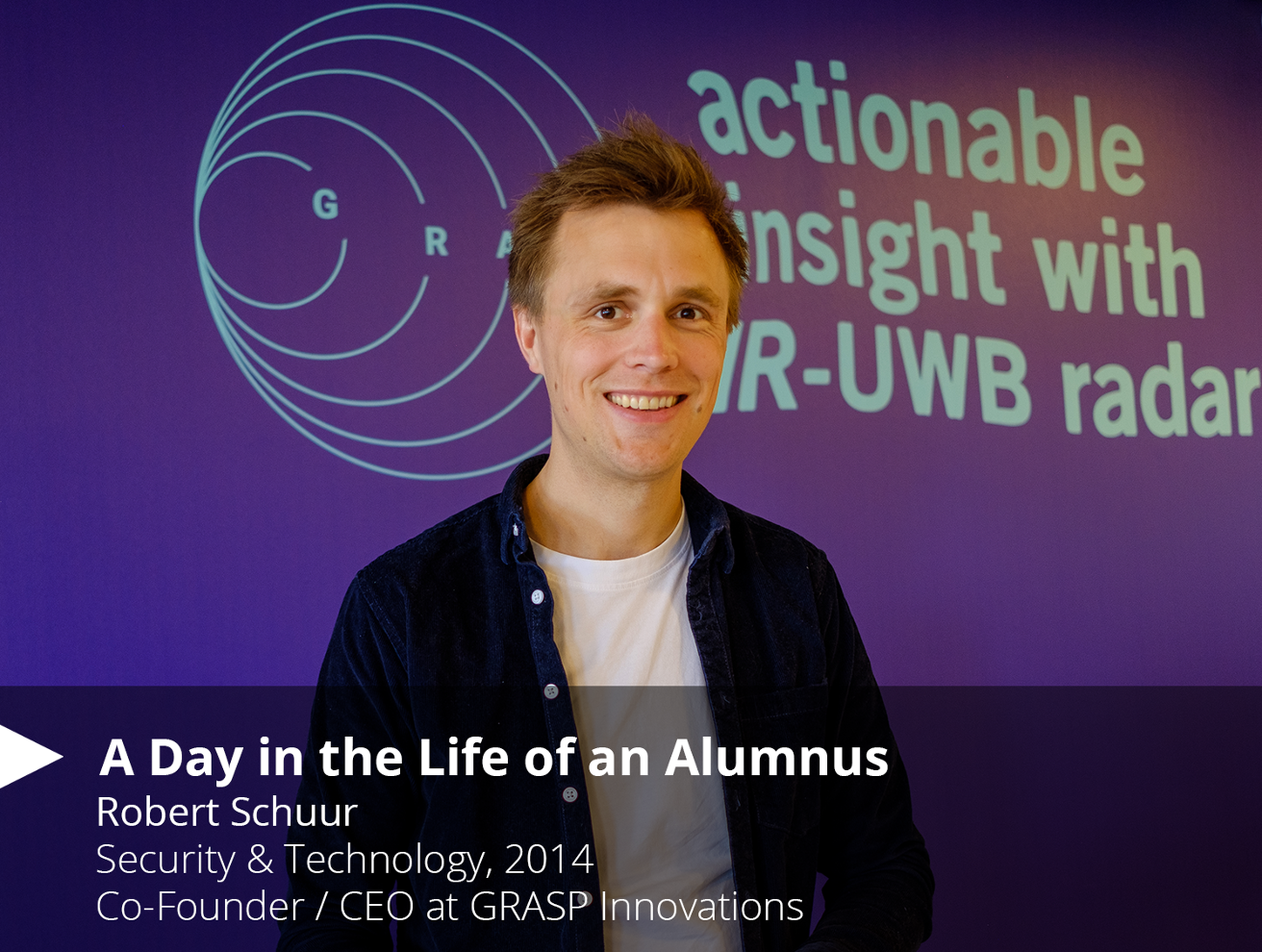 If this isn't your first job since graduation: what were your others jobs at which companies?
Before starting GRASP Innovations I used to work at Point FWD as a strategy consultant. Point FWD is a consultancy firm specialized in aviation security primarily focusing on data driven consultancy within the passenger security process. An awesome company with a great team, many Aviation Security & Technology alumni work there.
How did you get your current job?
We started GRASP in 2019 as a spin-out from Point FWD, we saw an opportunity within our industry (aviation security) and decided to start a new company.
GRASP's focus is on optimizing aviation security by using really cool radar technology in combination with our own software. We're convinced that many security processes can be automated and optimized by smart usage of technology and data.
What are your daily operations?
We're still a small start-up, so my daily operations pretty much include anything and everything that is required to run a business. Together with Michael Verhage (my co-founder) and our colleagues we work on the development of our software solutions, sales, marketing, and general business strategy.
I consider us a tight-knit team, working together on all topics and most of the decision making is organically, for now we don't need super strict hierarchy in the company (and hopefully when we grow, we'll stay this way actually).
Our work is very diverse, so a typical day is hard to describe, but a day I enjoy the most definitely includes creative brainstorm sessions with the team, talking to clients and partners while enjoying a good cup of coffee.
Back when we could still travel, we would regularly travel to airports across Europe and visit our technology provider in Seoul - South-Korea – something I miss a lot now and I'm very much looking forward to picking that back up when possible.
What do you like the most at your job?
The diversity, the challenges, and the endless opportunities. Having started our own business means we are in charge of what we want to do and where we want to go.
Where do you see yourself in 5 years?
Always a very difficult question, hopefully 5 years from now myself and my family is happy and healthy – without a doubt the most important thing in life.
Business wise I hope we can grow GRASP into a recognized player in the industry, we've got big ambitions and feel like we're at the starting line in many aspects.
For me successfully growing GRASP also means remaining a nice company to work, a place where you can grow and be challenged. We're very ambitious so we expect the same from our team, but that shouldn't come at the expense of our culture.
What did you like the most from your education that helps you out nowadays in your work?
Structural work, during my time in the HvA I wasn't the best student – it took me a bit longer to graduate. But looking back at my time at the HvA I especially learned how to effectively organize a project and execute, especially in the last 2 years of Security & Technology we did some amazing projects (go Teampie 1!).
Are you still connected with the Aviation Academy?
Yes, we try and structurally have interns and graduates. In my time at Point FWD we used to host guest lectures for Security & Technology. We've experienced that growing from an (graduate) intern to an employee is a very effective way of hiring new colleagues. It's the way I started out at Point FWD and many others of the team, we want to do the same with GRASP.