Yoeri Min as Manager Regie, Change en Data @ Nationale-Nederland
Posted at: 2 Dec 2021

In 2013, Yoeri graduated from the Honours Aviation Management track. After that, Yoeri obtained a master's degree in Business Administration. Since then, he has been working at Delta Lloyd as Management Trainee. When Delta Lloyd was acquired by Nationale-Nederlanden, he continued his career there as Manager Regie, Change en Data.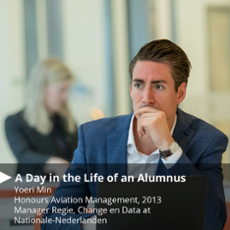 If this isn't your first job since graduation: what were your other jobs at which companies?
After completing an additional master's in Business Administration, I started working as a Management Trainee at Delta Lloyd. After completing multiple assignments within the traineeship, Delta Lloyd was acquired by Nationale-Nederlanden. At Nationale-Nederlanden, I started working as Manager Operations of the Pension Services Divorce team. Responsible for the operational performance, continuous improvement of processes, and stimulation of the team to push themselves in a constantly changing environment.
How did you get your current job?
After being an operational manager for two years, I noticed that the job became more and more business as usual. I was up for a new challenge and environment, so I reached out to people within my network and ended up being able to set up my own team within Nationale-Nederlanden: the Regie, Change en Data team.
What are your daily operations?
I lead a team of highly skilled professionals that are transforming the operational department of Group Income at Nationale-Nederlanden. My daily activities vary from setting priorities within the team, managing stakeholders, coaching employees and provide result-driven direction.
What do you like the most at your job?
I like the complexity, being able to work with professionals, the ability to work with a large amount of stakeholders, and the opportunity/responsibility to shape the future of the operational department of Group Income.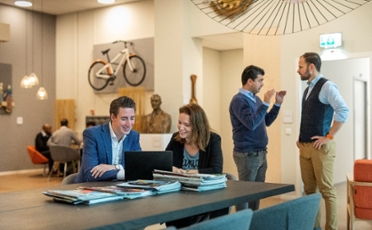 Where do you see yourself 5 years from now?
In 5 years, I would like myself and my loved ones to still be healthy. Personally, I would still like to have a job that I love to do. In 5 years, I would like to return to the aviation industry in a senior management position to apply all that I've learned over the years.
What did you like the most from your education that helps you out nowadays in your work?
For me, the Aviation Management honours programme has been the foundation of my leadership and management principles. The Aviation Management honours programme is/was very much a learning by doing type of education. Some skills and practices like leadership, providing and receiving feedback, and planning and organizational skills, I still use today in my day-to-day work.
Are you still connected with the Aviation Academy?
Not as much as I would like to be. Luckily an Aviation Management honours programme alumni dinner is organized to meet new Aviation Management students and catch up with fellow alumni.