Barry van Niekerk as Business Consultant Aviation @CGI Nederland
Posted at: 10 Mar 2022 | Faculty of Technology

Barry van Niekerk graduated from the Aviation Academy in 2018. He completed the Aviation Studies: Maintenance, Repair and Overhaul track, and after several other jobs he landed at CGI just as Romee did. Barry will tell us something about his experiences after graduating and his outlook on the future this week.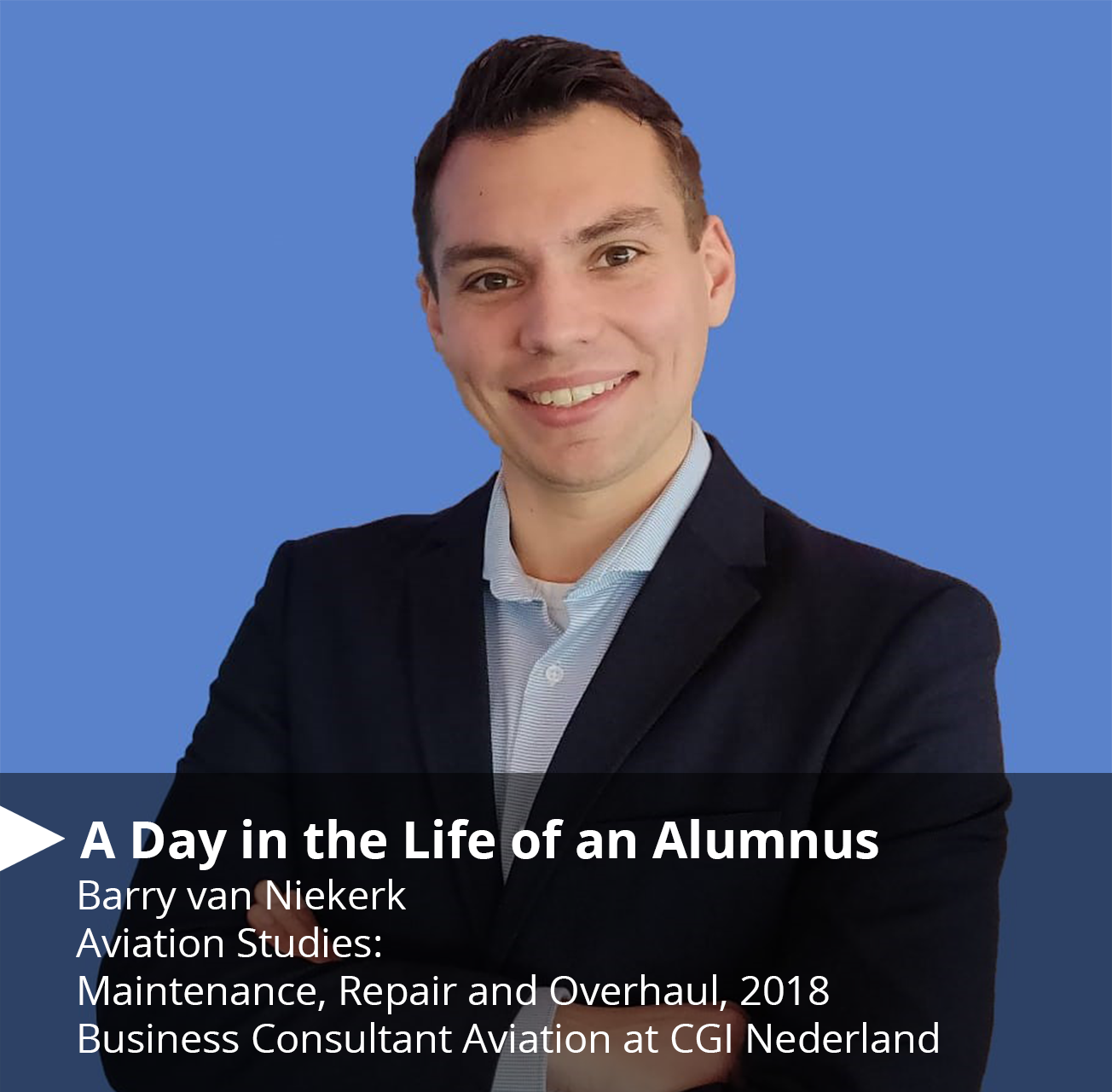 If this isn't your first job since graduating: what were your other jobs at which companies?
Aircraft Operation Controller, TUIfly Operational Control Centre Benelux.
Search and Rescue Coordinator, NHV NL (Noordzee Helikopters Vlaanderen).
How did you get your current job?
Via a referral from a classmate from Aviation Studies, who is also working in the Aviation sector at CGI.
What are your daily operations?
Business Analytics and Project Management of projects for multiple international companies in the Aviation sector, such as KLM, Schiphol and Transavia. At CGI I put my theory and skills I learned at the HvA into practice, and I get trained to use multiple project management methods which are common in the Aviation sector.
What do you like the most at your job?
Working in the Aviation sector and at advice companies with complex questions. To do this, CGI provides me with the tools an additional training to learn and finish projects. The combination of learning new skills and working in the Aviation sector at the same time motivates me to constantly improve myself. CGI also gives me the opportunity to broaden my knowledge outside the world of Aviation, such as working for the Transport and Logistics sector.
Where do you see yourself in 5 years?
In the future I want to know more about the management processes in the Aviation sector. And I would like to work as Business Analyst or Project manager at the management level of the Aviation sector.
What do you like the most from your education that helps you out currently in your work?
Working with project teams helps me nowadays in my work at CGI with coordinating, managing, and working in teams. The way of working at the HvA is almost the same as here at CGI. The Aviation lectures and excursions of the HvA have given me a good overview of the Aviation Industry and I can use this now to do my work as Aviation Business Analyst.
Are you still connected with the Aviation Academy?
As Alumnus I receive the newsletter. And I am still interested in the Aviation Management Master which is in development.
Have you been a member of the SVAAA?
Yess, I have visited several excursions and was part of the Non