Bashir Amer as Software Engineer ACMS application @ KLM
Posted at: 11 Apr 2022 | Faculty of Technology

In 2017, Bashir graduated from the Aviation Engineering track. After that, Bashir started working at Schiphol Airport as load controller in a ground handling company to gain some experience in the operational field of aviation. Currently he is active as a Software Engineer ACMS application at Royal Dutch Airlines (KLM). He will tell us something about his experiences and his outlook on the future.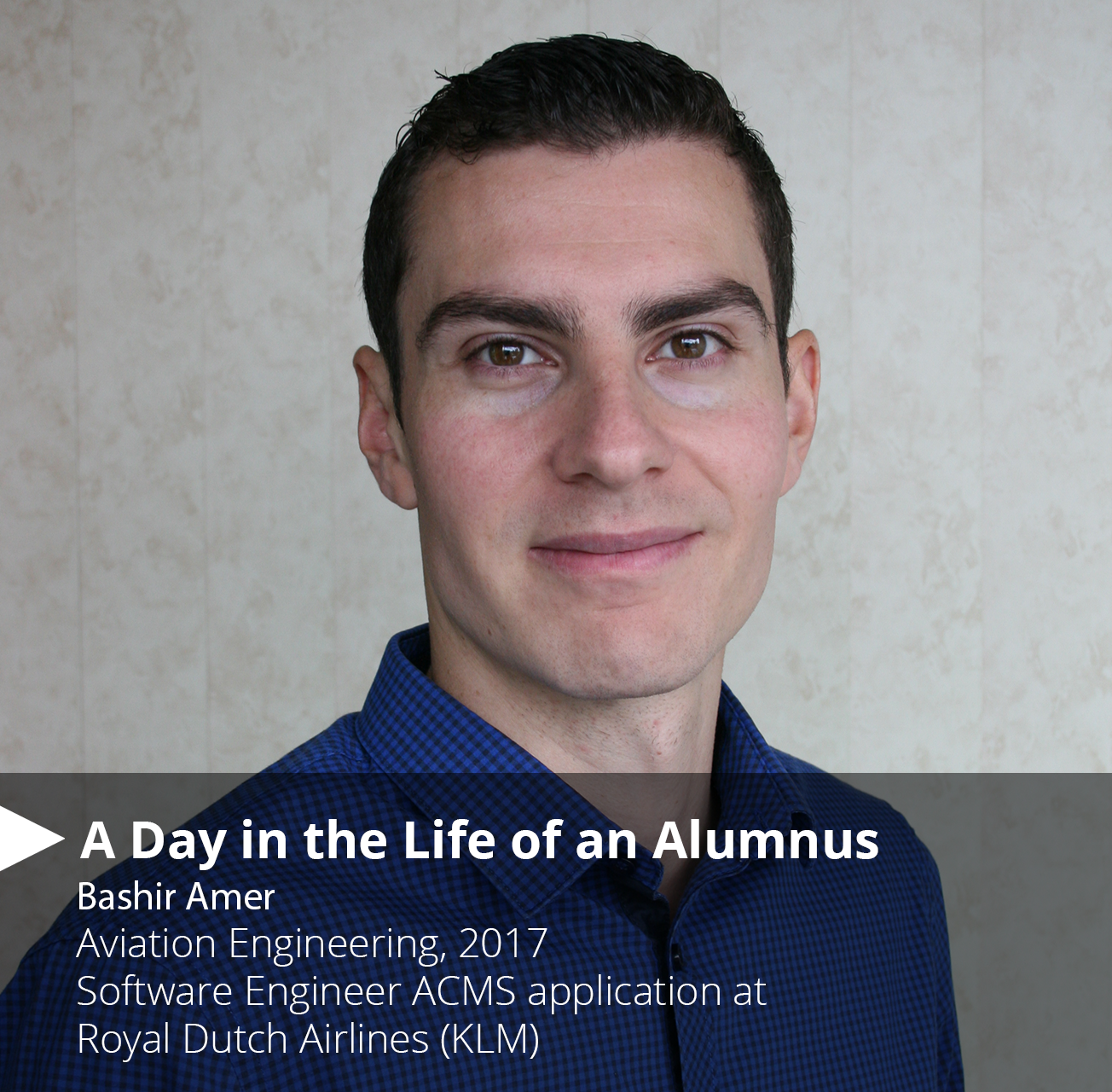 If this isn't your first job since graduating: what were your other jobs and at which companies?
Directly after my graduation, I started at Schiphol Airport as load controller in a ground handling company. I was responsible for a quick but safe turnaround of aircraft from different foreign airlines. In this job it was important to load the aircraft correctly and have it depart on time. During these 2.5 years, I have learned a lot of the ins and outs of the daily operations at the airport. I deliberately took this step because I felt that I learned too little of the operational side of aviation during my study (old curriculum). That is why I am happy to see that the Aviation Academy now also offers the operations track.
How did you end up in your current job?
For my current job, I applied via the KLM Careers site.
What are your daily operations?
My job is programming the onboard ACMS (Aircraft Condition Monitoring System) software of the KLM aircraft fleet. Different departments within KLM want to receive aircraft data. These data are used for various purposes, such as: fuel analysis, aircraft tracking, aircraft performance monitoring, flight safety and predictive maintenance. These data can consist of reports that are sent immediately or recorded data that is made available after the flight.
Colleagues at KLM come to our department asking whether they can receive the for them desired and necessary aircraft data. Together with them, we determine how and which data they can receive best.
For example, we programmed a hard landing report for the maintenance control center department. On the day of operation, based on this report technical specialist can determine whether a maintenance check is required. When the landing was within its limits, any delays and costs can be avoided.
What do you like most at your job?
I like the combination of aviation and IT. On the one side, I support the operation to retrieve required data with necessary knowledge of aircraft systems. On the other half, I am programming or solving ground IT issues to receive the data correctly wireless from the aircraft.
It is good and useful to meet and get more knowledge of different departments within this company. KLM wants to be more data driven so there is still a lot of work ahead of us. Data is becoming increasingly important for many companies to operate cheaper and more efficiently.
Where do you see yourself in 5 years?
In 5 years, I can still see myself working at KLM. Even though I am really enjoying my function now, I expect this will be in another department within the KLM. At this moment, I do not have a specific function or department in mind, but many different positions are available within KLM with career opportunities.
What do you like most in your education that helps you out currently in your work?
I liked working on projects in teams the most during my study. During each project, you get to know other people with their own personalities, this also means a different way of working together. You need these skills at every company during your career.
There are actually several aspects that I have learned which I now use on daily basis. An example of this is the way of agile scrum working which I learned in a course during my MRO minor which I followed.
Are you still connected to the Aviation Academy?
No, at this moment I am no longer connected to the Aviation Academy.
Have you been a member of the SVAAA?
No, I have not been a member. I did go to the camp in the beginning of the first year, which was organized by the association. This was a lot of fun and helpful to get to know your new fellow students.