Bronte van Eeken as Train Traffic Controller @ ProRail
Posted at: 21 Mar 2022 | Faculty of Technology

Bronte van Eeken graduated from the Aviation Academy in 2019. She followed the aviation logistics track. After working at a container terminal for two years and at the Dutch Railways for six months, she landed at ProRail last December to become a train traffic controller. Currently she is still in training for this job, the road to becoming a train traffic controller isn't an easy one. Bronte will tell us something about her experiences after graduating and her outlook on the future this week.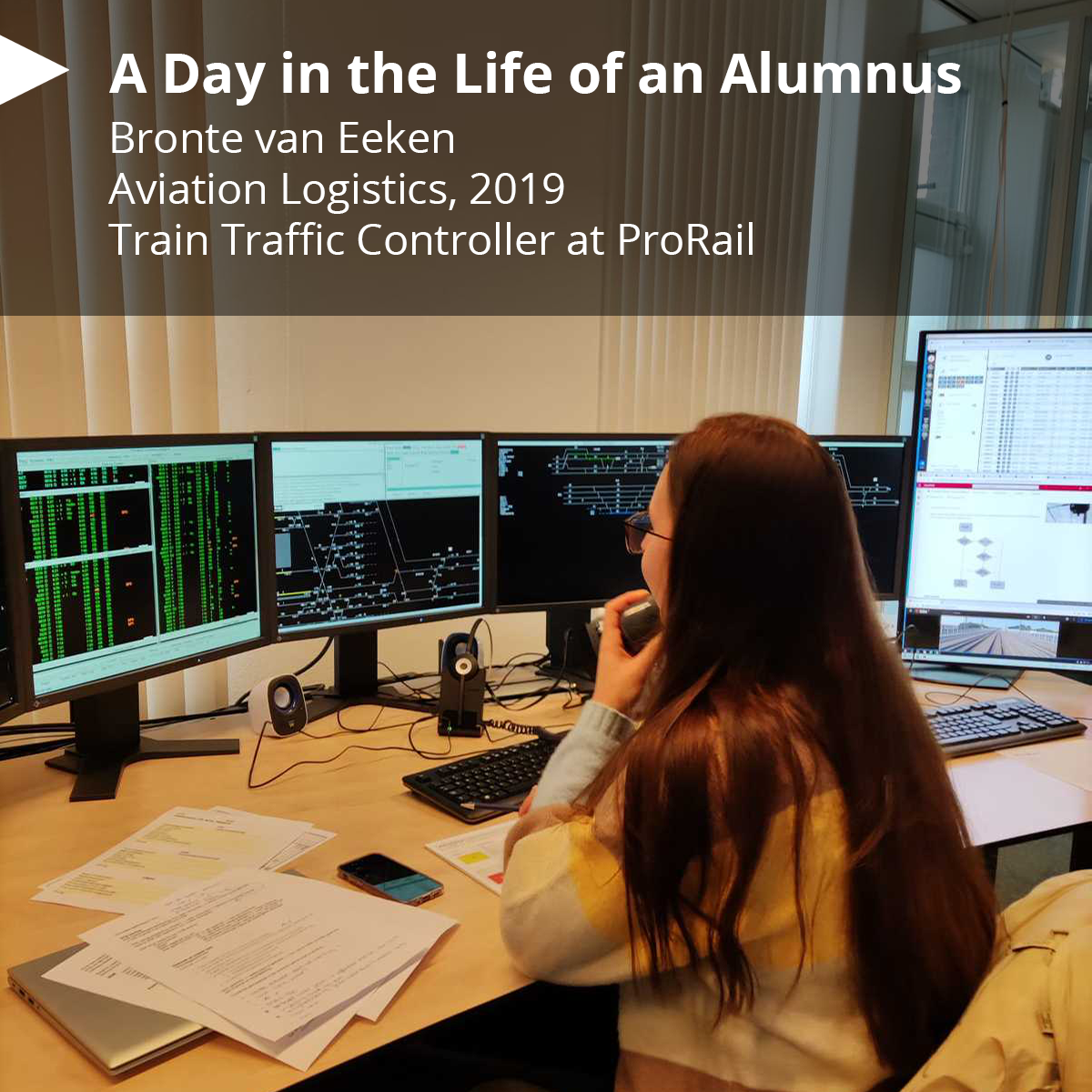 If this isn't your first job since graduating: what were your other jobs at which companies?
The first two years after my graduation I worked at a container terminal where I was responsible for scheduling the containers, invoices, and training new staff. Then I worked six months at NS (the Dutch Railways) where I was in charge of the train drivers and stewards for ad hoc changes and adjustments. Last December I started at ProRail as train traffic controller (for now still in training).
How did you get your current job?
Getting this job is quite difficult and time consuming. Through my third-year internship I knew the function, but at the time I wasn't really interested. But when I was ready for a new challenge and I heard on the news that there is/was a huge shortage of train traffic controllers, it got my attention. ProRail has a strict procedure before they hire you, with six tests. But happily, ProRail also looks at your background and motivation and not only at the test results.
What are your daily operations?
Right now, my job is to become a train traffic controller. My training is facilitated by a company named RailConnect. They are training me by teaching the theory behind the train infrastructure, but also in a simulation. There they reproduce real situations and teach me the procedures, safety communication and systems. This training by RailConnect will take six months and after that ProRail will train me on a specified work spot, in my case in Alkmaar.
When I finish my training, I will work irregular shifts because the safety on the track must be secured 24/7. As train traffic controller you control the signals and switches. As long as everything goes as planned you are just monitoring the train schedule. But when trains have delays, incidents, or failures it is our job to make sure everything and everyone stays safe, and the situation gets repaired as soon as possible. This needs to happen while as much of the train traffic as possible can keep driving.
What do you like the most at your job?
What I like the most so far is when things happen on the track, and we need to make adjustments. For example, announcing an emergency call to all trains in a certain area or giving instructions to drive carefully due to potential risk. The challenge for me here is to do a lot of things in a short period of time while keeping it structured.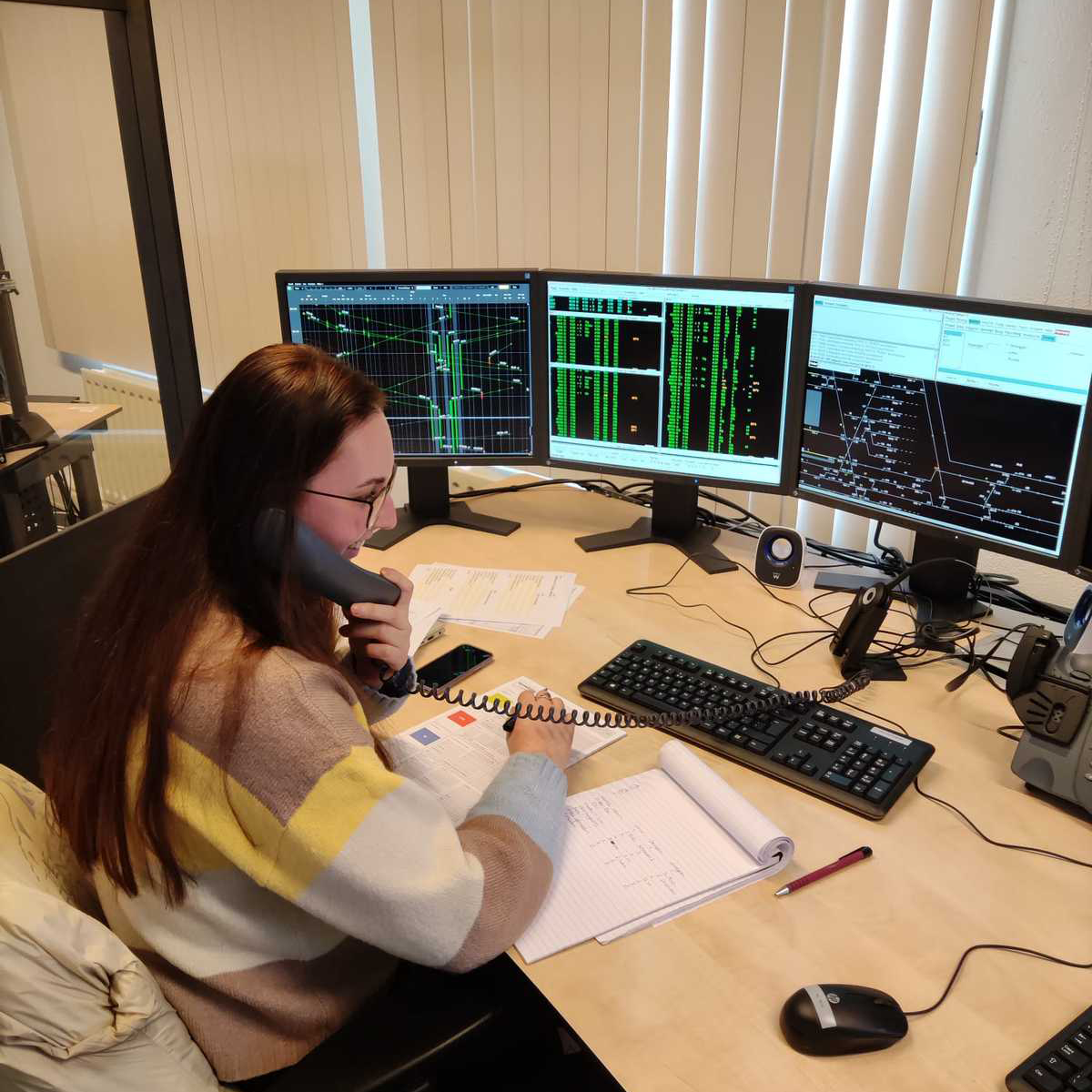 Where do you see yourself in 5 years?
In five years, I have hopefully developed myself into a confident train traffic controller who is able to approach situations calm but powerful. But most important that I'll love my job!
What do you like the most from your education that helps you out currently in your work?
What helps me most from my education nowadays is understanding supply chains. A train that travels from A to B is actually also a kind of supply chain. Besides that, we also learned to understand abstract logistic chains what helps me identifying what is really going on outside during an incident. This is really important as a train traffic controller, because only when you understand the situation outside you can take the right measures.
Are you still connected with the Aviation Academy?
Yes, now and then I help with the information days for possible new students