David Blokland as Future First Officer Boeing 737
Posted at: 14 Mar 2022 | Faculty of Technology

David Blokland followed two study tracks during his time at the Aviation Academy, MRO engineering and Flight. When he finished the MRO engineering track in 2019, he went to Greece to start the flight trajectory within aviation studies. After nearly two years he finished his flight training and received his BSc diploma. Currently he is applying for the position of First Officer at different airlines. He will tell us something about his experiences and his outlook on the future.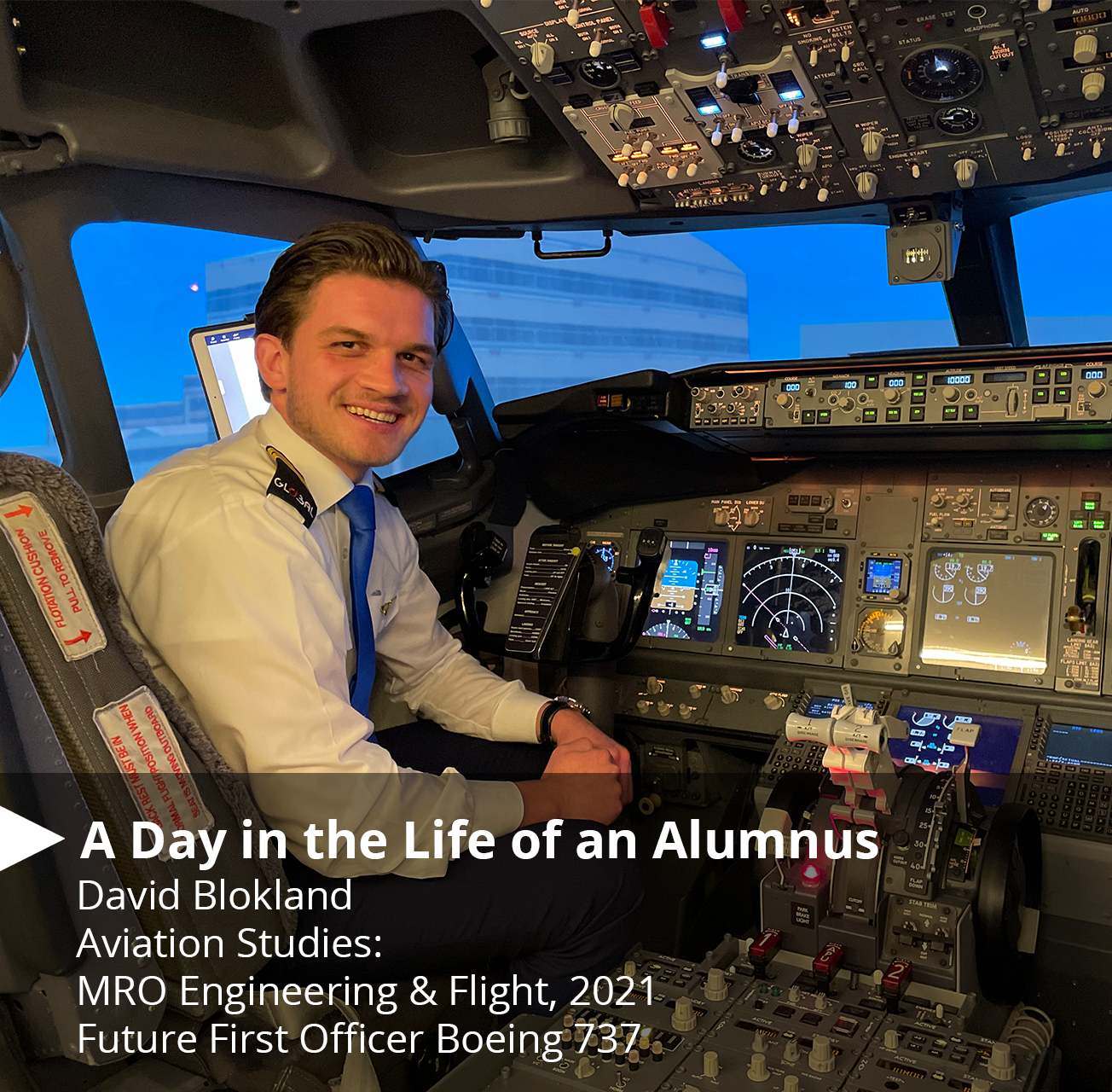 When did you graduate and which study track did you follow?
During year 2, I did selections at EPST to become a pilot. When I passed this, I was ready to join the Flight trajectory within Aviation Studies. I graduated in MRO Engineering at the engineering department of Transavia in 2019, where I performed research in escalation of maintenance tasks of the A-check package for the Boeing 737. Just after graduation I went to Greece for almost two years. By completing the theory and flying part during training, I finished the Minor & Internship phase, and I received my BSc diploma in September last year.
What are your daily operations?
I recently finished the Airline Pilot Standard Multi Crew Cooperation (APS MCC) course at EPST. During this course it is all about working together with your colleague in the cockpit during normal and emergency situations. Nowadays I keep training at EPST in the Boeing 737 simulator to keep skills and flight hours current for a potential airline grading assessment in the future. Thereby, I fly VFR in the Piper PA-28 in The Netherlands with friends and family to keep track of my flying hours. Last but not least, I am busy with applying to airlines for the position of First Officer within Europe.
What do you like most about your future job?
It is not a 9-5 job. I enjoy the beautiful views and to be in the air just feels good every time. Besides that, it is great to make your hobby your profession.
Where do you see yourself in 5 years?
It is difficult to say, because the market is just starting to recover from the COVID crisis. On the other hand, I do expect the recovery to be quite fast in the coming months. I will probably be flying within Europe in five years and hopefully I am flying at Transavia when they start recruiting again. Ultimately, my ambition is to become technical pilot within an airline.
What do you like most from your education and what benefits did this bring after the study?
What I liked most from my education is the specialization phase in year 4. During this period, we were performing projects at KLM Engineering & Maintenance, the Royal Netherlands Air Force and at the ROC of Amsterdam on the F16 and Boeing 737. I have had the most benefit from Aviation Studies during my theory phase of flight training. Subjects like principles of flight, performance, aircraft general knowledge, operational procedures and air law were easier to follow.
Are you still connected to the Aviation Academy?
Yes, I am. Last year I was representing EPST during an open day of Aviation Studies at the C-wing and recently I did a second open day online. It is great to see the enthusiasm of future (Flight) students and to be able to provide them with information they need for the choices they are going to make.
Have you been a member of the SVAAA?
Only the first year of study, I had other priorities the up following years.