Dennis Hamersteen as CAMO Engineer @ HB Flugtechnik GmbH
Posted at: 16 Apr 2022 | Faculty of Technology

Dennis Hamersteen graduated from the Aviation Academy in 2015, completing the bachelor Aviation Studies. After that, he continued his work as a bartender for a while to extend his student life a bit. Currently he is active as CAMO Engineer at HB Flugtechnik GmbH, preparing maintenance work for the mechanics. He will tell us something about his experiences and his outlook on the future.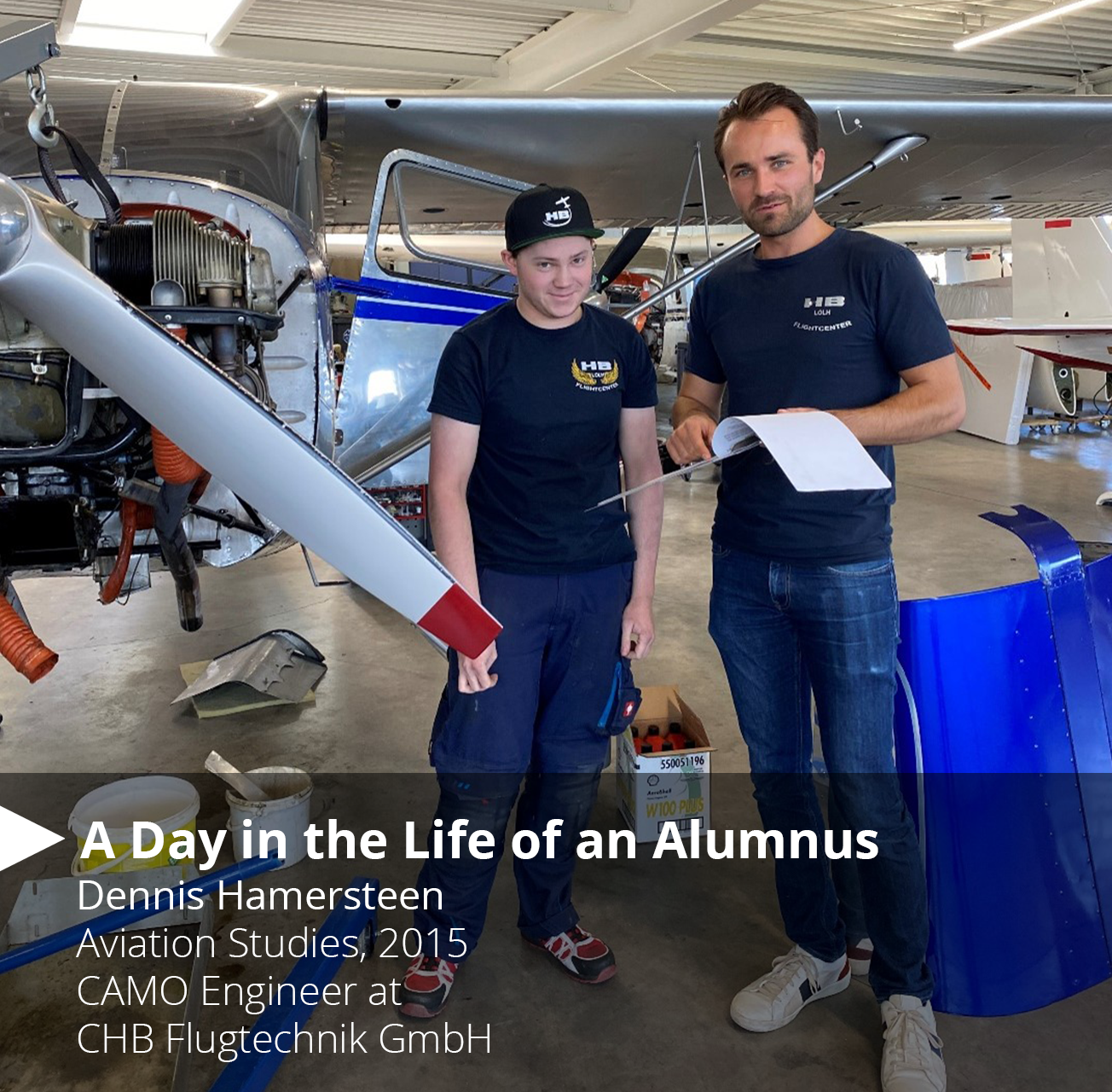 If this isn't your first job since graduating: what were your other jobs at which companies?
After graduating, I decided to extend the "student life" by becoming a bartender for one more year and travel a lot before I got serious, which I recommend to anyone. I landed my first "proper" job at FACC in Austria, an exciting aircraft composite part manufacturer for all major brands of aircraft with about 3.500 employees. Firstly, I started as project engineer on the existing production line of the Boeing 787 spoilers. Afterwards I was granted the responsibility to set up a new production line for the Boeing 787 Tailcone Frames and became a manufacturing engineer next to being a project engineer. I can happily look back at these successful and challenging times, but I was missing the aircraft in general as these were only aircraft parts.
How did you get your current job?
Just before the corona pandemic started, I found the current company by chance online. I got the job interview within a week and 2 days later the good news came that I got the job.
What are your daily operations?
Currently the main task is preparing maintenance work packages for the mechanics working on aircrafts coming in, to support them during their work, and correctly document their work according to EASA's standards.
Next to that I prepare Airworthiness Reviews and perform the documentation review. Otherwise, I am additionally the technical support between customers, suppliers and government for other side projects that are ongoing.
In the meantime I took responsibility to start a training department and help our mechanics reach more out of their potential. Every now and then I am on "tower duty" on the airport but my time is scarce unfortunately.
What do you like the most at your job?
Being able to be directly in contact with the customers, mechanics, and aircraft. My desk has a view over the runway and the Alps in the background. Since the team is small, you feel more valuable and your inputs have more direct results within the company, which is gratifying.
Where do you see yourself in 5 years?
In 5 years, I will have enough flight hours to be an official flight test engineer and hope to have some aerobatic experiences as well. Currently I am trying to get an EASA Part 66 B1.2 and B2 license, so I can also work on aircraft and release aircraft. Afterwards there are more certifications on the way to become Airworthiness Reviewing Staff. By then I should be an all-round aviation engineer and be able to take over more tasks from the CEO.
What do you like the most from your education that helps you out currently in your work?
The study helped me most in being able to adapt to new situations, attack problems with correct methods and find solutions where others quit. More notable, the study system helped me with how to handle other people and projects. The study provided a foundation of the aviation world, unfortunately not enough to become a specialist in anything.
Are you still connected with the Aviation Academy?
I offered multiple times, but no.