Dirk Beenhakkers as Senior Inspecteur @ ILT
Posted at: 1 Jul 2022 | Faculty of Technology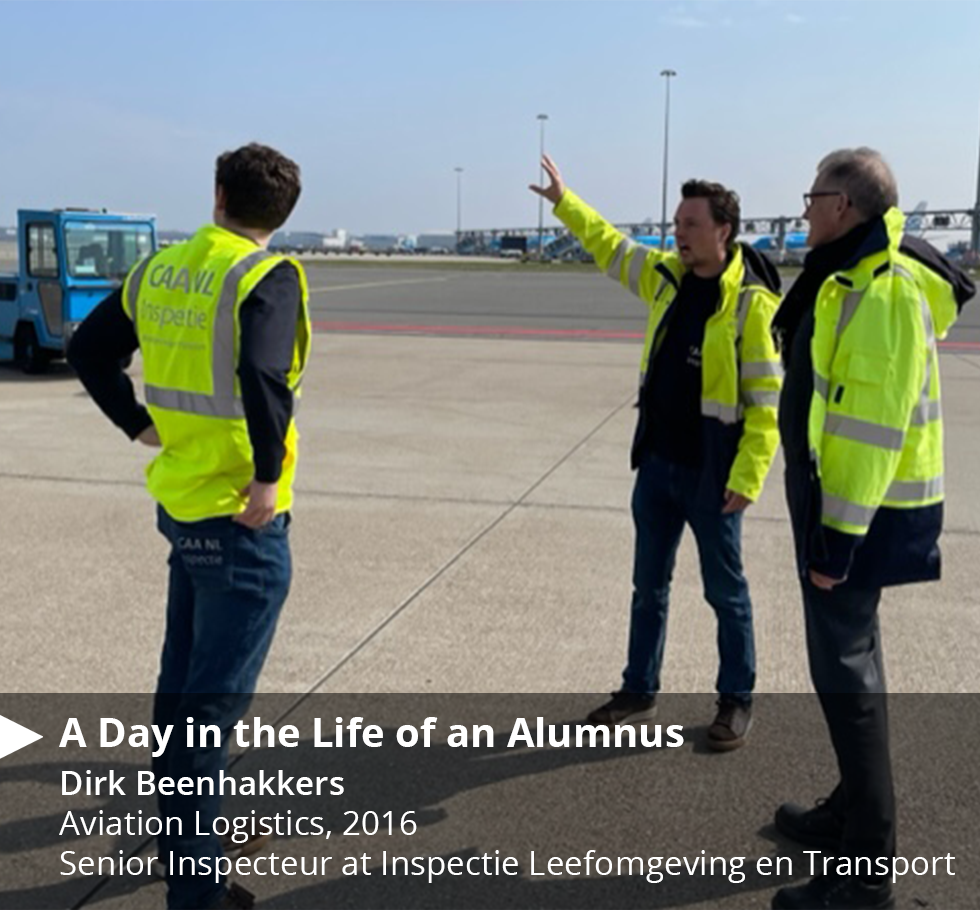 If this isn't your first job since graduating: what were your other jobs and at which companies?
Air Cargo Netherlands – Project Employee
Cygnific (KLM Subsidiary for Customer Care)
I also did a Masters in Policy, Communication and Organisation Sciences
How did you end up at your current job?
During my studies I have always been working in the Aviation Industry which obviously was one of my passions since starting my Aviation Logistics Studies. Besides that, I have always been interested in politics as well.
Working for the program Safe and Sustainable Schiphol of the Human Environment and Transport Inspectorate is the perfect combination between aviation and politics. Currently this is more actual than ever.
What are your daily operations?
Every day is different in the position I am currently in. Within the program we have several projects that I am working on. Personally, I am involved with the Integral Safety Management System (a project group involving the entire sector working on safety related roadmap items) and reduction of APU usage at the airport.
To work on these projects, I am both at the airport and the office. Once a week I am just doing a reality check on the platform and the other four days I am either in meetings at one of our offices with colleagues or with the sector (e.g. Schiphol, KLM, LVNL) to discuss topics of interest.
What do you like most at your job?
I really like the fact that I am in a position to make a difference. Our work is very political and always part of public discussion. Our work goes all the way up to our minister. But we are also in meetings with middle and top managers from the sector. We are in the middle of the people that call the shots on both sides.
Currently there is a big discussion about capacity at Schiphol. For me personally Schiphol doesn't have to decrease the number of flights and growth might also be beneficial. However, Schiphol and the sector also need to take accountability for their emissions and hinder. In the position I am in, I am able to work with all parties involved to motivate them to do more than they do at the moment, this includes both the Ministry and the sector.
We are working on a sustainable aviation industry (both environmentally and economically) and making sure the airport is beneficial for society.
Where do you see yourself in 5 years?
The national government is the biggest 'company' in the Netherlands. Because of this there are a lot of opportunities. Currently I am working more on an operational level in the inspectorate. I would like to work closer to the political action as policy maker to see if that is something for me as well. Also, I wouldn't mind working for the Ministry of Foreign Affairs for a bit.
For now, I am very happy where I am and there are a lot of growth opportunities within our organisation.
What do you like most from your education that helps you out currently in your work?
Definitely the operational knowledge. We have learned a great deal about how the industry works. The internships also helped a lot.
Are you still connected to the Aviation Academy?
I am not. However, we are hoping to get more in touch with the Academy since students from the Academy would be a great addition to our organisation.
Have you been a member of the SVAAA?
During my time the SVAAA was not for the Aviation Logistics students yet. I have been a member of the logistics student association.