Etienne Hunt as Product Manager & Area Sales Manager @ Hobré Ins
Posted at: 4 Sep 2022 | Faculty of Technology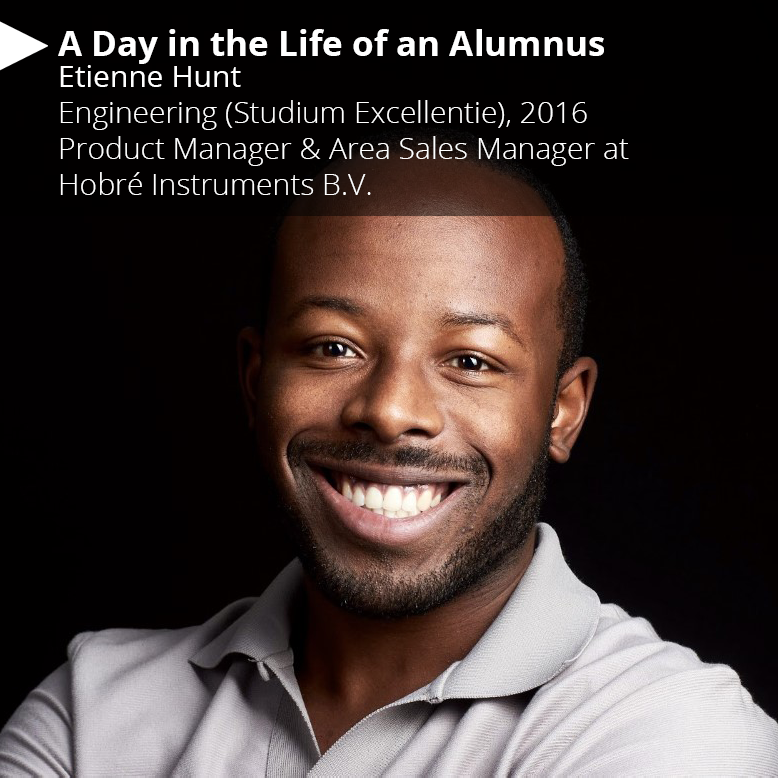 If this isn't your first job since graduating: what were your other jobs and at which companies?
Hobré has been my first job since graduation.
How did you end up at your current job?
At a birthday I met one of my former colleagues. He told me that he just returned from a business trip to Sri Lanka. I was intrigued by the fact that one can travel to such locations for work. When we continued our conversation, I also became interested in the field of work as it would allow me to bring my technical Engineer knowledge in practice. I applied and got hired as International Service Engineer – for process analyzers.
What are your daily operations?
After working as International Service Engineer for two years and visiting more than 25 countries, I was ready for the next step in my career. I enrolled in a parttime business MSc. and applied at Hobré for the combined role as Product Manager and Area Sales Manager.
In my current role I am responsible for product management and the global sales of our (on-line) process analyzer systems. Through our process analyzers, we aim to positively contribute to the improvement of safety, efficiency and the energy transition as a whole.
Currently my main involvement is leading the Spray Dryer (process) Analytics group to improve safety and efficiency of our key-customers within the food industry.
In order to fulfil the customer needs of today and tomorrow, part of my work includes - but is not only limited to: Identifying customer & market needs, developing high-level strategy plans, prioritization, cost & business calculations and most importantly championing the team.
What do you like most at your job?
Working with our team of highly intelligent and technical people, to develop the right innovative solutions that can solve the issues of our customers.
Where do you see yourself in 5 years?
As a Senior Product Manager.
What do you like most from your education that helps you out currently in your work?
The hard-core engineering classes, such as: Calculus, Statistics, Dynamic System Analysis & Modeling, Fluid-, Thermo-, and Aerodynamics and Dynamics.
Are you still connected to the Aviation Academy?
Yes, as alumni. Recently I have been to Bernard's Farewell college.
Have you been a member of the SVAAA?
Off course!