Nigel van Koert as International Propulsion Commissioning Engine
Posted at: 14 Feb 2022 | Faculty of Technology

In 2019, Nigel graduated from the MRO Engineering track. After that, he worked at the Dutch marine contractor Van Oord for a while. For a year he worked on the Nord Stream 2 gas pipeline from Russia to the northern part of Germany. Currently he is active as International Propulsion Commissioning Engineer at Wärtsilä. He will tell us something about his experiences after graduating and his outlook on the future.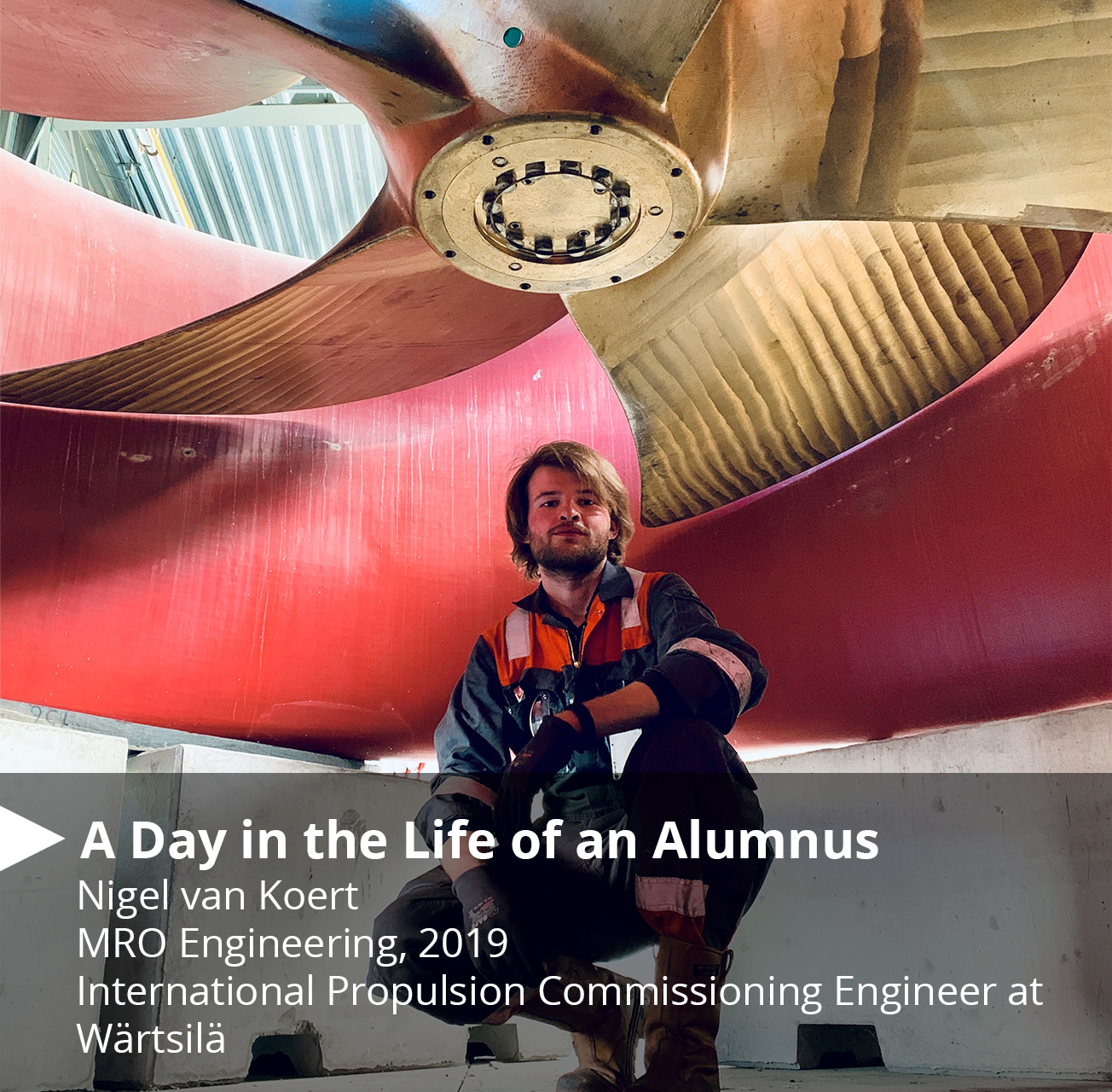 If this isn't your first job since graduating: what were your other jobs and at which companies?
Before I joined Wärtsilä I was working as an offshore superintendent for the Dutch marine contractor Van Oord. For a year I worked on the Nord Stream 2 gas pipeline from Russia to the northern part of Germany, which is a bit politically sensitive nowadays...
How did you end up at your current job?
This first year in my career, while it was lots of fun, didn't feature any direct interaction with technology. This made me look around for other possibilities since I love tinkering/fiddling and I ended up at Wärtsilä. It was not coincidental that I started looking for jobs within Wärtsilä since my graduation thesis was around a 12-megawatt medium speed Wärtsilä engine within Van Oord.
What are your daily operations?
Pfoe, you ask me quite the question here since no project and no day is the same in my job… It depends on what type of project I'm doing, the type of ship, and the responsibilities of Wärtsilä according to the contract with the client.
A commissioning project is a project where we bring the propulsion system of a new build ship to life. During this job we first check whether everything has been installed correctly by the shipyard, then we check subsystems for an initial start-up, and then we begin starting up the subsystems. To make it then one "propulsion system" weeks of tuning and adjusting, by plugging into the controls system with my laptop, is required with lots of settings to go through. After these weeks we first do a quay trial and finally head out to sea with the new vessel for sea trials where we test everything and push it to the brink!
In this video, my colleagues explain the job and its objectives: https://www.youtube.com/watch?v=8hBJu7wHfEU
What do you like most at your job?
That I work with great technology, get to see the whole world, get the chance to work with the locals, and that I work with all sorts of people from different ranks in a shipyard and on board the ship: from pipefitters, oilers, and welders to project managers, CEO's/COO's, and chief engineers/captains.
Another thing I like is that we not only do commissioning projects but also service projects. This means that sometimes I luckily can put my laptop aside and need to work with the biggest tools you have (n)ever seen.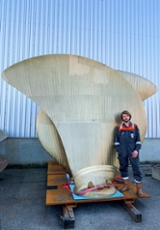 Where do you see yourself in 5 years?
My manager told me on the first day that it will take me around five years to at least get an understanding of what I am doing – so, in the same position with lots more expertise and experience! I'm not joking. Being one year in now I see how complex it all can sometimes be, but that's good since I like a challenge.
What do you like most in your education that helps you out currently in your work?
During my job, I can lean on the knowledge that I obtained during the classes of electrical power systems, math, aircraft systems integration, and aerodynamics (for explanatory purposes).
Are you still connected to the Aviation Academy?
No, but I made a few good friendships!
Have you been a member of the SVAAA?
No, I was too busy loading cargo airplanes at Schiphol's Sierra ramp where I had the greatest time for almost five years!