Rachna Sharma Reiter as First Officer A320 @ easyJet
Posted at: 10 Feb 2022 | Faculty of Technology

In 2002, Rachna graduated from the Vliegtuigoperatie Avionica track. After that, Rachna obtained her pilot license in the United States. In 2019 she successfully applied for a job at easyJet. Currently she is working there as a First Officer on the Airbus A320. She will tell us something about her experiences after graduating and her outlook on the future.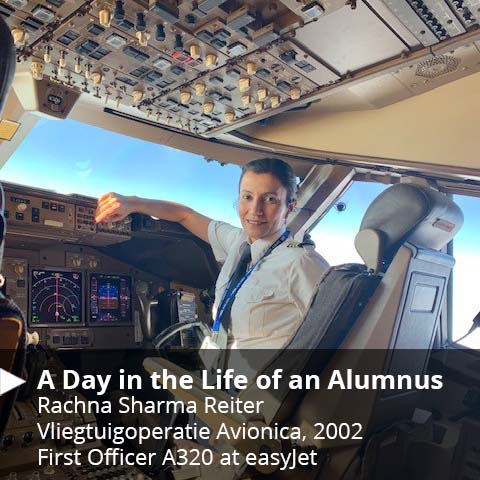 When did you graduate and which track did you follow?
I graduated in 2002. At the time the study was called Vliegtuigoperatie. We had two tracks one was mechanica and the other avionica. Since I was interested in both, I attended the classes for both tracks but graduated finally from the Avionica track.
If this isn't your first job since graduating: what were your other jobs at which companies?
This isn't my first job. After the graduation, I went to the United States for a flight training. Once back in Europe it was time to convert my FAA pilot licenses into the EASA ones. Since then, I have flown for several different air operators. Most of them were corporate business charter but also cargo airlines and ACMI operators. Besides flying, I have also worked as Compliance and Safety manager for different operators, whereby it was my responsibility towards the local CAA to keep an oversight on the compliance and safety management system of the company.
How did you get your current job?
In 2019, easyJet opened recruitment for pilots across their network and this is the time when I applied and got the job. Having flown long haul on the B747-400, it was time to move on to slightly more modern aircraft. EasyJet operates mainly in Europe which means that one comes back to their home base every day. This was very important for me as I have two young children.
In addition, my ambition has always been to have flown at least one Boeing aircraft and at least one Airbus aircraft, before I retire.
What are your daily operations?
Every time, I am scheduled for duty my tasks consist of checking flight documentation, weather, aircraft, setting up the cockpit, flying and monitoring the aircraft from A-B. This of course is done as a team together with other crew members.
What do you like the most at your job?
Although I like everything about my job, I think the actual flying of an aircraft is definitely the best part of it! Every time you take-off and land an aircraft gives such a huge sense of achievement. I do not really have a favourite airplane but looking at the 747 still gives me goosebumps!
Where do you see yourself in 5 years?
In the aviation industry, 5 years is a very long time, so it is very difficult to say where I see myself after this time period. Currently, I am studying the MBA, so my intention is to get some business experience on the side, particularly in the finance side of things.
Next to this, I would like to continue doing voluntary work like I do now, being a member of Diversity and Inclusion committee and council member at the Royal Aeronautical Society in the UK and encourage girls in aviation by sharing my own experience through my blog www.she-pilots.com. Whenever there is an opportunity, my intent is to mentor girls in STEM.
What do you like the most from your education that helps you out currently in your work?
That has to be the project work that we did in a team. The skills that I have attained during those four years of my study, I still use them when handling a project. Also, working in a team is one of the most important skills that one needs when acting as a pilot.
Are you still connected with the Aviation Academy?
Unfortunately, I have not been connected with the Aviation Academy all these years however I do hope to be reconnected.