Rick de Koning as Business Analyst / Planner @ Zeelander Yachts
Posted at: 14 Jan 2022 | Faculty of Technology

In 2020, Rick graduated from the Aviation Engineering track. After that, Rick started working at DMARC Advisor as a DMRAC consultant. Currently he is active as a Business Analyst / Planner at Zeelander Yachts. He will tell us something about his experiences and his outlook on the future.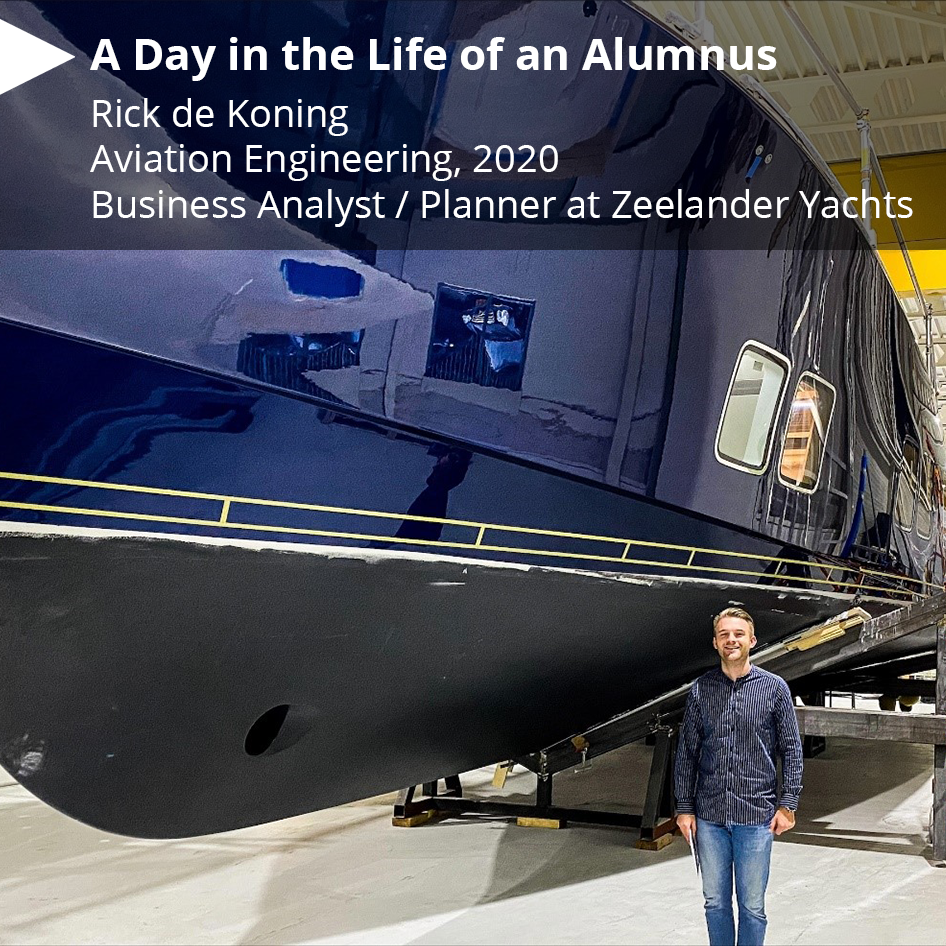 If this isn't your first job since graduating: what were your other jobs at which companies?
After graduation the Aviation Industry wasn't that hot anymore, due to the Covid-19 restrictions many organizations had an employee stop, so I had to be flexible.
In September 2020, I started as a DMARC consultant within an IT-software company called DMARC Advisor. Here, together with my colleagues, we were responsible for implementing the open standard called "DMARC" to prevent misuses and email spoofing of multiple important brand domain names.
How did you get your current job?
Via a YouTube video
What are your daily operations?
The daily operations of a business analyst and planner include keeping up with the progress of all yachts being built and the ones being built in the future. So, it involves more than only project planning. There is a continuous communication and stream of information between all different departments within our company.
In addition to that, data-analyses need to be performed and dashboards need to be built. This is not only important to keep track of the Key Performance Indicators of an organization, but also directly related to the information the stakeholders are interested in.
What do you like the most at your job?
That it is a variation of multiple disciplines, and no day is the same. Every moment of the day there are new insights which need to be considered and need to be controlled/inventoried.
Where do you see yourself in 5 years?
In five years, I hope to still work within this vibrant organization and next to that I would like to continue my PPL lessons, so I am able to share the art of flying with everyone I like!
What do you like the most from your education that helps you out currently in your work?
That was my internship at Fokker Woensdrecht within the Operation Support and Supply Chain Department and of course my graduation internship at Regional Jet Centre!
Both organizations have a bright spirit and are always looking for new talents out there, so keep those two in mind when you are looking for an internship placement.
Are you still connected with the Aviation Academy?
Currently, my only connection with the Aviation Academy are my Linked-In connections…
However, during the program I came across two very nice guys: David Blokland and Nils Pronk, which turned from strangers into my best friends!