Romee Aussems as Business Consultant Aviation @ CGI Nederland
Posted at: 16 Jan 2022 | Faculty of Technology

In 2016, Romee graduated from the Aviation Honours Management track. After that Romee started working at CGI Nederland as a Business Consultant Aviation. She is still pleased with the decision she made five years ago to start working for CGI. She will tell us something about her experiences and her outlook on the future.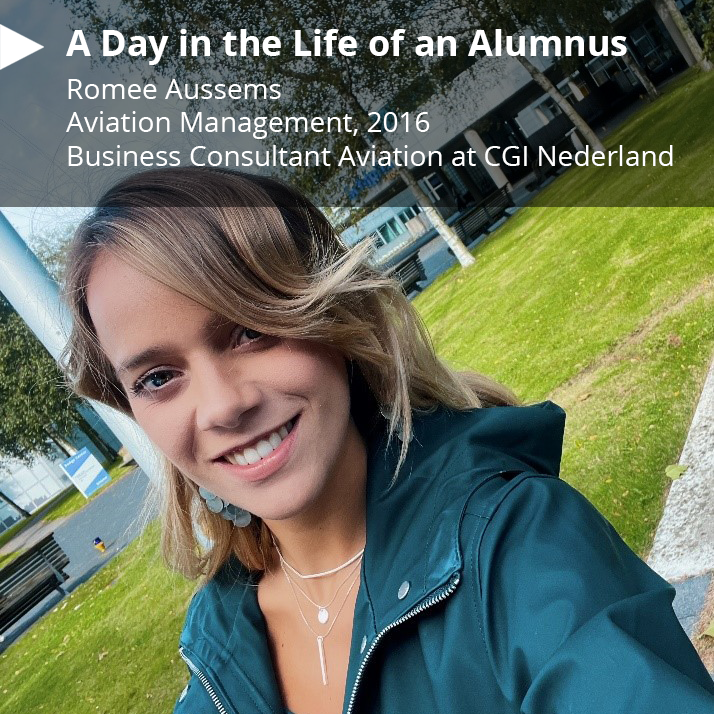 How did you end up in your current job?
While studying at the University of Applied Sciences, I was already in contact with the company. While my internships were not at CGI, I applied before graduation because I kept in contact with the company about my graduation date. They informed me that I could start right after I graduated. That's how it started.
What are your daily operations?
I have multiple roles within the organisation. At the moment, I am working for Schiphol Group. Within Schiphol Group I monitor the process of a project and I take care of the communication and visualisation towards the stakeholders. I am also working together with developers, architects, project managers and so on. The variety of the roles surrounding me ensures my own learning curve and makes it interesting every day.
What do you like most at your job?
My job as a consultant is complex, challenging and never dull. I am working for different clients almost every year and that makes the job so energetic and satisfying. Not only am I learning a lot from the clients, but the clients also appreciate and value the input and experience I bring to the table.
Where do you see yourself in 5 years?
In 5 years, I am most likely working for another client than I do know. Within CGI you can always adjust your plan and personal vision. That makes the plans of tomorrow different from the plans of today and that is nice. So, within 5 years who knows? Maybe I am a manager within CGI and I am presenting new possibilities to clients of CGI? Maybe I am a developer because I wanted to learn more about code languages and software?Or maybe I am doing exactly what I am doing know but with more experience and more knowledge than I have today.
What did you like most in your education that helps you out nowadays in your work?
I liked the team assignments the most. You had to work together with different kind of people, different kind of interests and different kind of personalities. It is exactly what is waiting for every student when they enter the work environment. To learn what your own strengths are and to know how you can utilise those strengths in a team or a project, is one of the most valuable self-knowledge you can own. Knowing that a successful result is a cooperation of different types of people makes it fun to work with people who differ from you.
Are you still connected to the Aviation Academy?
CGI Nederland tries to connect companies within Aviation. For years, they organised Master classes in corporation with the Aviation Academy and I was the connecting factor between the two. I also try to stay in touch with some of the teachers.
Have you been a member of the SVAAA?
I was a member of the SVAAA. I attended some of the trips and also made some friend through the SVAAA. People who attend a trip organised by the SVAAA are more open to connect with other students. That's why expanding your network during SVAAA activities was easier for me.
Can we connect online?
To connect with me or if there are any questions you can reach me via LinkedIn: Romee Aussems