Advanced Maintenance Technologies
Advanced Maintenance Technologies
We look for advanced technologies and methodologies to optimize MRO processes and reduce aircraft downtime. Our research therefore actively contributes to helping aviation develop sustainable processes and operations.
Research in Advanced Maintenance Technologies focuses on detecting and assessing damage in composite materials, as well as on new techniques to repair this damage. Why? Because the growing use of composites demands new repair procedures and strategies. At the same time, the detection of damage is critical, so we look at techniques – including ultrasound and eddy current – to detect tiny amounts of damage at an earlier stage.
Unique research combining science and practice
The combination of new analytical methods, modern sensor technology and collaboration between science and practice makes this research unique. We also collaborate with leading research institutes and companies to make this technology available in the real world.
Helping students and companies thrive
Our research integrates fourth-year students into aviation companies. This helps to prepare them for a career in aviation, while at the same time grounding their research in the real world. Just as importantly, it helps companies achieve benchmarks, reduce aircraft downtime and turnaround time, as well as lower costs.
Partners
Our educational stakeholders include the University of Amsterdam and Delft University. In terms of industry, we work with Fokker, the National Research Laboratory, Technobis, KLM Maintenance and Engineering, and the Netherlands Royal Air Force.
dr. K. Stamoulis (Konstantinos)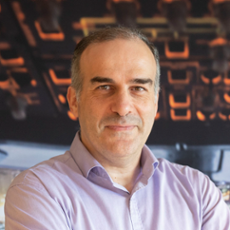 Professor Aviation Engineering
Tel: 0621155138
k.stamoulis@hva.nl
View profile