MSc. Engineering Management @ Jönköping University
Testimonial
Frederique studied Engineering Management at Jönköping University after she graduated at the Aviation Academy.
I had missed my abroad experience due to corona and wanted to get a masters. This combination made the master's abroad experience perfect.

Frederique Koning - Alumna 2022 - Track Engineering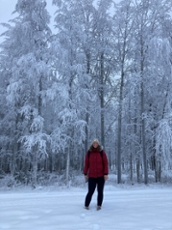 Why did you choose this study?
In the first year, I was very much in doubt between choosing Operations and Engineering. I eventually chose Engineering, but I still found Operations interesting. This master offers students with an Engineering bachelor the chance to learn the basics of Management. An addition to my bachelor.
Could you proceed directly from the Aviation Academy or did you need a premaster (try to answer as comprehensively as possible) I could proceed directly. The requirements do state that you must have done at least 90 ECTS in Engineering or relevant.

Are there any points you can focus on during your studies at the Aviation Academy that would be in favour of further study?
Not for this study.

Why would you recommend this study?
It is a fine university with students from all parts of the world. It complements the Aviation Engineering bachelor's degree. It is a one-year master's degree, which can also be quite nice for some. In addition, the study is free for EU students and housing is arranged from the university. Also, Sweden is a beautiful country.

What would you possibly do differently?
I looked at several Aviation Management masters in the UK, but the price for these studies was so great that I didn't look into it further.

Are there any critical points on your further studies?
Actually, all classes are in English, but some documents during group projects are delivered in Swedish. In this case, we always try to put at least 1 Swedish-speaking person in each project group, but should there be too few Swedes following the course, you have to translate some things.