Master Aviation Maintenance @ Embry-Riddle Aeronautical (Berlin)
Testimonial
Gerard did a Master of Aviation Maintenance at Embry-Riddle Aeronautical University, Daytona Beach, FL, USA – Berlijn Campus, after he graduated at the Aviation Academy.
To keep developing myself at a time when I am still young and learn easily. Combining work and study allowed me to use theoretical things directly in practice and vice versa. It also made me more interesting for the job market. This study was offered online and therefore I was also flexible towards work and private life to make it all fit.

Gerard Gilles - Alumnus 2011 - Aviation Engineering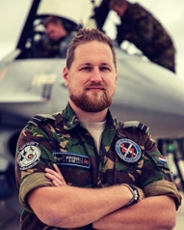 Why did you choose this study?
Because this was a professional master's that I was able to pursue due to the combination of my bachelor's and my work experience.
Could you progress directly from the Aviation Academy or did you need a premaster, for example
I did not need a pre-master's degree, but because the systems in Europe and America are different, I had to go through an accreditation programme with my diploma and marks list. I also had to take an English test as a "non-native English speaker".
Are there any points that you can focus on while studying at the Aviation Academy that would be in favour of further study (e.g. take the minor in Public Administration and then you can skip your premaster).
English language anyway and nothing else directly, as the study only partly relies on theoretical prior knowledge, but more on practical experience.
Why would you recommend this study?
Gives good guidance for a management position within a technical environment. Touches on many topics you will have to deal with. From project management to safety and from regulations to new developments.
What would you possibly do differently?
Nothing. It's been good for me.
Are there any critical points on your subsequent studies?
Because there are no physical contact moments, it is sometimes difficult to commit to studying. Temptation is very much lurking.