Operations Management & Logistics @ TU/e
Testimonial
Steef studied Operations Management & Logistics (Transport and Mobility track) at Eindhoven University of Technology (TU/e) after he graduated at the Aviation Academy.
If you're interested in a topic and want to learn more about it, and keep developing, what's stopping you?

Steef Engelbertink - Alumnus 2019 - Aviation Operations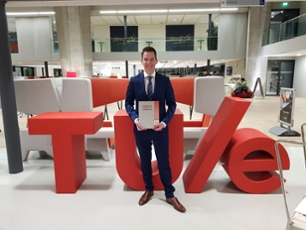 Why did you choose this study?
During my time studying at the Aviation Academy, I discovered that I was interested not only in aviation logistics but also in how people and goods are transported in general (including public transportation) and the whole process that goes into it. That's why I wanted to pursue further studies in this field, to better understand the often complex systems behind transportation and logistics.
As the master's program is technical in nature, it taught me various techniques for accurately calculating data, which in turn helped me make informed decisions based on that data. I enjoyed working on projects like improving the turn-around process and designing a terminal based on airline schedules. In this master's program, I learned to delve deeper into these topics and use different techniques to analyze them.
Could you progress directly from the Aviation Academy or did you need a premaster, for example
Before you can start the master's program, you must first complete a pre-master program consisting of 30 credits. To even begin the pre-master program, you must demonstrate proficiency in mathematics and English. For mathematics, a high school diploma (VWO) with mathematics B is sufficient, or you can take the mathematics admission exam. For English, a high school diploma (VWO), Cambridge C2 certificate, or the English admission exam is required.
During the pre-master program, you will take seven different courses in one semester. Most of these courses are focused on bringing your mathematics skills up to the required level. As a result, four of the seven courses are mostly mathematics courses (Calculus, Statistics, Production & Inventory Control, and Mathematics 2 (Optimization)). Additionally, there is one course focused entirely on learning the basics of Python programming, as programming is a major component of many courses in the master's program. The remaining two courses are from the business administration side of the program (it is a continuation of the Bachelor's program in Technical Business Administration) and are focused on Business Economics and Work & Organizational Psychology.
The pre-master program is a period of hard work and trying to keep up with everything. Especially for courses like Calculus, you will be given a list of problems to solve, and if you fall behind in the first week, it can be difficult to catch up. But if you successfully complete the pre-master program, you will definitely be at the right level to complete the master's program. It is also a fun and enjoyable time, as you get to know your fellow pre-master students and are all in the same boat. So, try to enjoy the experience as well!
All information about the pre-master program can be found in the following link: https://studiegids.tue.nl/opleidingen/pre-masterprogrammas/operations-management-logistics
Are there any points that you can focus on while studying at the Aviation Academy that would be in favour of further study (e.g. take the minor in Public Administration and then you can skip your premaster).
I personally did the operations track, which doesn't align perfectly with the master's program. However, the topics covered in Modeling & Simulation are more relevant. If you know early on that you want to pursue this master's program, it's a good idea to explore something related to data analysis or data mining during your minor, or to do some (small) programming work during your internship or thesis.
If you have chosen the engineering track, it is important to understand the mathematics you encounter and not just be able to reproduce it. Especially during calculus, understanding the logic behind it will be helpful, as once you understand the logic, you can solve almost all equations.
Why would you recommend this study?
If you are interested in the logistics industry and supply chain in general, it is definitely recommended to pursue this study. You have quite a bit of freedom to structure your own master's program and choose the courses that interest you. You have the option to choose from 5 different tracks (such as manufacturing, supply chains, or services), which allows you to focus on the aspects that you find most interesting. The material you cover and the techniques you learn are applicable in almost every sector.
Especially with the practical knowledge you gain during an internship and thesis, it can be easier to complete certain courses.
What would you possibly do differently?
Not necessarily anything specific, I am happy with the choice I made. But if I had known earlier that I was going to do this master's program, I would have focused more on operational management during my minor and thesis, and possibly gained more programming experience.
Are there any critical points on your subsequent studies?
The master's program is primarily designed for students who have completed the Industrial Engineering bachelor program (which makes sense), but I entered the program in February (after completing the pre-master), which can make it difficult to take some courses because you haven't completed the first semester yet and some courses build on each other and have significant overlap.