Nursing home installs 'magic interactive painting'
in the living room
5 Nov 2015 09:37 | Communication

The 'Magic Interactive Painting' is a recent addition to the living room of the Amsta's Jan Bongahuis nursing home. This installation featuring videos, photographs and music from the past has had a far greater effect on the residents than the staff and family members had expected. "Can it be switched on again? I'd like to see my family."

The Magic Interactive Painting ( Magische Interactieve Schilderij, MIS) is an installation with videos, photographs and music from the resident's past. It becomes an interactive photo album, which evokes recognition for the residents, many of whom suffer from dementia. It is also a nice activity to share with family members, and gives people something to talk about.

This invention was developed by three young engineers: Laurean Serné, Ruurd Bell and Mike Oudshoorn. While studying at Amsterdam University of Applied Sciences they followed the minor in Healthcare Technology and developed applications for Amsta clients with dementia. They are now continuing their work in their own company illi Engineering.

Laurean: "Informal caregivers and nurses provide information for the residents, such as personal videos and photographs, and also musical preferences and TV clips that are meaningful for the clients. We then make a personal profile for each resident. It is essentially a living photo album, in the cloud. The care staff can switch on a resident's profile in the living room at any time."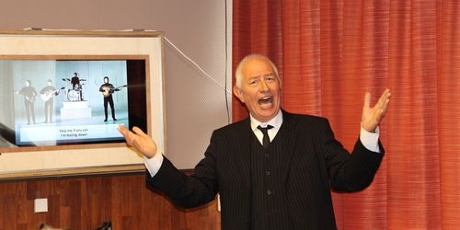 GETTING TO KNOW CLIENTS BETTER
According to Activities Supervisor Anja Meijer the Magic Interactive Painting is a great success: "I've noticed that the residents have started talking more since seeing those images and hearing their favourite music. It gives them something to talk about, which helps us get to know them better. As we watch them together, all kinds of memories come up. I'm amazed at how much they remember: street names, house numbers and names of neighbours. The clients clearly appreciate it. For instance, Mr Van den Heuvel sometimes asks: 'Can it be switched on again? I'd like to see my family.'"
ALPINE MUSIC
During the presentation of the MIS, the audience was given a demonstration with images for Mr Van den Heuvel, who is living in the nursing home because he suffers from dementia. Suddenly cheerful Alpine music played through the speakers, as a photograph of a young man in the Swiss Alps appeared. As soon as this happened, Mr Van den Heuvel sat up straight and watched the screen intently; he was back on top of things. His sister explained: "My brother Evert was an avid hiker, and therefore loves the music from the Alps." Then a photograph appeared of a young Mr Van den Heuvel in his navy uniform. Because he spent many years in the navy, said his sister. Other images appeared, while the music continued to play: the young Mr Van den Heuvel with an accordion, and with his sister at school.
Mr Van den Heuvel's sister was a little anxious about how he would react to the images at first. "Because my brother also experienced some difficult periods in his life, and we weren't sure how he would react to seeing photos from the past. But he was so captivated by them; it really moved me. All the tension seemed to melt away; he now looks at his past in harmony." His family members have noticed a big difference: "He used to get quite angry sometimes, even aggressive, but since he's been living at the Jan Bongahuis, he has become calmer and more relaxed. The Jan Bongahuis has become his home. Since the MIS has been here, we have had even more contact with him."
It is not only the clients and their families who are happy with this invention; the care staff also benefit from it, explains Project Manager Leo Versteeg: "It shows them who the residents are. It gives people a face and gives them back their dignity. They want to remain who they are, just as you and I do."
Mr Van den Heuvel's family want others to know how much the MIS has changed their brother: "We want other care institutions to hear about this, because it is such an improvement for the residents and their families." Amsta is looking into whether the MIS can also be used at other facilities. The young entrepreneurs of illi Engineering are eager to collaborate on this.