International week for technology students
from Denmark and the Netherlands
6 Nov 2015 10:10 | Communication

International Project Week takes place each year: three days during which second-year students in Civil Engineering work with fellow students from various countries. The host country changes each year. Because the AUAS and the Technical University of Denmark have so many students, they organised an additional exchange in October: International Project Week – the light version. This time, Danish students and their lecturers travelled to Amsterdam.

During a workshop on cultural differences held at the Leeuwenburg building, the students exchanged ideas on their cultures. The students later went to Grand Café Restaurant 1 e Klas at Amsterdam Central Station for a presentation by Movares consultant Lázlo Vákár. He spoke about the roof at the back of Central Station, a structure made of freeform glass (cold-bent laminated glass). This is a method that is new to the Dutch as well as the Danish. A similar glass canopy could be constructed over motorways to reduce noise and air pollution.

TUESDAY: MEGA-ASPHALT PROJECT
On Tuesday, the students visited the visitors' centre of the Directorate General for Public Works and Water Management ( Rijkswaterstaat), where they received a presentation on the major motorway expansion planned between Amsterdam Airport Schiphol, Amsterdam and Almere up to 2020. This is quite a challenge because, unlike Denmark, the Netherlands is densely populated with large numbers of people living in the vicinity of these motorways. This will require many kilometres of sound barriers, noise-reducing asphalt, tunnels and aqueducts. The students were asked to contribute ideas on this expansion and ways of compensating for this in the landscape and the surrounding environment.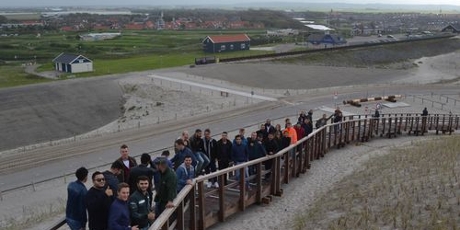 On Wednesday, the students visited Spanbeton, the Netherlands' largest company in the prestressed concrete industry. This company's concrete slabs are used for a wide range of structures, such as bridges and viaducts. Sales Manager Kees Quartel gave a presentation and the students put on safety helmets before being given a tour of the factory.
Succesfull week
Supervising lecturer William van de Bult: "All of the Dutch and Danish students stayed at the Stayokay Hostel Zeeburg, as a result of which the students spent most of their time together and built up a good relationship. After dinner, they continued to socialise well into the night. The students found the experience to be very informative. For many of them this was their first experience having to speak so much English and interacting intensively with peers from another culture. Because each group consisted of three Danish students and three AUAS students, they had to discuss and present everything in English. It was a good way of preparing for a corporate culture in which much of the communication takes place in English."