Better emergency accommodation for refugees with designs by AUAS
Product Design students teamed up with Refugee Company
5 Jul 2016 11:11 | Communication

Product Design students from the Amsterdam University of Applied Sciences (AUAS) created designs to improve the quality of life of refugees in emergency shelters and asylum seekers' centres. The final results were on display at FabCity on Thursday, 23 June, and included a safe for valuable papers, the Nutshell for roasting nuts, and the Study Case, a briefcase that doubles as a fold-out study station.

No privacy, worrying about your documents being stolen, having to eat from a plastic plate every day: life in an asylum seekers' centre is stressful for refugees. The Product Design students wanted to do something about that. By teaming up with Refugee Company they came into contact with refugees in emergency shelters and asylum seekers' centres in Amsterdam. They started by interviewing the refugees about their needs, and then spent the last few months working on their designs in the AUAS Innovation Lab before presenting the final results to the refugees they had interviewed and to visitors to FabCity.

The students' designs include:
A safe that can be attached to any bed in the shelters
A portable study station for more privacy
A shower caddy to hang clothes and toiletries on a hook
Biodegradable packaging to keep food warm
Electric nut roaster to create the atmosphere (scents) of home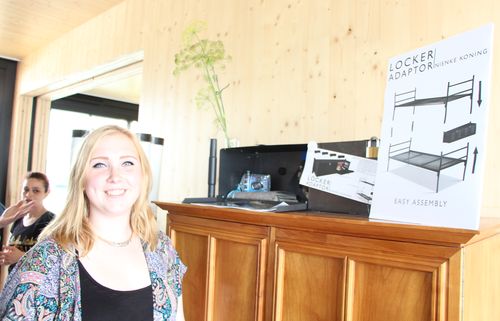 Student Nienke Koning was told by her language buddy Jaafer about the amount of theft in the shelter. Many refugees sleep in their coats out of necessity or take their documents with them to the showers. This gave Nienke the idea for her design: a safe that is integrated into the bunkbed. It is a simple invention, but a great necessity. "When you arrive at the asylum seekers' centre, one of your basic necessities of life is keeping your most important possessions safe," says Nienke Koning. But this is difficult to do. "It is a concern you shouldn't have to have once you finally have a roof over your head."
In principle, Nienke's safe is ready to implement. The Central Agency for the Reception of Asylum Seekers (COA) uses the same bunkbeds in all of its shelters: two single frames stacked one on top of the other. Nienke found the precise dimensions on the supplier's website, enabling her to design the steel safe that fits precisely between the connecting pieces of the beds in all shelters.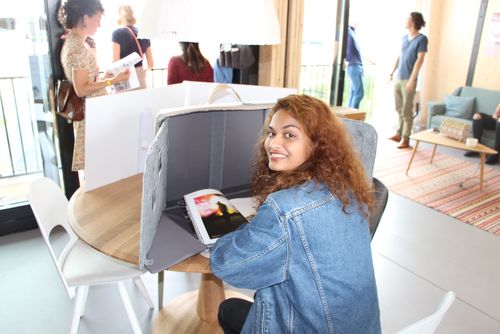 Student Kavita Dajal responded to another need with the design of her Study Case. She is helping Mohamed learn Dutch, and he had told her that he kept getting interrupted and not taken seriously when he sat down somewhere to practice with his books. "I can never concentrate here," he had said. So Kavita designed this case, which you can fold out and set up as a screen to study behind. It is made of felt, which helps dampen noise and provides a sense of privacy. The inside provides space to attach pens, books and a phone.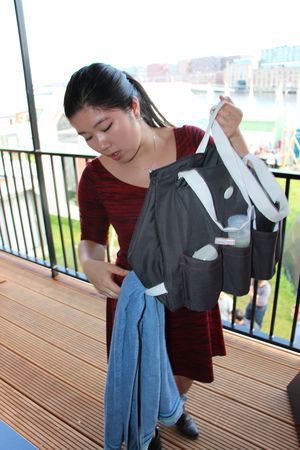 "How often do you hear that a shower helps to wash away stress and negativity?" asks Diana Zheng while demonstrating her Shower Caddy. Having a shower is one of the few moments of privacy in an emergency shelter or asylum seekers' centre. But it's not very relaxing, because there is only one hook on which to hang your clothes, towel and toiletries. Diana designed this waterproof bag with compartments, handles and space in which to conveniently store toiletries, clothes and a towel.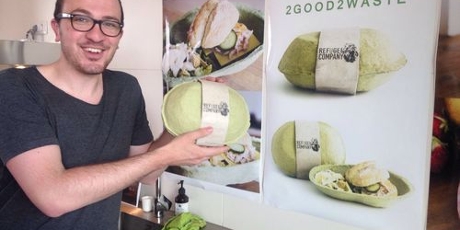 Thomas Vlek made a container of biobased material to keep food warm: 2Good2Waste. Because the food in emergency shelters is served on plastic plates, it gets cold quickly. Thomas: "A plastic plate is used for one meal for about half an hour, but takes about 100 years to break down. Plastic usually isn't separated after use, and is incinerated along with other household waste." Thomas' food containers are made of a unique biomaterial: grass. There is plenty of it, and it costs less than paper made of wood fibres. The material is water resistant, as he demonstrates, and can also be used for soups or other liquids.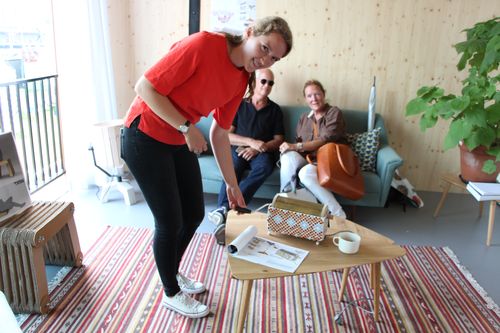 Femke Bijlsma of the Refugee Company was present to view the final products. She was surprised by the inventions: "These are problems the refugees face in their daily lives, and the solutions haven't been developed for people, but with people. Many designers are only concerned with large-scale issues: how can we resolve the accommodation issue. But the more specifically the solution addresses a small, urgent problem, the more it ultimately contributes to resolving the bigger issues."
Lecturer Suzanne Hansen said it was the best final presentation she had experienced as a supervisor: "I am really surprised by the superb innovations. They designed products that didn't even exist previously! Students are the best innovators."
The COA has expressed its interest in the designs. Refugee Company is going to work with COA to determine how the innovations can be implemented and tested in new locations.
This AUAS Innovation Lab programme was set up, designed and supervised by AUAS lecturer in Product Design, Annelies de Leede.