AUAS aims for 100 percent open access
22 Dec 2016 11:05 | Communication

Results of publicly financed research need to find their way into education, to researchers and to the professional field unhindered. The Amsterdam University of Applied Sciences (AUAS) wishes to aspire to a 100 % Open Access policy. The aim is to make the content of AUAS publications available to all, from scientists to society (the general public and business). To achieve this, it will become necessary to store all AUAS publications in the AUAS digital archive and, wherever possible, make these publicly accessible. In addition, AUAS will launch a fund to offer financial support to Open Access publishers. AUAS will also put together a digital publication series making all AUAS publications available to anyone, without costs to the author.
Free access
The AUAS Executive Board noted in their AUAS 2015-2020 Strategic Research Policy at the beginning of 2015, that the Open Access principle should apply to all publications from the AUAS 'publishing house'. This would be in line with the Berlin Declaration on Open Access which the various Dutch universities of applied sciences have jointly signed. This declaration states that the various parties' research should be made available to everyone, free of charge, enabling research results to contribute to knowledge creation and knowledge circulation. Open Access also indicates that the publications can be freely quoted from and that the publications' content is free to reuse, by either educational institutes or third parties. AUAS' 2015 ambition of realising 100% Open Access by 2024 has now been brought forward to 2020, after European ministers responsible for research and innovation earlier this year decided that all scientific articles should be freely accessible by that date.
Ambition
To realise the ambition of 100% Open Access by 2020, AUAS has now detailed its Open Access vision in concrete measures. These measures will ensure that AUAS sets out a clear framework for its Open Access policy starting in 2017.
First of all, this will oblige the entire AUAS community to deposit publications integrally into AUAS' digital archive via the PURE research registration system. This will also apply retrospectively back to 1 January 2015. The system permits the UvA-AUAS library to 'unlock' the documents as an Open Access source. The authority to make AUAS staff publications available for Open Access lies with AUAS. Only publications lodged in the digital archive will from now on appear in AUAS reports such as the annual report and research evaluations.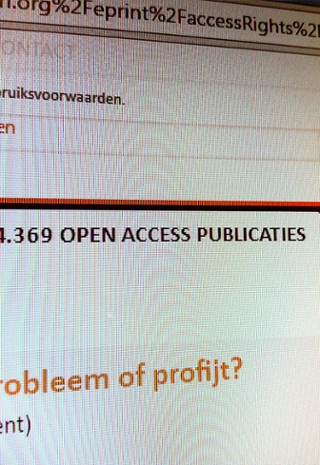 Open Access fund
A second measure will be to set up an Open Access fund to compensate Open Access publishers financially. Publishers demand financial compensation for publishing in an Open Access magazine, to cover the publication costs involved in Open Access. This contribution may currently restrict an author from publishing. The AUAS Open Access fund will absorb these costs, on condition that the publishers acknowledge 'Hogeschool van Amsterdam' or 'Amsterdam University of Applied Sciences' along with the author's name.
AUAS publication series
There is a third and final measure: the arrival of a digital AUAS publication series. From about the middle of 2017 and as a pilot scheme for the time being, the various AUAS publications will be made available, within the structure of a clearly recognisable AUAS design, in the form of digital publications. In collaboration with AUAS-PublishingLab, these publications will appear in various formats, enabling them to be read on smaller gadgets such as tablets or smartphones. Spoken versions are also currently under consideration. The AUAS publications will be disseminated via the available Open Access environments. AUAS is also considering the possibility of making space for these publications on its website.
Vital
AUAS Rector Huib de Jong thinks the 100% Open Access ambition is of key importance. "Within AUAS," explains De Jong "around 600 scientific and specialist publications appear every year. These contain a wealth of information often of interest to both education and the professional practice. And of course it's certainly a very good thing that these sectors get to know what is happening here in the field of practical research via these freely accessible publications. Open Access, as a 'vehicle for AUAS knowledge', is therefore vital for AUAS' profile as a knowledge institution both in and for Amsterdam."