International melting pot increases quality of AUAS education
300 'temporary' AUAS students arrive at Schiphol
1 Feb 2017 15:19 | Communication

At the beginning of February, more than 700 international students landed at Amsterdam Airport Schiphol, with study destinations at the University of Amsterdam (UvA) or the Amsterdam University of Applied Sciences (AUAS). Some had travelled halfway around the world to get here, from Japan, Vietnam or Brazil. About 300 of these students will spend this semester studying at the AUAS. The number of international students at the AUAS has grown steadily over the last few years. This is good for the quality of education, and also helps AUAS students develop international skills in their own classrooms.

The AUAS is a real melting pot: more than 90 nationalities are represented at the university of applied sciences. The 300 newcomers arriving in Amsterdam today are part of a larger population of international students at the AUAS. In addition to these temporary exchange students, some 1300 foreign students are already enrolled in fulltime degree programmes at the university of applied sciences. The number of international students has increased slightly in the last few years.
A boost to education
Having these foreign students at the AUAS is a good thing, says AUAS senior policy adviser for Internationalisation, Erik van den Berg: "Because Dutch AUAS students and international students are in the same classes together, both groups gain experience with other cultures and the level of education increases. Students in these international classrooms are taught in English and cooperate closely on assignments, as a result of which they develop both language and intercultural skills. For example, they gain insight into the forms of communication in another culture and doing business in another culture, and learn to reflect on their own culture. The 'international classroom' is a boost to education as a whole, with lecturers teaching in another language and learning to interact with other cultures."
Drinking tea before doing business
Student Jerry van den Hoorn is in his final year of Trade and Management Asia (TMA), part of the Amsterdam School of International Business (AMSIB) at the AUAS. In the last few years he has shared classrooms with many students from all over the world, from Japan to Bulgaria.

"As a result, we almost always spoke English in the classroom. The greatest experience I gained from this was that you learn about the perspectives of people who have grown up in a completely different culture. This deeper knowledge of other cultures is essential if you're studying business. In the Middle East, for example, you never get down to business until you have drunk tea together; and in Japan there are completely different manners and customs. Thanks to the international classroom you learn to be open to other cultures."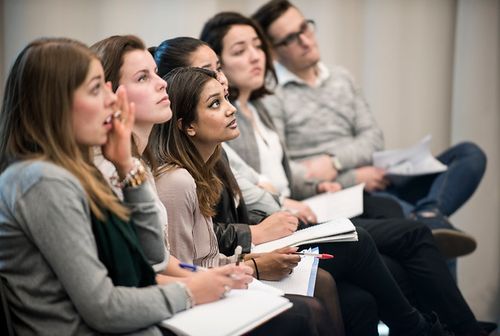 Tong Wu, a Chinese exchange student at the AMSIB at the AUAS, also found the international classroom to be a real eye opener: "We have learned a lot about the importance of multicultural negotiation. For team work, we found out that negotiation is the key. For me, the most impressive thing about an international classroom is that students from different nationalities can bring their own country's stories into class. In digital marketing class for example, all the classmates shared their own experience of how different interests and cultural codes affect the marketing of different countries."
Colleagues in Shanghai
The AUAS primarily prepares students for the regional professional field in and around Amsterdam. But knowledge of languages and international and intercultural skills have become indispensable there too. Van den Berg: "Take a Logistics student for example, who wants to work for the Port of Amsterdam after graduation. Due to developments such as robotization, automation and globalisation, he or she will also have to do business with colleagues at the key port of Shanghai. Intercultural skills are essential in that case."

The top three countries of origin of AUAS internationals (Bachelor's students) are Germany, the United Kingdom and China. Most of the international Bachelor's students can be found in the AUAS programmes International Business and Management Studies, AMFI and Physiotherapy (European School of Physiotherapy). In these programmes the international students take the same courses as their fellow students from the Netherlands.