Lentil burgers and banana bread: 'nudging' in AUAS canteen
New AUAS Sport and Nutrition Campus opened
30 Oct 2018 14:25 | Communication

The new Sport and Nutrition Campus at the AUAS was recently launched on Dr. Meurerlaan. The eye-catcher is the new restaurant, which has been transformed into a luxury food court. Students and staff can taste the sustainable and healthy creations of the AUAS Nutrition students.

Instead of grabbing a Mars bar from the canteen, students can choose a lentil burger, a seitan hot dog or banana bread. In the food court of the renovated AUAS Sport and Nutrition Campus, even dedicated meat eaters are now more frequently opting for the snacks created by Nutrition students, thanks to their culinary and prominent presentation.

The food court symbolises what should soon radiate throughout every AUAS campus: experimenting and coming together. Lenno Munnikes, AUAS programme manager in Nutrition and Dietetics and head of campus development, explains.

What is new at the campus?

"The AUAS campus concept means that we boost the visibility of the degree programmes, so that everyone can see what we create and how we experiment. That is quite different from sitting in the classroom with the door closed. The new food court is the first example of this. It is a testing ground for the Nutrition students, where they sell the products they create in the AUAS Foodlab. This also increases the urgency of the education; something is done with their assignments on the campus itself, instead of ending up in a stack in the lecturer's office."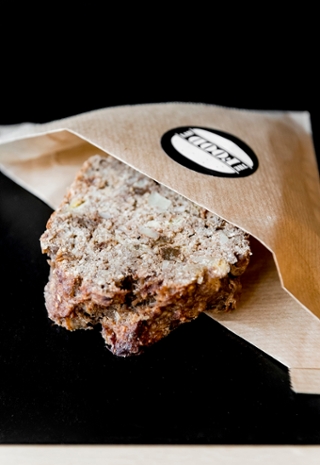 How are you experimenting at the restaurant?
In the near future, students will experiment with nudging in the food court, for example; we have also designed the canteen for this purpose. How can we influence consumer behaviour by presenting products in a certain way, by alternating between hot and cold? This will also be addressed in the courses.
"In addition, every product that is available in the AUAS Foodlab has been created from the students' research: they first tested the products extensively on taste, sustainability and ingredients."
What about 'freedom of choice'? Some people think they should always be able to buy a hamburger from the canteen.
"That is a common argument. But consider it from a different perspective: last year, two Nutrition students looked at the percentage of healthy/unhealthy foods available in our canteen according to the guidelines of the Health Council of the Netherlands. The ratio turned out to be 80/20: 80 percent unhealthy products, compared to only 20 percent healthy products.
"On the basis of our knowledge, lecturers and students in Nutrition therefore say: there is also freedom of choice between better choices. Students are a target group that could use our guidance in their choices. Red Bull used to be placed prominently on the front shelves - that's not what you want on a campus."
"You would prefer to have it the other way around. In the new campus restaurant, we are therefore starting with a 50/50 ratio between healthy and unhealthy, in cooperation with our caterer Cormet. That means a complete turnaround, implemented with the help of the new director of Cormet, because 'freedom of choice' has been the mantra for caterers up to now.
"What is happening here in the new food court is totally new and something we want to implement on an even larger scale, first across all the AUAS campus restaurants. But I think the students' products can also help the caterers to change consumer behaviour throughout the Netherlands and abroad."
Speaking of the whole Sport and Food Campus - how will other programmes 'open their doors'?
The Sports students will literally go outside more. Students of the Academy for Physical Education (ALO) are going to offer more sports activities around the campus to children from primary schools and asylum seekers' centres in the neighbourhood. In this way, people in the surrounding area can find out about their knowledge and skills.
"We are also working hard to involve business owners from the immediate vicinity of the campus and to share our expertise with them. For example, we recently met with the best-known baklava baker in Amsterdam's Nieuw-West district to see if we could make baklava with less sugar. If we are also the university of applied sciences for Amsterdam, then our campuses should project that."