AUAS to help children boost their motor skills in 2019
New research programme at Amsterdam primary schools
7 Jan 2019 15:18 | Communication

A large proportion of Dutch children have poor motor skills. Researchers at the Amsterdam University of Applied Sciences (AUAS) have developed a programme to give these children the support they need. The intention is to involve all schools and paediatricians in Amsterdam in this programme in 2019.
20 PERCENT HAVE A DELAY
A team of AUAS researchers, students and gym teachers analyses the motor skills of 5,000 pupils at 30 primary schools in Amsterdam on an annual basis. They examine the progress of pupils aged six to twelve by means of a motor skills test.
Their analyses show that around 20 percent of the children have a moderate to severe delay in motor development. Translated to the whole of Amsterdam, this amounts to 10,000 children in the city who are in the danger or risk zone in terms of motor skills.
NEW FOLLOW-UP PROGRAMME
The researchers believe it is time to act accordingly. "We have identified a problem, and this calls for a follow-up programme for these children," says Mirka Janssen, Professor of Physical Activity In and Around School at the AUAS. Therefore, the researchers have outlined a new care programme for children with delayed motor development, so that they will receive extra support in and outside school from now on. At the beginning of 2019, the City of Amsterdam will decide whether to implement this care programme in all primary schools throughout Amsterdam.
TRAFFIC LIGHT SYSTEM
In the new care programme, gym teachers refer children who score 'red', which signifies a serious delay, to Youth Healthcare, physiotherapists and remedial therapists, in consultation with the parents. The motor skills test that schools already use works according to a 'traffic light model': the gym teacher uses the results to see whether the child scores green, orange or red.
For the 'orange' children with a moderate delay, the researchers and gym teachers consider whether these children will benefit sufficiently from extra support from the school itself, including 'motor remedial teaching' (MRT) and small-scale gym lessons.
DELAY INCREASES WITH AGE
The new care process is needed urgently, says Janssen, because the delay only increases as children grow older. "For example, six-year-old children in Amsterdam only have a slight delay, but for eleven-year-olds in the average delay is one year."
INABILILTY TO SKIP OR CATCH A BALL
A striking example from the analyses by the AUAS researchers is that many children in the city, especially boys aged nine and ten, are unable to skip. "They are already halfway through primary school, whereas children are normally able to skip from a young age," says Janssen. National data also show that pupils are not as good at throwing and catching balls compared to children ten years ago.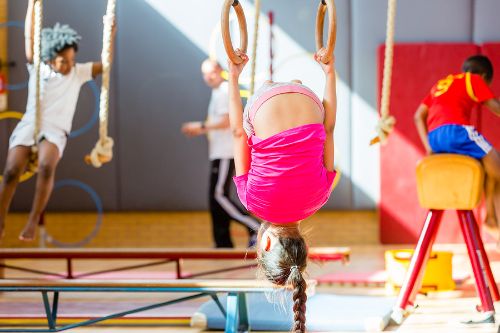 The AUAS researchers have analysed the data of children at primary schools throughout Amsterdam, from the city centre to the Nieuw-West district. Based on the differences between schools, they can deduce a link between socioeconomic status and motor skills. "Children in the city centre perform better in terms of motor skills. This may be because children in this part of the city are more likely to be involved in one or more sports. We see major differences between districts when it comes to sports participation," says Janssen.
There is also a relationship with BMI: the heavier children are, the less developed their motor skills. And children in Amsterdam's poorer districts tend to have a higher BMI. In addition, the increase in screen time is linked to poorer gross motor skills.
The researchers also see differences in the number of hours of gym lessons, but this relationship is not significant enough to explain the delay on its own. "More and better physical education is not the all-encompassing solution, because this is such a complex problem. It is one of the solutions to the problem, and it is good that the government is now also taking action on this with the 'Prevention Agreement'," says Professor Janssen.