72% of AUAS students satisfied with their programme
12 Aug 2019 11:57 | Communication

Students at the Amsterdam University of Applied Sciences (AUAS) are the most satisfied when it comes to the atmosphere, class size, content and lecturers. These are the findings of a student satisfaction survey conducted among 553 students from the AUAS student panel.

Around 72% of full-time Bachelor's students are 'satisfied' or 'very satisfied' with their programme in general. This percentage is in line with the student satisfaction figures from previous years. Students at the Faculty of Sports and Nutrition (FSN) are more satisfied than students at the Faculty of Business and Economics (FBE), the Faculty of Applied Social Sciences and Law (FASSL), and the Faculty of Digital Media and Creative Industries (FDMCI).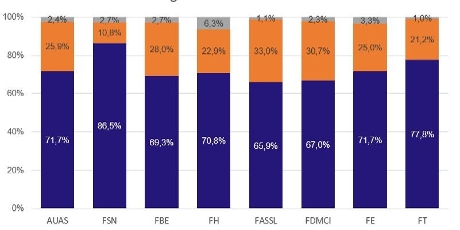 GOOD ATMOSPHERE AND LECTURERS
Our students are most satisfied with the general atmosphere (78%), class size (66%), content (64%) and lecturers (62%) within their programme. Internationalisation (31%), information provision (40%) and academic counselling (43%) received the lowest ratings.

The survey also examined which aspects have the greatest effect on overall student satisfaction. These aspects were found to be content, information provision, challenging education, and testing and assessment. In other words, if we can improve on those areas, it will lead to the greatest increase in our students' satisfaction level.
QUALITY EDUCATION