Tune In: extra support for first-generation students
AUAS launches introductory programme for students who are the first in their family to attend higher education
20 Aug 2019 10:21 | Communication

A group of approximately 70 new Amsterdam University of Applied Sciences (AUAS) students yesterday experienced a first for the Netherlands, participating in Tune In – a new three-day summer introductory programme developed specially to provide extra support to students who are the first in their family to go into higher education. AUAS Executive Board chairman Huib de Jong: 'Studying demands more than just knowledge.'

These so-called 'first-generation students' were welcomed last Monday by De Jong, who drew on his personal experience, explaining that he too was once in their situation: his family background gave him no preparation for study at all. His advice to the students was therefore to 'look for support from friends who do have experience of higher education.'

This is the first time that a Dutch university of applied sciences has provided an introduction geared specifically to this target group. A necessary step, according to the Executive Board, as unfamiliarity with the rules and social codes that apply to higher education can lead to unexpected obstacles during one's studies.

This was revealed by research carried out by the professorship Promising school careers in a diverse city, which showed that first-generation students feel the least prepared for study at a university of applied sciences. This group also generally has a higher percentage of drop-outs during the first year of study.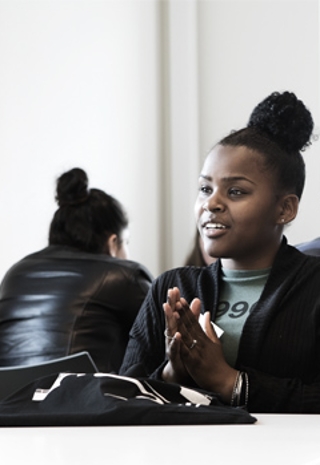 "Often, they do not have the social and cultural background at home that students with parents who have been through higher education take for granted," says Fiona Veraa, researcher and Tune In project leader. The programme aims to equip these students with skills, insights and strategies to make the switch to higher professional education easier.
During the meeting with students, Executive Board Chairman De Jong particularly stressed the importance of making your own decisions, and not allowing others to pressure you into anything. "At the end of the day, it's all about what you want to achieve. As long as you know why you are doing this, you'll be able to overcome the obstacles in your path."
Tune-In was created by AUAS Student Affairs and the professorship Promising school careers in a diverse city.