AMFI students scrape soot to raise awareness
The 'harvest' of particulate matter will be used to glaze crockery
5 Sep 2019 12:05 | Communication

Some 450 new first-year students from the Amsterdam Fashion Institute at the Amsterdam University of Applied Sciences (AUAS) harvested soot yesterday in the most polluted places in the city. This wasn't an everyday activity for the young fashionistas and the occasional fashionisto. But that was also the intention, emphasises initiator and lecturer Jan Piscaer. "It is only when you do it that you realise what air pollution is all about."

What kind of air will I breathe during my studies in the coming years? How healthy or unhealthy is it? And what can I do with it as an up-and-coming fashion professional? These are questions that came up in the 'soot harvesting' expedition, which Piscaer hopes will encourage students to think.

It is also inspiring to see that you can turn something dirty (like particulate matter) into something harmless and beautiful, like crockery. "Hopefully the students will continue to use this insight during the study programme."
Uncomfortable wake-up call
This is also what design student Lotte van Stijn (20) expects. She and a group of first-year students – wearing masks and gloves – are working under the railway viaduct on Wibautstraat. "It might feel a bit uncomfortable at first, sitting in the dirt in your nice clothes, but ultimately it's a wake-up call. Fashion isn't just glamorous. It's one of the most polluting industries in the world."
The idea of using particulate matter in crockery comes from architect Iris de Kievith and designer Annemarie Piscaer (no relation). With their Ser-vies project they have found a way of making air pollution visible. Piscaer hopes that this will also inspire design education. "It is very interesting for us that this group is made up of future fashion designers and it's great that there are so many of them."
Glaze
The particulate matter is collected and dissolved in the glaze, which is used to finish cups and bowls. The colour of the crockery changes with the amount of particulate matter in the glaze: the more soot it contains, the darker it becomes. The differences in colour are therefore an indication of the air quality.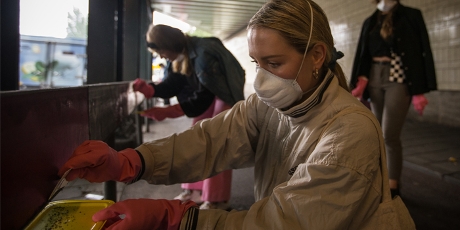 Larger group
The first soot harvesting expedition took place in Rotterdam last year. AUAS lecturer Jan Piscaer participated himself, with a small group of other volunteers. "While I was scraping, I thought: we're not getting anywhere. We should do it with a much larger group." And this led to the idea of involving his students.
After the harvest, the project will make two more appearances in the curriculum of the first-year students. In November, there will be a follow-up on the progress of the project. Because the particulate matter will also be analysed by the National Institute for Public Health and the Environment (RIVM).
Cocaine
"We want to know exactly how much particulate matter Amsterdam produces and what it contains," says Piscaer. Because particulate matter consists of many different components such as rubber, nitrates, copper, iron and aluminium. "Perhaps we'll even find cocaine in it in Amsterdam," the AMFI lecturer philosophises.
Jan Piscaer would like to see the expedition return to the AUAS in the coming years, and for other degree programmes to involve their students as well. "And then, of course, we hope that the colour of the crockery will become lighter and lighter each year."
Other materials
For first-year student Zoï Huizing (22) the expedition is already a success. "I wasn't aware of what you could do with pollutants. But I think this is a very innovative idea. It inspires me to look beyond particulate matter alone. You can also use other types of materials."
The Amsterdam soot harvesting expedition was organised in cooperation with a local residents' association (Bewonersgroep Valkenburgerstraat). This group is part of the Knowledge Mile, which is also home to the Stopera and the Amsterdam Fashion Institute. The Amsterdam University of Applied Sciences and Bewonersgroep Valkenburgerstraat have been working together for some time to make the neighbourhood more liveable.