Student makes high-protein, nostalgic ice cream for the elderly
20 Sep 2019 13:54 | Urban Vitality

Ice cream that is high in protein and really tastes good: that's what elderly people want to see on the menu in their care homes. With this in mind, Amsterdam University of Applied Sciences (AUAS) Nutrition and Dietetics student Tim Goudswaard (24) is developing protein ice cream with 'nostalgic' flavours such as advocaat (eggnog) and mocha. "Malnutrition among the elderly is a serious problem."

Tim recently served his ice cream to residents of the Amstelhuis residential facility in Amsterdam. The response was unanimous: "I really like this!" people said enthusiastically. Tim's survey revealed that people would like to see the ice cream on the menu and would be willing to pay for it. The tasting was a final test for Tim's start-up company.
New flavours
The third-year student has been making high-protein mocha ice cream in the AUAS Food Lab for some time, but is now expanding his offering to include other flavours at the request of the older connoisseurs. Amstelhuis residents suggested flavours such as bitterkoekjes (macaroon) and boerenjongens (brandied raisin), and Tim will be working on them in the coming period. The idea is that the ice cream will also find its way to other care institutions in the Netherlands in the near future.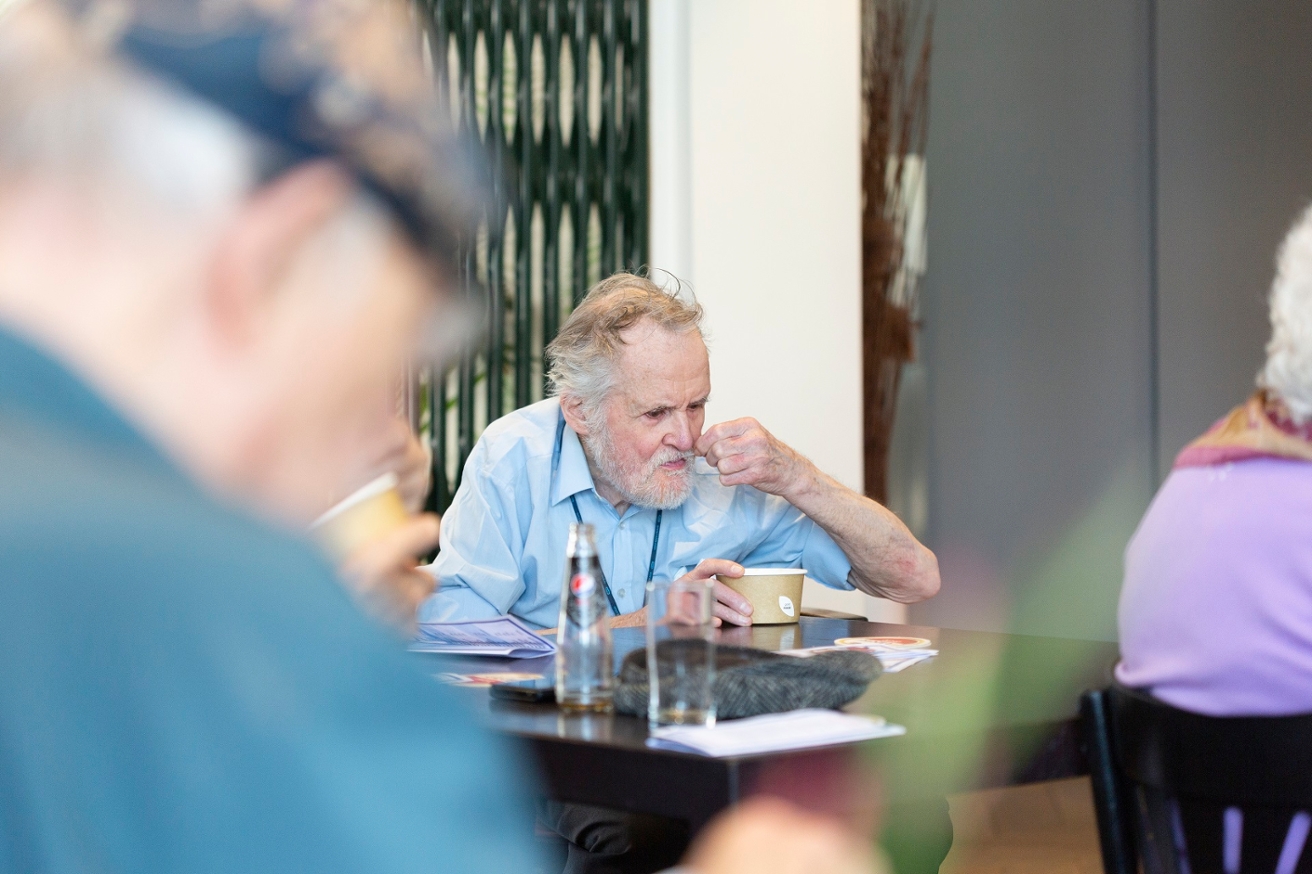 Golden rule
Tim and a few fellow students developed the first version of the ice cream last year. This led them to win the 'public's favourite' award for the most delicious product of the year in their degree programme. Tim and his fellow student Friso, who is a chef, experimented with an ice cream machine at the AUAS Food Lab.
Earlier tastings had already shown that elderly people approved. However, the ice cream could still be adjusted to be much healthier. Although the study project had been completed, Tim continued to tweak the recipe in his spare time. He lowered the sugar content considerably, and tripled the protein content. "This version of the ice cream isn't as sweet, but is still just as tasty. And the golden rule is 20 grams of protein per 100 grams; this ice cream actually contains 24 grams of protein per 100 grams. That's how much protein you get from one and a half scoops."
Malnutrition
The students came up with the idea of special ice cream for the elderly after attending a guest lecture by researcher Michael Tieland. He explained why it is so important for elderly people to consume enough protein. Because as you grow older, you lose more and more muscle mass, and this negatively affects how you function.
Unfortunately, not everyone is aware of this and elderly people sometimes become malnourished without anyone noticing. This even happens in care homes, where there isn't always enough attention paid to proper nutrition. "Fortunately, there has been an increased focus on nutrition in care institutions lately," says Tim. "Nevertheless, improvements can still be made. Ideally, about 30 percent of the food elderly people consume should consist of protein. Tieland's research shows that breakfast foods and snacks present the best opportunities to consume more protein. That's why I developed a dessert that really tastes good and is also a valuable dietary supplement."
The Ice Cream of Columbus
Tim has worked out his business plan, and will continue to expand his company in the coming months. He will continue working with the ice cream machine to develop vanilla, advocaat and Malaga raisin flavours. He has already come up with a name: the IJs of Columbus, a play on the Dutch words 'ijs' (ice cream) and 'IJ' (Amsterdam's waterfront) and 'ei van Columbus' (Egg of Columbus). "Because of the IJ in Amsterdam, where the ice cream was developed, and I happen to live on the Columbuslaan in Utrecht."
Tim is confident that there's a market for it. Tim: "The taste makes the difference. Many elderly people are given protein drinks, but when asked, they said drinking them is agony. There are some protein ice creams from Germany, but they have a chemical taste rather than being a treat."
Followers
The market won't be a problem, if everyone reacts as enthusiastically as the Amstelhuis residents. They rated the mocha ice cream as exceptionally tasty on the surveys they filled in afterwards. The senior citizens even stated that they would pay 1.50 to 2 euros per scoop for it; they were asked to specify a suitable price themselves.
Tim now has a number of fans in the Amstelhuis. "A lady told me that she eats ice cream every day, that she loves it. I've organised three tasting sessions, and she was the first to arrive at all three."
Photos 1 and 2: Marianne Kroon of SIA