AmSIA 2021 finale: cast your vote
29 Sep 2021 11:53 | Communication

Which innovative idea should be in the running for the Amsterdam Science & Innovation Awards? Let us know! Voting is open now until 11 October – cast a vote for your favourite innovative idea devised by AUAS colleagues and students.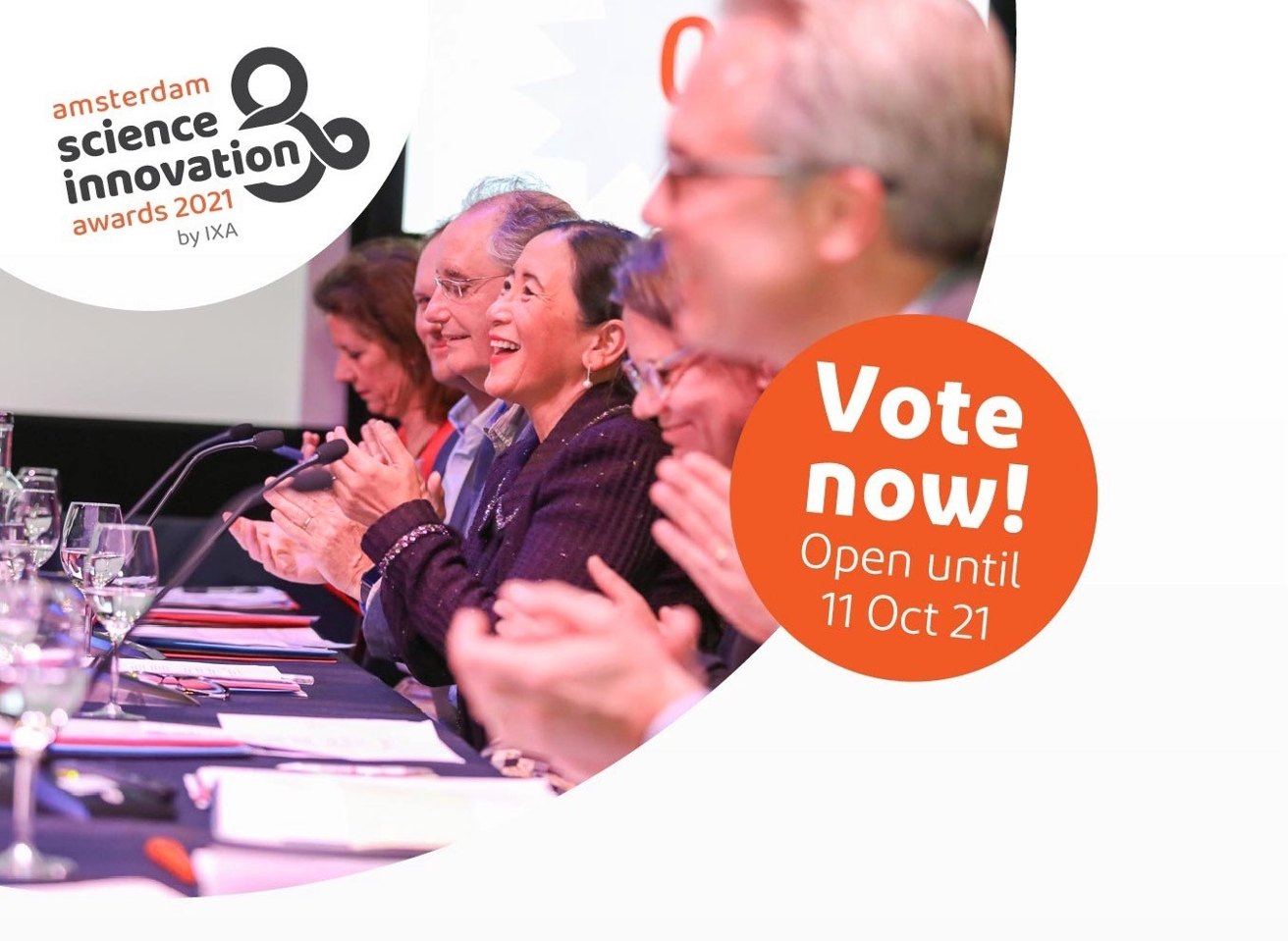 The jury will award prizes during the grand finale on 9 November to the people behind the best ideas in three categories: Society, Health and Environment & Climate. The winners will be awarded a prize of €10,000 to use towards the development of their projects. Visit the website and watch the videos of the semi-finalists to decide which one is your favourite.
Category: Society
Desi Bootsman, Creative Business (CB) alum, has turned an innovative dyslexia treatment into a game for children, called Mazehunter. Children with dyslexia process information differently, making learning more challenging. Fortunately, the collaboration of both hemispheres of the brain can be boosted via exercises stimulating hand-eye coordination and fine motor skills. Mazehunter encourages children to develop these skills in a fun environment via play.

Joop Akerboom, Communication and Multimedia Design (CMD) alum, is nominated for Scrollbook. This innovation aims to make reading more enjoyable for young people and to spark their joy of books. Scrollbook presents books in a shorter, digital format designed in the style of a book. For example, Lord of the Rings, includes typografy and illustrations that bring the story to life in an attractive way tailored to today's youth who are used to consuming shorter fragments of text in one sitting. The letters light up according to the person's reading tempo.
Yuri Westplat, lecturer-researcher at CMD, is the creator of Prapla, a speech-controlled learning app for young children. Many toddlers and young children start their pre-kindergarden education with language delays. Via Prapla, these children learn new Dutch words and phrases using a combination of speech technology and images. Prapla encourages children to practice their language skills at home on their own via fun images that respond to their pronounciation, boosting their vocabulary in the process.
Category: Environment & Climate
Jawad Essalami is the Business Developer for EddyLite. This company provides a sustainable solution for the next generation of carbon composites, by making it possible to check the quality of this material in a non-destructive way. Essalami wants to inspect larger carbon constructions in one run in the future, which would not only save time and costs, but also dramatically reduce Co2 emissions.

The Upcycle Wood Platform is a research project from the Robotlab/ Digital Production research group run by Liselotte van Dijk. It's part of a larger research project into the usage of robot technology in giving waste wood a new sustainable purpose. At present, much wood is thrown away and burned unnecessarily. The Upcycle Wood Platform brings suppliers of waste wood into contact with parties who want to use this wood for new applications and designs. In this way, wood is given a second life and the felling of trees for new wood is reduced.
A lot of food is wasted because people don't know what to do with their leftovers. Student Syranos Tjee wants to tackle this. She wants to develop an app called 'Recipe Creation' that scans your leftover food and generates a recipe. 'My idea contributes to a world with less food waste because all ingredients are used to make a delicious meal'.