Virtual exchange: internationalisation from your living room
15 Nov 2021 07:00 | Communication

The Week of the International Student kicks off today, observed annually by higher education institutions across the Netherlands. Centering around' International Students' Day' on 17 November, it's a time of the year to celebrate international students and the diversity and rich learning environment they bring to our classrooms, which is beneficial for all students.

The percentage of international students at AUAS consistently grows year on year – a trend that is prevalent across higher education in the Netherlands and not without its challenges. While there is nothing like actually studying abroad and soaking up an international experience in-person, corona-related travel restrictions have paved the way for virtual exchange– a trend in higher education that is boosting inclusion by offering students from all walks of life an international experience at home.
COIL projects doubled last year
AUAS's Virtual Exchange Advisor, Eva Haug, explains that the AUAS was among the top four educational institutions worldwide doing COIL projects in 2020, which stands for Collaborative Online International Learning. COIL involves taking an existing module in the curricula and 'internationalising' it by introducing a collaborative project with another university abroad.
"Internationalisation didn't stop last year – in fact at AUAS we doubled our virtual exchange projects thanks to corona. We'd normally have around 30-35 COIL projects per year and that was up to 70 due to Covid. Technology enables us to bring the world into the (Dutch) classroom – instead of reading an article about architecture in India you can work online with Indian students on a design project," Eva says.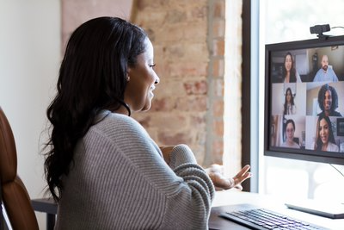 Intercultural skills
Take the Just Cities project collaboration between 4th year Public Administration students at FMR with their peers in the States, for example. Some 80 students met weekly via Zoom for a 10-week period to comparatively examine social justice in Amsterdam and Philadelphia, developing their intercultural skills in communication and cooperation along the way. AUAS lecturer Esther Koster says that the project was a huge success, providing 60 Dutch students with an 'internationalisation at home' experience during the pandemic. The project continues this year and if all goes well the students will also travel to the partner universities for a short visit.
Eva says that faculties across AUAS are increasingly integrating COIL into their curriculum, particularly the Faculty of Business and Economics. One such example is a collaboration with various universities in South Africa and Europe as part of the Ikudu project, where lecturers are working together to decolonise their curricula and make virtual exchange a structural part of their programmes. U!REKA, our European network of eight higher education institutions, will also kick off various joint COIL projects soon. Lecturers from across the network are laying the groundwork for virtual exchange involving students in Frankfurt, Helsinki, Ghent and Amsterdam.
Internationalisation for all
According to Eva, the inclusive aspect of virtual exchange makes it particularly exciting – and relevant. "Virtual exchange opens up a world to students who are unable to go abroad for various reasons. As a result you see more diversity in not only the types of students participating, but also where they come from geographically. It opens doors to students from countries like Mexico and Chile, for example, who might not be able to collaborate with students in Europe otherwise."