Sustainability by Design
Learn how to use a design mindset to create more sustainable projects and ideas, and apply sustainable principles within your professional work.
On this page:
What will you do?
SESSION 1: September 22nd, 09h30 – 10h30 CET (Live session)
In this session you will learn about the concept of sustainable development; what is it and how did it develop over the years? We will take you through various perspectives on sustainable development and its critiques. What are the challenges, as well as opportunities when we work with the Sustainable Development Goals?
SESSION 2: September 29th, 09h30 – 10h30 CET (Live session)
We will take the SDGs as a system, and see how the different goals interrelate. You will explore your own position towards the SDGs, personally as well as professionally, and learn about different ways how to approach all 17 SDGs as a system.
SESSION 3: October 6th, 09h30 – 10h30 CET (Live session)
This module is about effectively framing the situation you are designing for. We do this by using the SDGs, as well as the framework of Doughnut Economics. How do you make sure you are working on something that contributes to a safe and just space for society while staying within the planetary boundaries of our ecosystem? How do we get from a global goal to a local challenge? How do we create ideas that are sustainable for people, the planet and prosperity?
SESSION 4: October 13th, 09h30 – 10h30 CET (Live session)
Time to move from challenges to ideas! In this module, we will share a set sustainable principles that can help you enhance your idea – inspired by how real companies do this.
SESSION 5: October 20th, 09h30 – 10h30 CET (Live session)
Now that you have moved towards creating ideas and a new solution, it is time to check back on how sustainable your idea actually is. Focusing on impact, you will assess where and how your solution is contributing to the SDGs (positively and negatively), and where there are potential gaps or trade-offs. You will further work out your idea via a Triple Value Proposition and a first version of its Sustainable Business Model.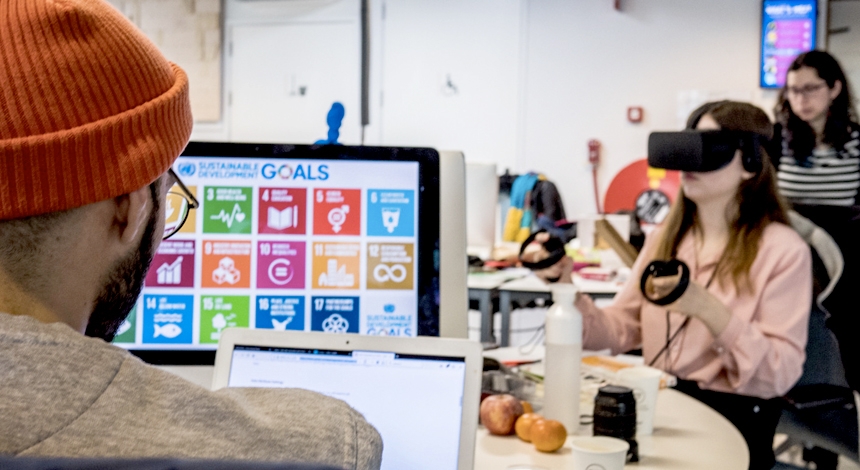 Learning Outcomes
During this course you will follow 5 modules where you will learn:
How the SDGs came into being and where we are now;
Share various best practices of how the design community is approaching global and local challenges within the framework of sustainability;
Through the use of hands-on methods, how to transform a global goal into a local challenge;
How to map out your own local community or city within the limits of society and the planet;
How to generate ideas and design for opportunities using creative brainstorm methods;
Get a clear overview of what is going well, and what could be improved on the level of sustainability in the context you are working or living in;
How to re-design your initial ideas for new initiatives that are sustainable by design, from the start, by asking examples from existing organisations and businesses.