Eric
Testimonial
'After playing football for 15 years, my whole life was about sports. I spent every free minute running or practicing free kicks, but I realised that I wouldn't have much of a future as a sportsman, because of my returning injuries. That's why I chose Sport Studies – track ISMB; a programme about the business side of the sports world. A welcome side effect of this study was that I could improve my English and have an international network as well as friendship circle.
It's amazing to move to a different country and start from scratch for six months before returning back to campus.

4th year - Sport Studies - track ISMB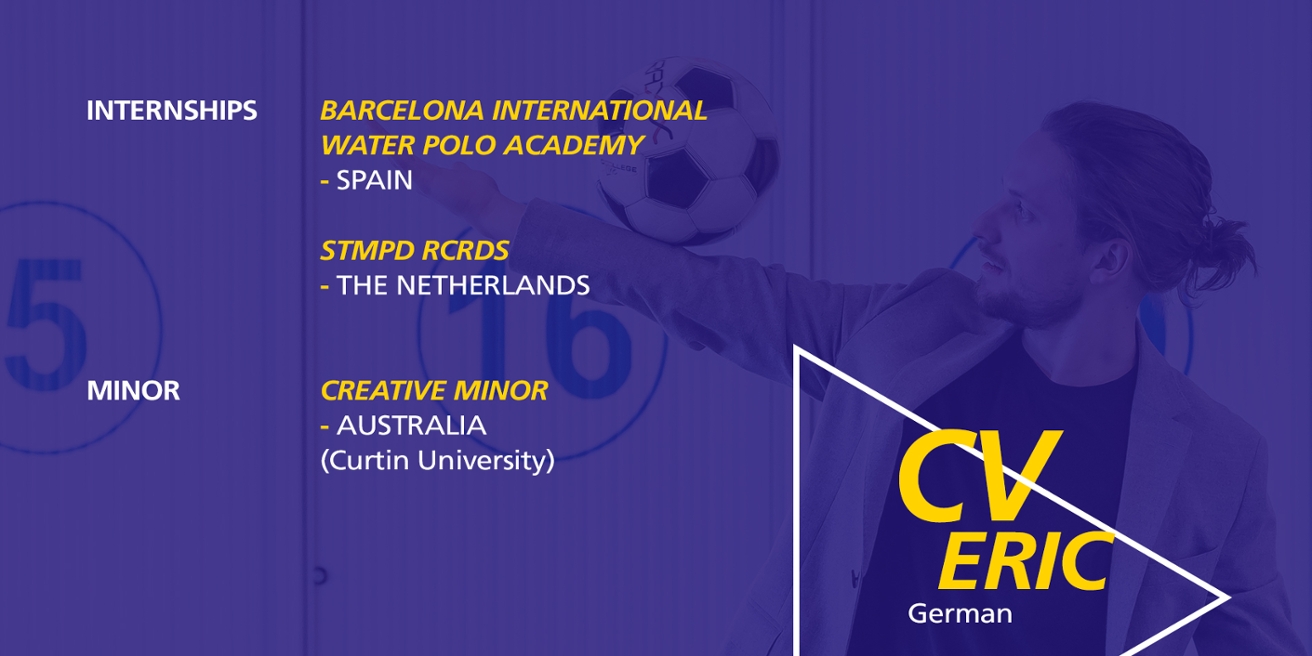 Campus atmosphere
I really like the atmosphere at the campus. In my class there are many open minded, international guys with different backgrounds. In the beginning it felt like an adventure with strangers from all over the world.
The AUAS helped with accommodation for my first year. After that, it was quite difficult to find a place in Amsterdam as I simply did not have a big network. But as I started to know more people, I ended up finding a new place.
After that, I lived together with classmates in a flat and now in a student house close to my classmates. I live between campus and the city centre, which makes both quite easy to reach. The vibe with the other two bachelor programmes at our faculty is cool since you get to know people from the Dutch courses through activities or the student café. I feel right at home
Going abroad
The highlights during my studies were definitely the experiences abroad and the internships. It's amazing to move to a different country and start from scratch for six months before returning back to campus. My time here has made me perceive the world as much smaller and connected. It is now easier to imagine myself living in any country around the world.
Internship Barcelona
For my internship in the second year I worked for BIWPA; a water polo organisation in Barcelona. I really wanted to explore the Spanish culture and enjoy good weather while working. Doing a lot of filming and Photoshop for the teams, I was responsible for their content on Instagram, Facebook and Twitter. The internship turned out to be amazing, with Barcelona as a city being a big part of it.
Minor in Australia
I did my minor at Curtin University in Perth, Australia where I wanted to go, because I really like the music scene there. I wanted to learn how to surf and just explore how it is to live on the other side of the world. I chose subjects like Graphic Design, Brand Management, Digital Marketing & Photography. Very creative subjects as I found that creativity is very important to me. The campus was very different than here. Similar to American universities, you had different faculties and student housing on campus.
STMPD RCRDS
During my studies I fell in love with making music and looked for opportunities to be surrounded with people in the industry full time. That's why I did my strategic internship at STMPD RCRDS; a Dutch record label in Amsterdam founded by DJ Martin Garrix. They release his music and that of many associated musicians. The company is also occasionally part of events such as the Tomorrowland festival where STMPD had its own stage.
I worked for the STMPD marketing and social media department. Again I did a lot of Photoshop, video editing and social media scheduling. But on a much bigger scale, with a topic I am really passionate about and in the best possible company I could find for my vision. My job was to strategically look into new marketing opportunities.
Second passion
In the beginning of Sport Studies – track ISMB, I wasn't sure if I was allowed to intern at a company outside the sports industry. But after showing that I was serious about the music industry, teachers agreed on it. I think everybody should be able to do their internships in different fields, as long as they're passionate about it and the internship will impact their personal development positively.
Future
After my graduation I definitely want to stay inside the music industry in some way. I want to be surrounded by the culture and energy in this field and hope to find my own path.'