Exhibition: Future of Fashion Design
Expo by four recently graduated AMFI-students
Event

Four recently graduated students of the Amsterdam Fashion Institute (AMFI) present their projects at FLOOR. These projects display entirely different visions on the future of Fashion Design. Which resemblances are there to be found?

Often, innovative projects or designs seek to fulfill a certain need or lack of. This is the case with these four projects as well. All of their works are inspired by lacking of some sort. Future of Fashion Design invites you to find their commonalities.

Each project portrays a unique perspective. Anna Lena Schnieders was inspired by the Chinese Silk Roads, and Esmée Krouwels presents a new take on a woodworkers uniform. Metteline Madsen embodies Yves Kleins' International Klein Blue and Lara Maria de Groot found inspiration in her bedroom during the lockdown.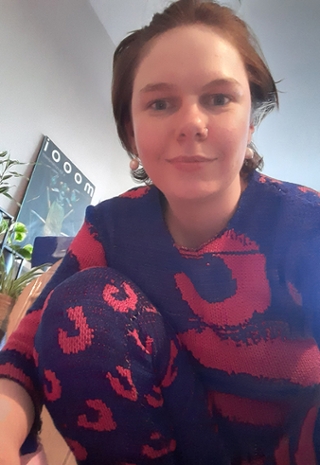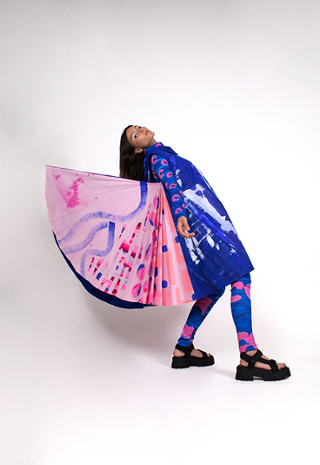 About Metteline Madsen
"If I can make just one person smile for just a second, I have already achieved my first goal" proclaims the 26 years old designer Metteline Madsen about her attitude towards her work. The Danish Fashion design alumni from AMFI found her way abroad after high school seeking new adventures while working and saving up for design school. On her journey she experienced the down to earth approach of designing in Andalusia, Spain during a design course she passed with distinction. Then the road headed back to Denmark at the "Den Skandinaviske Designhøjskole" for half a year where experimentation and fast pace projects were on the menu. Finally, she decided to move to Amsterdam to study at AMFI where she specialized in print design. Even though the love for prints where great, an experimental approach in the projects were showcased with fx interactive design, zero-waste cutting, animations, AR and digital fabrics in her very own way. During her study, she interned in Copenhagen at a small design studio for the brand Tabernacle Twins. Now she is excited to enter the next step of her fashion career.

Blåt Håb
"D´abord il n´y a rien, ensuite un rien profonde, puis une profundeur bleue"
These words by Gaston Bachelard describe the sublime infinity of blue; "First there is nothing, then there is a deep nothing, then there is a blue depth." Blue seems to be the mother of all colors, being the first and the last color you see in a day. In 1960, the ultramarine blue named 'International Klein Blue' (IKB) was born. The deepness and intensity of these colors are like nothing before or ever since. For me, this color symbolizes hope. Hope for a better future, hope of making it through this pandemic and hope of seeing my family and dear ones soon.
International Klein Blue and Yves Klein as an artist created the starting point for this project which revolves around a print collection intended both for fashion and interior, where the relationship between print and wearer is explored, to the limit where the wearer becomes a print.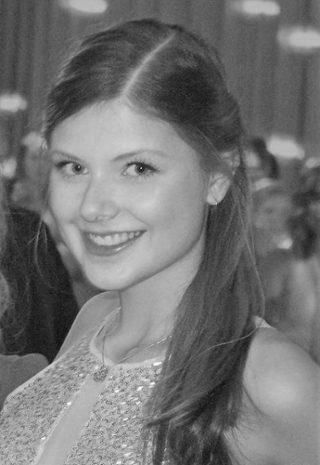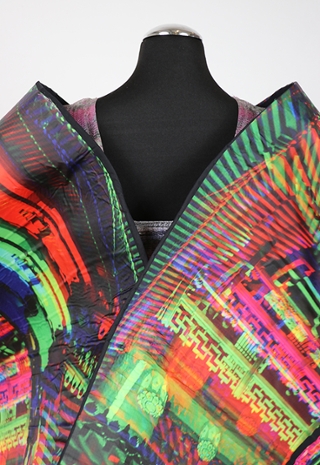 About Anna Lena Schnieders
Nowadays, there is a demand for fashion products to exceed mere functionality. As a meaning-infuser I want to create more meaningful and sustainable products through emotional durability. I want to design fashion with a concept and a concept with a purpose. My vision is to forward fashion concepts, that usually stay within the first stages of the creative process to the consumer. I believe that the engagement with the story behind a product adds value to the product and emotionally attaches customers to the product. This attachment challenges the relationship to what we buy, leading to a more mindful purchasing behaviour and emotionally durable relationship to the things we own. To achieve this for the benefit of our planet, my work is about demonstrating the added value that meaning-infusion can have.
Fashion Talismans for the future

With my graduation project I would like to demonstrate the added value of meaning-infusion along the creation of four conceptual fashion talisman prototypes. Each of these prototypes represents a coping mechanism to a specific aspect of the future that we are moving towards. China and the Silk Roads of the 21st Century are rising – How could this impact fashion in the future?
During my study abroad programme in China, I got a glimpse of a country that is developing incredibly fast and innovative. At the same time China is frequently criticized for their approach to human rights, privacy etc. As China's influence on Europe will increase due to the construction of the 21st Century Silk Roads, one must ask how this is going to influence us. In addition to all the insecurities that already persist in our post-covid world, there will be this enormous shift of power towards China happening in the near future. I discovered that in fast-changing times, people are searching for something stable and consistent to hold on to. With my project, I would like to address this need by creating Fashion Talismans for the future.
For the nostalgic aspect that gives my products the stabilizing talisman-effect, I am utilizing historic references to textiles and garments from China during the times of the ancient Silk Roads. I would like to create a relation between the past and the future and the two Silk Roads, the two times when China is the world's leading force. The historic references are interpreted in a futuristic way and therefore not detectable without background knowledge about the concept. Through this hiding, the talisman-effect is supported, as it makes the references become something personal and intimate to those in the know.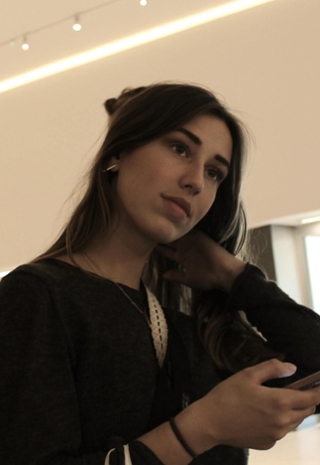 About Lara Maria de Groot
Lara Maria de Groot is a Dutch fashion & textile designer. As a recent graduate from the Amsterdam Fashion Institute, she is now finding her way into the fashion field with clothes that explore femininity in all its facets. With a big focus on hand-drawn print design and a night and underwear-influenced aesthetic – think voluminous nightgowns underlaid with sleek and comfortable body-wear - she is intent on combining imposing silhouettes with sporty elements, making luxurious items that are as comfy and wearable as possible. With an eye on the future and a great love for thrift shopping, her aim is to implement as many repurposed materials in her collection as she can find.
Between Walls
Inspired by personal feelings and desires that have marked this past time of staying at home, this collection showcases how the bedroom became the greatest inspiration during the pandemic. Being limited in the things I could do, the people I could see, and the places I could visit, I inspired the narrative on the place I was seeing the most at that moment: my home. While wrestling between the contentment of being at home and the desire to dress up and get out there again, I challenged the idea of 'inside' and 'outside' by repurposing old interior fabrics and transforming these into luxurious nightwear with outdoor elements. With home as the biggest inspiration, the collection is a new interpretation of loungewear, existing out of comfortable yet functional blanket-like coverings, luxurious bedding-inspired prints, and rich wallpaper textures.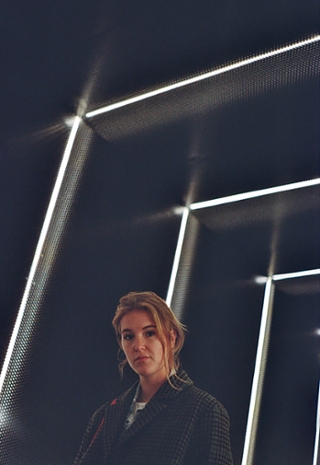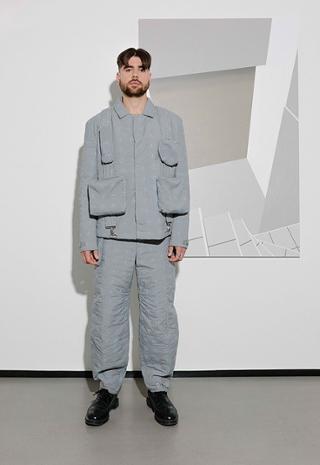 About Esmée Krouwels
Esmée Krouwels (23) graduated past July from the Amsterdam Fashion Institute. Her strength is functional, yet esthetically pleasing design, which is what she wants to develop further. She justifies adding clothes to the world by applying focused goals to her garments. Her label 'Together We Create' seeks to collaborate with craftsmanship.
Together we create - Chapter 001: a Woodworkers Wardrobe
Together We Create is a platform that offers collaborations between crafts per project, to gain design inspiration for purposeful, timeless, and aesthetically pleasing uniforms. For this first collection, the focus lays upon woodworking as a craft. The inspiration to focus on woodworking came from my nephew, who is a woodworker himself. He made me aware of the fact that there is a gap to be filled between purposeful carpenter pants and aesthetically pleasing, but non-purposeful workwear.