Classes
HvA Dance Centre (HvA DC) is a dance community for ALL students in Amsterdam (HvA / UvA / VU etc). HvA DC organises dance classes and performances for students and alumni. HvA DC offers a social network ​​​​​​​in which students and alumni can develop themselves in professional and personal areas with dance as a common denominator.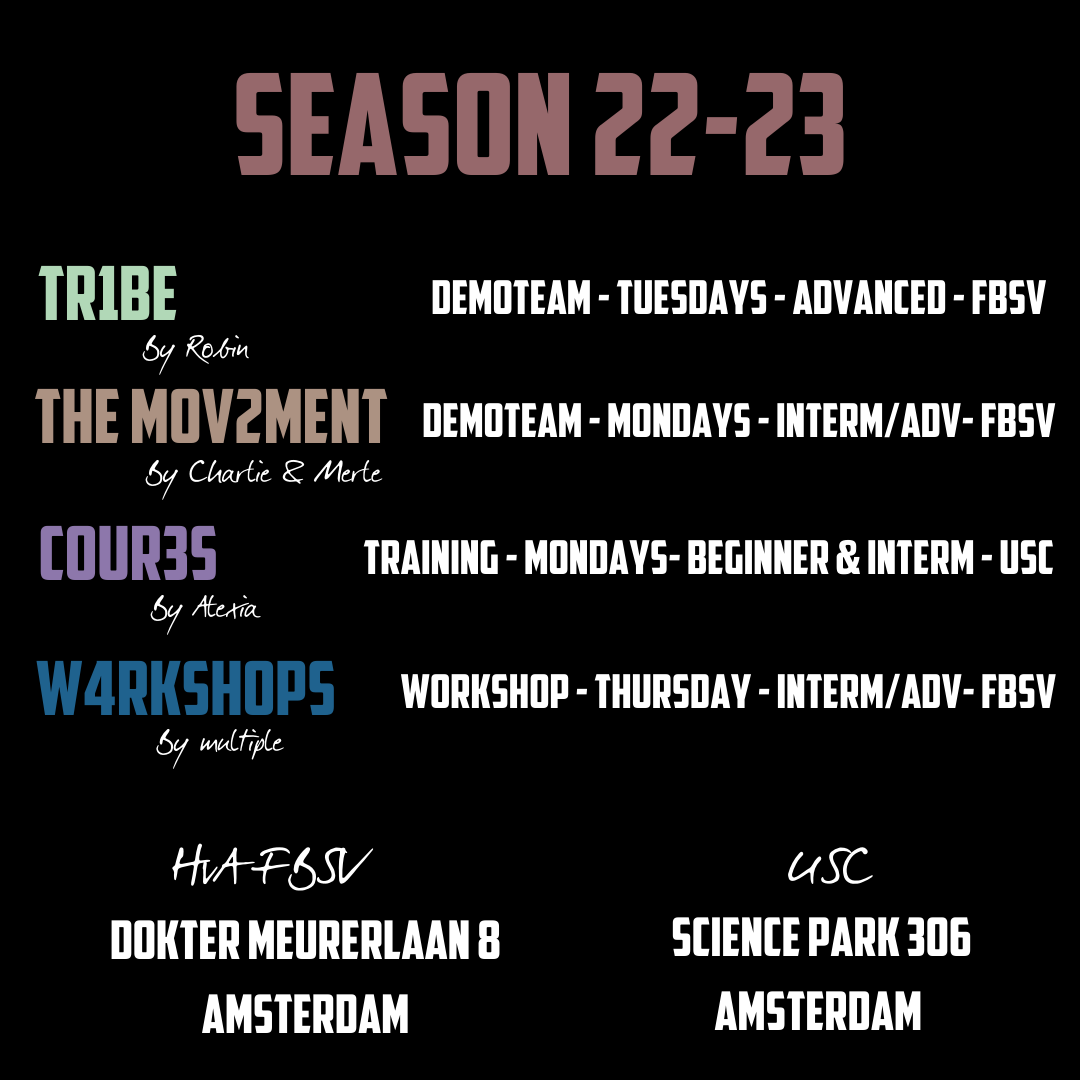 We offer different classes on different levels and at the end of the study year we host our final dance project.
For the fees we work with 2 categories.
CATI: all students & CATII: alumni
More info per class, see below.
TR1BE
KICK OFF September 6 & AUDITION September 13
Location FBSV Amsterdam (Dokter Meurerlaan 8)
Demo team
Advanced
Tuesday 18:00 – 19:30
Trainer: Robin Benjamin
Commitment: one season Sept-July
CATI: €30,- per month / CATII: €40,- per month
including training / 3 tickets for UDO / videoclip shoot
Excluding HvA Dance Centre pants (€30,-) & contest wear (€40,-)(mandatory)
THE MOV2MENT
KICK OFF September 5 & AUDITION September 12
Location FBSV Amsterdam (Dokter Meurerlaan 8)
Demo team
Intermediate/advanced
Monday 18:30 – 20:00
Trainer: Charlie Burnside & Merle Drommel
Commitment: one season Sept-July
CATI: €22,- per month / CATII: €30,- per month
including training / 2 tickets for contest / videoclip shoot
Excluding HvA Dance Centre pants (€30,-) & contest wear (€40,-)(mandatory)
COURS3S Urban Dance
Location USC Universum Amsterdam (Sciencepark 306)
Training: course of 9 classes
Techniques out of hiphop, streetdance, female dance and influences of urban contemporary
Small choreographies will be taught
Beginner Monday 19:00 - 20:15
Intermediate Monday 20:15 – 21:30
Trainer: Alexia Calderón
Commitment: one course
Startdates: Period 1: September 12 / Period 2: November 21 / Period 3: February 13
CATI: €55,- per course / CATII: €75,- per course
W4RKSHOPS
Location FBSV Amsterdam (Dokter Meurerlaan 8)
Intermediate/advanced
Every last Thursday of the month
Sept 22 / Oct 27 / Nov 24 / Dec 22
19:00 – 20:15
Trainer: multiple
CATI: €7,50 per w4rkshop / CATII: €10,- per w4rkshop
THE TRIPTYCH PROJECT 2022 (TTP2022)
Kick off April 11 & 14 (free entrance, no sign up)
Start project April 25 & 28 (sign up)
Final performance June 27
Students & alumni
Three dance styles, three levels
Commitment: 7 classes per course & show
Open for dancers of all levels