CONFERENCE KNIT-A-VERSE
Knitting and textile innovation for Design and Architecture on the body and spatial environments
Event

Welcome to the Knit-a-verse: the first conference on Knitting and textile innovation for Design and Architecture on the body and spatial environments. A 2-day event on September 29th and 30th, 2022 at the Amsterdam University of Applied Science. Organized by the 3D Knitwear Fieldlab, a project funded by CLICKNL, created by the research group Fashion Technology of the Amsterdam University of Applied Science and NL NextFashion & Textiles. The conference is the final event of the 3D Knitwear Fieldlab project with the purpose of sharing the findings and results of the project, connecting SMEs and knowledge transfer of the latest innovations and research findings.
PROGRAMME AND SPEAKERS
Knit-a-verse has a great programme with very interesting and inspiring speakers. Below you can already find a small preview. We will be announcing more and more speakers in the near future. So don't wait and register via the button below.
On the first day we will discuss new possibilities and innovations on the scale of the body.
During this day we will reflect on the potential and implementation of 3D knit technology in future explorations for garment and aerospace design as well as architecture. Furthermore, the results of the research projects within the 3D Knitwear Fieldlab will be presented and discussed. Within the research of the 3D Knitwear Fieldlab, there was a focus on design methods, production methods, customisation, personalization, individualization, business models and tools/software, that support new kinds of manufacturing. This translated into four different themes: Practically Parametric, Sustainably Distributed, Entirely Personal and Technologically Emergent.
Practically Parametric - Creating personalized parametric products holds many challenges and opportunities. What are the possibilities existing tools offer for creating personalized on-demand design? How do these tools support (or fail to support) automated manufacturing and personalized production? In this project we explore the challenges and possibilities of parametric design (software and hardware) to enable on-demand manufacturing and detail what is needed in the next generation of systems, detailing software and hardware specifications.
Sustainably Distributed - How can we work with ancestral materials to make a more sustainable 3D knit product service system? How can the field lab ensure that it is more, local, personal and distributed? From fiber through distributed production, this project looks at the system from the fiber to the end of life of garment. What new business models emerge that include sustainability at the core?
Entirely Personal – In high performance situations like sports, health and other space, a 3D knit can mean the difference between victory and failure. How can data-driven ultra-personalized products make the performance of the individual better in extreme situations? This theme looks deeply at the analysis of the individual and looks how professionals can change their process of design and production for extreme performance situations.
Technologically Emergent - New emergent technologies change the materials, coatings, structures, machinery and simulation of 3D knit. How could the emergence of new technologies enable new products, services and systems that include shape changing interfaces, biological fibers, 4D design, soft robotics and computational couture. What new aesthetics, functions and other opportunities emerge from using data, design and production in new and interesting ways?
Read more about our inspiring speakers.
D-house by Dyloan
LORETO DI RIENZO
Is the Technology Ambassador and R&D Director of Dyloan. Since his first steps towards the textile world, he has been acquiring qualified skills andknowledgefor starting fashion and R&D projects. He has specialized indeed ins oftware programming and succeeded in proposing alternatives and key solutions to his clients. He has managed to turn a merely executive work into a highly creative service, experiencing technical collaboration for projects with medium and high end luxury brands and fashion designers. For over 15 years he has been the promoter of the principles of sustainability bound to highlight the added values of fashion artifacts. Amid all his important projects,we mention the Bond-In project for the introduction of heat-sealingi n fashion and the avant-garde Moda Futuribile one,the excellence of the manufacturing supply chain.Not to forget he has been acting as coordinator since 2003 of the important VMI project (Enhancement of the ItalianSMEs). The latest venture, D-house,reunites technology producers,users and creative talents,in order to evolve the applications and technologies themselves, to create new products in a direction of sustainable value.
EVA MONACHINI
During my university studies,I started to get interested in the the me of the interaction between fashion and technology.The experiences intailor-made high fashion before,and my work as R&D Manager for Dyloan'sD-house after, led me to continuously investigate the combination of manual skills and innovative applications with a focus on responsibility in the fashion sector.
Loe Feijs
Loe Feijs holds an MSc in Electrical Engineering and a PhD in Computer Science, both from TU/e. He was appointed professor for the chair Industrial Design of Embedded Systems in 2000 and was awarded the rank of Officer in the Order of Orange Nassau in 2021.
Loe has extensive industrial experience in telecom, formal design methods, software-testing and embedded systems. In software architecture he created RPA (Relation Partition Algebra), which was used in organizations such as Philips, VU, Fraunhofer, NASA and FDA. In Industrial Design he co-founded the DeSForM conference on Design and Semantics of Form and Movement. He has (co)-supervised over 25 PhDs. His current research interests include generative design, fashion-technology, mathematical art and complex adaptive systems. Loe teaches in Wearable Senses at the Department of Industrial Design of TU/e and is mathematician-in-residence at Fashion Tech Farm in Eindhoven, where he cooperates with (amongst others) LABELEDBY and develops his own label LAURENTIUS LAB. His work is exhibited at DDW, in the art galleries of Bridges and in the proceedings of the yearly Bridges conference.
Borre Akkersdijk
Borre Akkersdijk is a Dutch textile designer and the co-founder and creative director of textile innovation studio BYBORRE. Born in Wamel, the Netherlands, Akkersdijk took fashion design courses at the Fashion Institute of Technology in NYC and graduated from the Design Academy Eindhoven in 2009 while also working at Paris-based design and trend consultancy Studio Edelkoort. He started what became the foundation of BYBORRE in October 2010, initially consulting for brands such as Nike and Louis Vuitton before deciding to focus solely on the development of his now signature 3D knitted fabrics. In 2012, he was awarded Young Designer of the Year at the Dutch Design Awards. Research into the future of fashion and integrated technology resulted in presentations at South by Southwest, Bejing Designweek and Salone del Mobile Milano and publications in Wired magazine and Fast Company Magazine.
Since then Akkersdijk has worked on building a studio filled with machines and a team of specialists from all corners of the textile industry to grow BYBORRE into what it is today.
Marina Toeters
Marina Toeters is a Fashion Tech Expert; she designs and operates on the cutting edge of Fashion Technology & smart textiles.
Gerard Rubio
Gerard holds degrees in cinema and media design. His research into technology and society started when he co-founded blablabLAB, a political art collective exploring speculative technological scenarios. During those formative years, he developed some award-winning projects that became the foundation of OpenKnit. He then created a company called Kniterate to make the ideas behind OpenKnit a reality. He has been leading Kniterate since its inception and recently moved manufacturing from China to Barcelona.
Rosanne van der Meer
Fashion Technology Specialist. Co-founder of New Industrial Order, laboratory for fashion on demand, and the Knitcloud production platform. 10+ years' experience in fashion design and research, rewarded with design grants & prizes. Launched 3D knitwear brand The Girl and the Machine in 2016. Committed to guide the industry's transformation from bulk to on-demand ever since.
Marina Castan
Speakers Bio Marina holds a PhD in textiles by the Royal College of Art, an MA in New Media Art Curating and a Degree in Textiles and Fashion Design by the School of Design ESDi, Ramon Llull University. She is experienced in textile and fashion design, smart textiles and wearable design with a focus on embodied design methodologies. Marina has taught for more than 10 years at ESDi Design School and has been visiting lecturer at IED, Universidad Europea de Madrid, Blanquerna (Fashion Communication master) and, CSDMM (Universidad Politécnica de Madrid). Marina has presented her work at international design conferences such as NORDICHI 2018, Smart Fabrics Conference, at design universities such as the Boräs School of Textiles, Eindhoven University of Technology and at design companies such as Heatherwick studio and Designit.
Abel Swaan PhD
Abel Swaan is CTO at Bilihome. He leads the R&D activities with eagerness.
Ana Piñeyro
Ana Piñeyro is a textile & material designer and researcher, specialised in active soft technologies. Her work explores the generative potential of materials, to find design opportunities that enhance their aesthetic and functional vocabulary. Ana holds a Ph.D. in Textiles from the Royal College of Art (London) and an M.Sc. in Cognitive Systems and Interactive Media from Pompeu Fabra University (Barcelona). Her experience includes research and development of smart textile technologies; colour & material innovation for automotive interiors; and research on colour & emotion for mixed-reality interactions, in industrial, technological, and academic settings. She has also lectured in textiles and smart materials at various universities in Europe.
Her work has received prizes from the Miquel Mas Molas Foundation & the Institute for Catalan Studies (Barcelona), and FAD incubator (Fostering Arts and Design; Barcelona) —among others; and has been funded by Marie Skłodowska-Curie Actions (EU Horizon 2020), and the Uruguayan research and innovation agency (ANII) and IDB Lab.
Ana currently consults in development and innovation of advance materials and textiles and participates in collaborative projects.
On the second day we will dive into thinking about new possibilities, applications and innovations of knit within spatial design, automotive and achitecture.
All you want to know about our speakers of the second day.
Pei-Ying Lin
Pei-Ying Lin (b. 1986) is an artist / designer from Taiwan and currently based in Eindhoven, the Netherlands. She is a PhD Candidate in the department of Industrial Engineering and Innovation Science, and department of Industrial Design at Eindhoven University of Technology. Her major current research is to combine the non-human perspective into human-AI collaborations. She also holds a MA in Design Interactions from Royal College of Art, UK and a BSc in Life Science, minor in Computer Science as well as Humanities and Social Sciences (Cultural Studies) from National Tsing Hua University, Taiwan. Her main focus is on the combination of science and human society through artistic methods, and is particularly interested in building a common discussion ground for different cultural perspectives regarding elements that constructs our individual perception of the world. Recently she has been focusing on manipulating the boundary of invisible/visible, living/non-living and finding ways to build tools and methods that facilitate such explorations. She has established the Taiwanese BioArt Community with friends from 2012 and is one of the first promoter of BioArt in Taiwan. She has won the Honorary Mention of STARTS Prize 2020, Honorary Mention in Hybrid Arts Category of Ars Electronica 2015, Professional Runner Up in Speculative Concepts of Core 77 Awards 2015, BioArt and Design Award 2016. Her project PSX Consultancy is a permanent collection of Museum of Architecture and Design, Slovenia.
Filippo Nassetti
Filippo Nassetti is an artist and generative designer. In 2012 he co-founded MHOX, a EU-funded research practice and start-up focused on the design of radical artefacts and wearable products through computational techniques and 3d printing. The contribution of MHOX to generative design gained international recognition through a number of experimental projects, such as Collagene, Carapace and Superabundance Masks, Generative Orthoses, ENEA walking stick and the designs of prostheses.
In 2015 Filippo joined Zaha Hadid Architects, initially as part of the Computation and Design team (ZH CODE), then of Zaha Hadid Design (ZHD). His focus at ZHD is on small scale research projects, from product design to experimental sculptures and installations. He was responsible for computational design in the ZHD x Odlo Futureskin project, a collection of sportswear based on body mapping and automated knitting, and Behaviour.Morphe, a ten-minute projection mapping on the 180-meter-long facade of the castle of Karlsruhe.
Since 2016 he teaches at UCL The Bartlett School of Architecture, as part of the B-Pro Master's Degree program. The research agenda he pursues, Postnatural Design, focuses on exploring the aesthetics that emerges from the crisis of traditional oppositions such as natural and artificial, digital and material, human and inhuman, relating research on organic form, computational methods and new media.
Filippo's independent work has been published and exhibited internationally. He lectured at The Royal College of Arts (London), China Central Academy of Fine Arts (Beijing), Florida International University (Miami) among others; exhibited at Centre Pompidou (Paris), Design Museum (London), Bozar Centre (Bruxelles); published on The New York Times, International Herald Tribune, Dezeen, Designboom, Wired Italia.
Svenja Keune
Svenja Keune is a postdoctoral researcher at the Swedish School of Textiles, University of Borås, in Sweden and at the Centre for Information Technology and Architecture (CITA) at the Royal Danish Academy in Copenhagen. During her phd project "On Textile Farming" within the MSCA ArcInTexETN she turned towards seeds as a potential biological alternative, and as a dynamic material for textile design. In order to explore alternative ways of living that the textile plant hybrids might propose, Svenja built and moved into a Tiny House on Wheels to live together with the research experiments. Svenja is currently working on 'Designing and Living with Organisms (DLO)', a 3 year project funded by an international postdoc grant from the Swedish Research Council.
Petra Vonk
Dutch designer, Petra Vonk, launched her Amsterdam textile design studio after graduating from the Design Academy Eindhoven. Petra is working in close collaboration with architects and interior designers resulting in innovative textiles and their uses.
Playing with the characteristics that are bound within specific materials and techniques, Petra creates often new and unexpected concepts and applications. Through the use of repetition in abstract pattern designs, her designs experiment with transparency, while contrasting materials and progressive techniques arouse curiosity. Design objects display expressive visual and tactile qualities with an emphasis in functionality, be it to enhance the acoustic properties of a space or offer intimacy to an interior by means of impenetrable graphic patterns.
Daniel Suárez
Daniel Suárez is an architect and researcher interested in innovative materials, design interfaces and technology processes for architectural production.
He holds an MSc in Architecture and Urban Design from the Polytechnic University of Madrid and has received training in computer graphics. As an architect, Daniel worked for various international architectural offices, like Toyo Ito Spain AA, and also independently.
In his research, Daniel explores textile-based material systems on a large scale. It encompasses the fluid interaction of human craftsmanship and vernacular design with computational design processes and digital fabrication. A varied design practice and research activities across disciplines reflect his diverse background.
Daniel was part of the ArcInTexETN network and worked as Associated Researcher at UDK Berlin. Currently, he is part of the »Structural Textiles« project at the cluster »Matters of Activity«, where they look into relations between active materiality, bio-based materials, digital instructions and geometry formation processes.
Besides, in collaboration with his colleague Bastian Beyer, he continues with an awarded investigation into ways of rigidifying textile scaffolds through biocalcification processes.
Melinda Matuz
Melinda Matuz is a Senior Architect and Associate at UNStudio. Melinda is an all-round architect specialized in narrative design and storytelling, with a special focus on design affecting people's behavior, emotional engagement with architecture and perception of space. She received her MSc in Architecture in 2005 from Budapest University of Technology. She has been researching the contradictions of social awareness in contemporary architecture at the MOME in Budapest. She spent years exploring the consequences of urban growth and digital development working on the Reorient – Migrating Architectures exhibition for the Venice Architectural Biennale and a series of kinetic sound installations, connecting low tech to digital searching for the meaning of art expressed through social media.
Caterina Micucci
Caterina Micucci is an Interior Architect and Associate at UNStudio. She graduated from the Architecture University of Venice (IUAV) in 2010 and received her Ph.D in 2015. Caterina is mainly interested in Interior design and Exhibition, she worked together with different cultural institutions, art galleries and international brands. At UNStudio, Caterina has been involved in many architectural design processes, and plays and intensive role on projects with a strong focus on research and branding. She is adept in handling the design process from concept to detail development, including organizational and technical aspects, collaboration with interdisciplinary profiles. Caterina is currently working and teaching in The Netherlands.
The free registration is open. Make sure to reserve your spot because we have a limited amount of places. And stay tuned for updates on the progamme and speakers.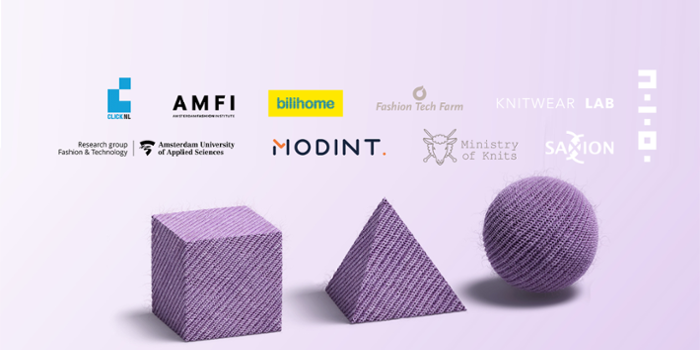 Getting to the Amsterdam University of Applied Sciences