HvA Online Study Space
You can study more productively with fellow students 24/7 in the Library's online study environment.
Do you miss someone to study with or do you want to study from home, the Library or your favorite coffee place? In the Online Study Space you can study wherever and whenever you want. The Online Study Space is a learning and meeting place that consists of different channels and thus matches your study needs.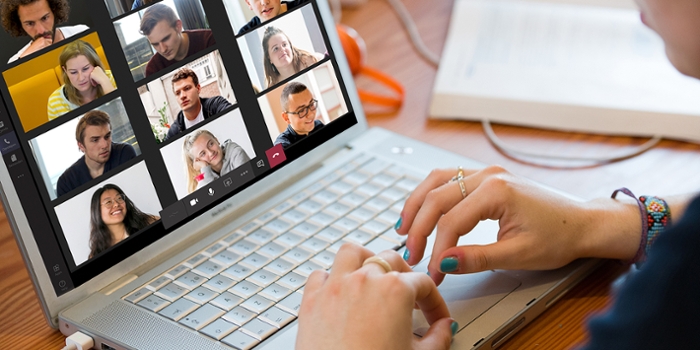 STUDYING IS SOCIAL
Wherever you are, whatever you need to do, you can always study online together in the Online Study Space on MS Teams. Online Study Space gives you structure and helps you to stay focused through the presence of a host and fellow students. And it brings variety to your day by meeting students from all over the AUAS. This provides inspiration, new perspectives and social interaction.
ACCOMPANIMENT
The Online Study Space is open 24/7 and accessible to all AUAS students. It consists of different channels such as: Study Focus in which you, accompanied by a host from the Library, alternate between 50-minute study sessions with a 10-minute break; Thesis for thesis and long-term students; and a Canteen where you can chat and drink virtual coffee together. You can also start your own study session and invite fellow students to the diamond channel.
GRADUATION OR LONG-TERM STUDY
The Online Study Space allows you to keep in touch with the AUAS. Even if you only have few contact hours. In the Thesis Channel you can work on your thesis or research together with fellow students. On Mondays and Fridays there is a host who can guide you in this. Do you need more help? Let us know and we will be happy to put you in touch with an Information Specialist at the Library.
ACTIVITIES
In the Online Study Space we will keep you informed about all study, thesis and writing-support workshops that the AUAS offers free of charge. In this we work together with Student Info.
READY TO STUDY?
The Online Study Space is located on MS Teams and works best via the app (not in the browser). Once on MS Teams, log in with your HvA email address and add the Team with the code: y2f9wub