Leeuwenburg (LWB)
Opening hours building
Regular

Christmas period
25 Dec 2021 - 2 Jan 2022

Mon,
07:30 – 22:30
Closed
Tue.
07:30 – 20:00
Closed
Wed.
07:30 – 22:30
Closed
Thurs.
07:30 – 20:00
Closed
Fri.
07:30 – 18:00
Closed
Sat.-Sun.
Closed
Closed
Opening hours service point
| | | |
| --- | --- | --- |
| Next to reception desk ground floor | Regular | 20 - 24 Dec 2021 |
| Mon. –Thurs. | 08.30 – 17.00 | 08.30 – 17.00 |
| Fri. | 08.30 – 17.00 | 08.30 – 15.30 |
Building accessibility
The main entrance (revolving door) to the Leeuwenburg building features wheelchair access. For more information, see Accessibility of AUAS buildings.
Please note: enter 'Amstelplein 5' into your navigation system to set a course for the parking garage underneath the Leeuwenburg building.
Parking spaces for wheelchair users
Leeuwenburg has a parking garage under the building. All parking spots for visitors, including parking spots for wheelchair users, have to be reserved at the reception by the department's host. For wheelchair users there are parking spots at level -2. To pass through the sliding doors for the lift, you need a AUAS service card with access rights. For entering the parking garage without a service card, please contact the reception desk via intercom. A porter will come to open the sliding door for you. In the garage you can call 020 595 1111 for the Leeuwenburg reception desk. For more information, see Parking.
Published by
Facility Services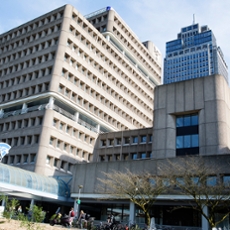 Leeuwenburg (LWB)
Weesperzijde 190
1097 DZ Amsterdam
020 595 1111