Leeuwenburg (library)
The library is on the ground floor, next to the reception desk (B0.18). To navigate to the parking garage underneath the building, use the address: Amstelplein 5.
Opening Hours
Monday - Friday: 8:30 - 17:00.
Study spaces
144 study spaces (Due to corona regulations, study places are limited)
22 study spaces with PC
N.B. To make use of the study spots, it is necessary to make a reservation.
Collection
The Library collection covers Technical Studies
Contact
Questions? Ask the Library. Open the contact form for students and employees of AUAS.
If you do not study at or work with AUAS, please open this contact form.
Published by
HvA Library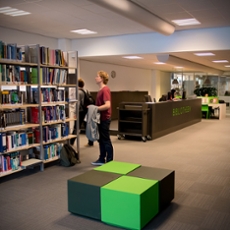 Leeuwenburg (library)
Weesperzijde 190
1097 DZ Amsterdam
020 595 1133