Diploma supplement
The Diploma Supplement (DS) was developed by the European Commission, Council of Europe and UNESCO/CEPES. It accompanies a higher education diploma and aims at providing sufficient independent data to improve the international 'transparency' and fair academic and professional recognition of qualifications (diplomas, degrees, certificates etc.).
The Diploma Supplement (DS) is a legal document that provides an independent evaluation of the nature, level, context, content and status of the completed study programme as it is described on the graduate's higher professional education (HBO) certificate. The text of DS is in no way a judgement of value and relates solely to the programme completed by that student.
As from 1998, all students of Amsterdam University of Applied Sciences (HvA) automatically receive a DS upon graduation. It is handed out free of charge. The diploma (HBO certificate) and accompanying list of marks are issued in the Dutch language if the study programme is taught in Dutch, and in English if the programme is taught in English. The DS is issued in English only and also provides all the information in the diploma and a transcript of records.
Intended as a service to students, the DS enables graduates to demonstrate the content and level of their study programme outside the country in which they earned their qualification. As such, the DS aids students both in applying for admission to follow-up programmes and in seeking employment.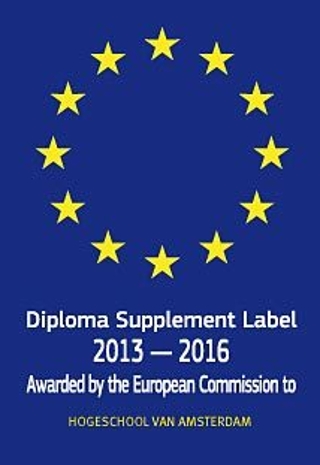 Diploma Supplement Label
In December 2013, the HvA was awarded the Diploma Supplement 'Label' - a quality mark granted to institutions whose arrangements for issuing the DS (one of the items on the European higher education agenda) have been approved by the European Commission. The label is valid for three years.